Just because you now live in the real world and eat real food (PB&J topped with Doritos is real, right?), doesn't mean you have to give up the awesome foods from your childhood. As proof, we went out and bought 20 bags of Dunk-a-roos yesterday and ate them all... plus tracked down these 12 kick-ass adult versions of childhood favorites available at restaurants and bars all over NYC.
CHOCOLATE CHIP COOKIES
Boulton & Watt (click here for address and deets)
Somehow better than eating an entire package of break-and-bakes in one sitting, this extra-gooey choco chip cookie (technically meant for two-to-four people, but who's counting, amirite??) is baked-to-order in a cast iron skillet and served with a full jug of icy cold milk.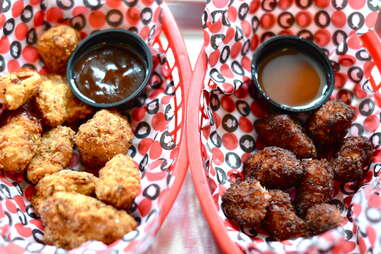 CHICKEN NUGGETS
The Nugget Spot (click here for address and deets)
The nuggets at this East Village altar-to-the-ultimate-kid's-menu-staple up the game with high-quality ingredients and a massive range of house-made sauces. Two you gotta get: the Southern Belle -- nuggets breaded in a special seasoned flour, fried, and served with plenty of BBQ sauce -- and The Grove, which're pork nuggets encrusted in coconut, and served with a sweet-and-sour Mambo sauce.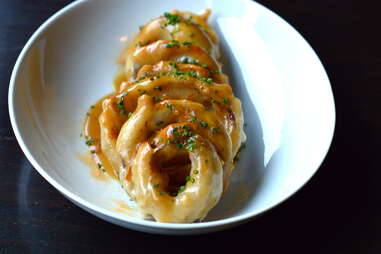 ONION RINGS
Alder (click here for address and deets)
Essentially French onion soup in onion ring-form (no, that's not "basically" what Funyuns are, just stop it), this dish from Chef de Cuisine Jon Bignelli features onions fried in a tempura batter made with cheese stock, then topped with plenty of melted Gruyere, beef gravy, and beef powder for an extra burst of umami.
MAC AND CHEESE
Empire Diner (click here for address and deets)
Creamy, cheesy, and just ridiculously good, we honestly don't want to know the person who dislikes M&C, especially after having Chef Amanda Freitag's version, which mixes orzo with garlic cream sauce, two kinds of cheese, a crunchy bread crumb topping, and butter that's infused with fresh black truffle. Where was OUR infused butter, MOM! Huh? WHERE?!?
SLUSHIES
Kelvin Slush (click here for deets)
The Kelvin Slush truck makes slushies you should hunt down for three reasons: 1) they don't dye your tongue neon blue, 2) they mix incredibly well with booze, and 3) they come in flavors like spicy ginger and tangy citrus. Customers can also mix in real fruit purees like blood orange, lychee, and cranberry -- all totally worth the brain freeze.
S'MORES
Dominique Ansel Bakery (click here for address and deets)
Ansel freezes vanilla custard and chocolate feuilletine enrobed in marshmallow (made with honey and Tahitian vanilla bean) overnight, and blow-torches them (to order!) on an applewood-smoked stick. It's half s'more, half ice cream, half are you serious.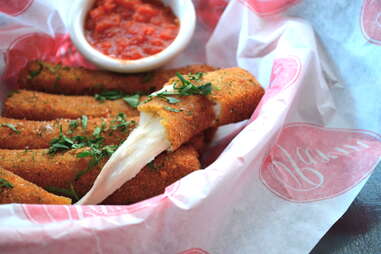 MOZZARELLA STICKS
Parm (click here for address and deets)
The mozz sticks at this Soho sandwich shop are thick, insanely melty, perfectly stringy, and a far cry from the limp versions found at the John Ericsson Middle School cafeteria (that sometimes didn't even have cheese in the middle... where did it go? How does that happen?). Mozzarella curds are stretched, doubled-breaded, fried to order, and served with a house-made marinara.
MILKSHAKES
Brooklyn Bowl (click here for address and deets)
Only one thing can make a milkshake better -- wads of $100 bills in it. Oh, and booze -- lots and lots of it. BB's got the good stuff, with concoctions like the Bourbon Street milkshake where high-quality ice cream is blended with milk, Nutella, and plenty of brown liquor.
ANTS ON A LOG
David Burke Kitchen (click here for address and deets)
You weren't royalty growing up, so chances are, the "ants on a log" you ate were a far cry from roasted veal bone marrow topped with escargot fritters, dots of aioli, and shredded, house-made beef jerky in place of raisins and peanut butter. But you are now.
PIGS IN A BLANKET
Telepan Local (click here for address and deets)
The only pigs involved in the version Bill Telepan serves at his Downtown eatery, are gonna be the ones at your table housing the whole plate of these little bastards. Chef Telepan makes sausage from grass-fed beef, which is then stuffed into all-natural casing, and then wrapped in extra-buttery puff pastry and served with a grainy honey mustard sauce.
PUDDING
Puddin by Clio (click here for address and deets)
The classic chocolate here features 70% dark chocolate from an Icelandic producer (who totally maybe did Bjork's last album, too), but the real star is the Starbucks-inspired caramel macchiato pudding that layers coffee and chocolate puddings with brownie pieces and plenty of salted caramel.
LASAGNA
The Queens Kickshaw (click here for address and deets)
When you're an adult, vegetables start to matter, and sometimes start to taste good (SOMETIMES). The lasagna at this Astoria staple rides that theory with a vegetable-forward, Asian-influenced take on the comfort food classic. It's the James Bond of lasagnas -- refined, elegant, constantly laid and international -- made with satisfying layers of grilled eggplant, kimchi, smoked tofu, and a thick béchamel.
Khushbu Shah is a freelance food and drink writer who aspires to one day write a joke that makes it onto a Laffy Taffy wrapper. Follow her on Twitter and Instagram.