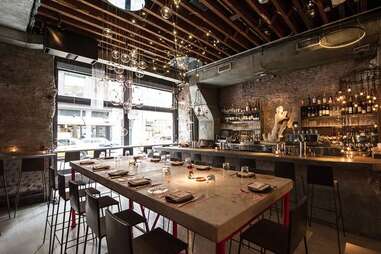 ABC Cocina
Flatiron
Next door to their compatriot ABC Kitchen, this new venture from the Jean-Georges team focuses on fresh and bright pan-Latin shared plates -- the guacamole is a must-try.

Bassanova Ramen
Chinatown
Splintered off from the hit spots back in Setagaya, this mini chain -- which saw food-geniuses like Keizo Shimamoto, inventor of the Ramen Burger, pass through its halls -- serves mostly traditionally prepared noodles except for their signature Thai-spired green curry ramen.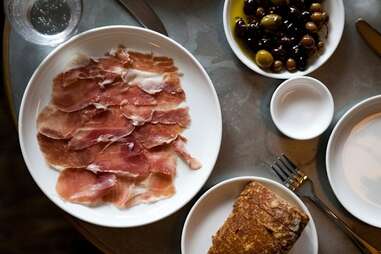 Estela
Nolita
Following up his divisive, often delicious, and always adventurous stint at Isa, Chef Ignacio Mattos teamed up with the former beverage director at Blue Hill at Stone Barns, a powerhouse of a foodie date spot serving eats like burrata with charred bread, pork with rainbow potatoes, and quail with fig.
Ippudo West Side
Hell's Kitchen
Along with a shload of tasty ramen including their signature Tonkatsu, this new branch of the mobbed East Village noodle favorite has a totally new appetizer selection (hello, pork tenderloin with bacon!), though we doubt you can expect any lighter crowds.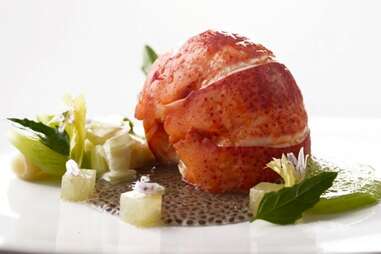 Juni
Flatiron
Following up highly regarded but locationally challenged SHO Shaun Hergatt, Chef Shaun Hergatt's new joint focuses on uber-seasonal eats and ingredients showcased in tasting menus, all within an environment that promises a dining room rich with the smell of freshly baked bread.
Luksus
Greenpoint
Opened in the back of one of the best beer bars in the city, Torst, this Scandinavian-influenced, tasting menu-only venture from Noma and Fat Duck vet Daniel Burns is definitely worth braving the G train for.

Maiden Lane
Alphabet City
Situated in the old Life Cafe space, this nautically themed bar will bring you light fish, meats, and cheeses, as well as dranking along the lines of crafts like Mikkeller or Americana ('Gansett!).

Maison O
Nolita
It's loosely themed around a Japanese horror movie, it's got next-level fusion-y eats like lamb gyoza, unagi pie, and blood clam, and it houses a karaoke spot called Stardust Lounge, so you pretty much don't have to go anywhere else, ever. Except for the rest of the places on this list.

Minus5 Ice Bar
Midtown
It's a bar made of ice, that serves you drinks in glasses made of ice, and gives you a fur coat to stay warm.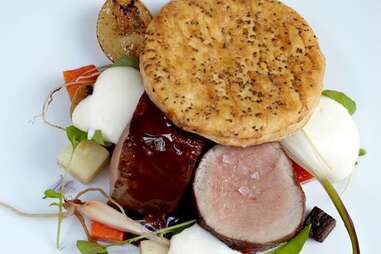 Musket Room
Nolita
If you love New Zealand but you don't have like a billion hours to hop on a plane, head to Nolita to find beautiful people eating things like a deconstructed steak and cheese pie, or duck with huckleberries.

Onomea
Williamsburg
Hawaii has come to Williamsburg in more ways than ironically wearing Surf Style tank tops and drinking out of pineapples. Ways like Spam sushi.
Piora
West Village
Chris Cipollone and Simon Kim are melding Italian, French, and Korean influences into eats like Monkey Bread with seaweed butter, suckling pig with radish, burdock, and apple, as well as a massive off-menu cote de boeuf that's bathed in butter and served with rosemary Hollandaise.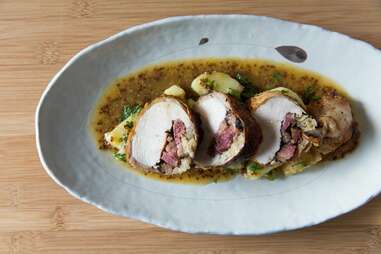 Shalom Japan
Williamsburg
The name doesn't deceive: they're fusing Jewish and Japanese cuisines thanks to a chef couple who've cooked at places like Torrisi and Mile End. Think sake challah, a lox bowl, and pastrami-stuffed chicken.

Skal
Lower East Side
Nordic cuisine is jumping off, but there aren't a whole lot, if any, restos that purport to be Icelandic. Enter Skal, which features all the design you'd expect and dishes like duck wings with red seaweed and mussels, and lamb saddle for two.
Uncle Boon's
Nolita
Because you may not want to travel all the way out to the Brooklyn Waterfront for crazy delicious Thai food, swing by this rising Nolita star started by two former Per Se chefs that not only has some killer frosty beverages, but also next-level eats like garlic-soy frog legs and crispy monkfish cheeks.

ZZ's Clam Bar
West Village
Although the door can be hard to break through, this tiny neighbor to crazy buzzy Carbone has solid raw bar options and delicious tropical drinks in a seriously intimate space.