Look, you can't just sit in your apartment listening to Justin Bieber's Purpose on repeat, and lucky for you, there are plenty of reasons to get out and do other things -- like eating and drinking at these new bars and restaurants that opened in NYC this month, all of which demand your full attention.
Williamsburg
Portland fave Bunk Sandwiches is now open in Williamsburg, offering all-day breakfast sandwiches and lunch/dinner options like the famed pork belly Cubano (which makes the case for all Cubanos to feature pork belly in lieu of roasted pork). It'll have rotating specials (the current ones are the roast turkey with sausage stuffing and cranberry sauce, and the salt cod sandwich), as well as a solid tap list.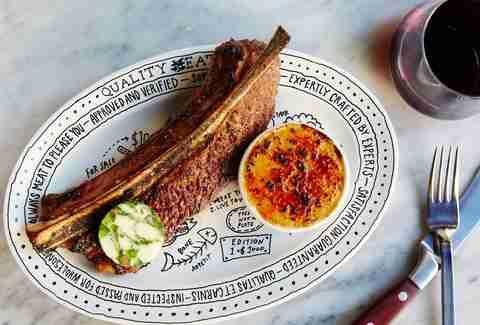 West Village
Michael Stillman's first Downtown spot aims to be a modern, everyday steakhouse, and succeeds with lesser-known, affordable, and GOOD cuts like bone short rib, top sirloin-culotte, and bavette steak and a wooden bar etched with doodle-like designs and phrases like "Eat me." It's also offering a $40 "Wine Stack" program, which allows you to be indecisive with your wine choice, by picking up to three different bottles which are then put into separate glass chambers and stacked on top of each other to form a regular wine bottle.
Upper East Side
Eli Zabar has teamed up with his son Oliver for this new craft beer bar & restaurant that's clearly catered to the younger set, which... is a difficult thing to try to swing on the Upper East Side. But the duo is off to a solid start with a rotating craft beer selection (with a focus on local breweries), shandies, wines, and craft cocktails like the Eli's Death Punch with rum, black tea, pineapple, lemon, and milk. Plus pastrami, because Zabar's.
Red Hook
Brooklyn Flea/Smorgasburg's beloved wood-fired pizza purveyor finally has a brick-and-mortar shop in Red Hook, and it's offering lots of impressive pies, like one with green tomato salsa, jalapeño, fontina, mozzarella, and pecorino, and another with bacon fat and rosemary that will quickly make you forget about how you probably shouldn't be eating bacon. It's also got a number of smaller (and larger) plates available, like lazanki (rye pasta with country ham, mushrooms, sauerkraut, and egg) and fried broccoli.
Lower East Side
From Chef Alex Leonard (formerly of Blanca) and Hugh Crickmore of Mas (farmhouse), this LES newcomer focuses on seasonal ingredients and culinary techniques from Japan, seen in dishes like the chicken yakitori -- which, for transparency, is $54 for a whole portion, because you are not living the lowlife at Lowlife. But that doesn't mean the entire menu is not for the faint-of-wallet -- there are a number of equally impressive, lower-priced items, like the borscht with trout roe and raw cream, and the herring and sardines with pine nuts and chimichurri.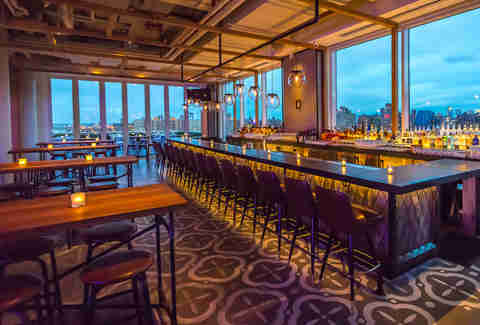 Lower East Side
The LES's new Hotel Indigo's 15th floor rooftop bar/restaurant offers TWO terraces -- one on the east side that's smaller and more intimate; the other on the west side, spanning 5,000sqft with a pool, bar, and seating. It also boasts a menu featuring iconic New York staples like Russ & Daughters and 2nd Ave Deli, because corned beef on rye on a rooftop is really just the dream. For drinks, you're looking at craft beers and wine, as well as a number of classic and speciality cocktails (like the punch-style Mr. Purple with tequila, cranberry liqueur, allspice dram, apple, and lemon).
Sign up here for our daily NYC email and be the first to get all the food/drink/fun New York has to offer.
Lucy Meilus is Thrillist's New York editor. Coincidentally, the title of her memoir is also Lowlife. Just kidding, everything is fine (?). Follow her on Twitter and Instagram.