The Food at One World Trade Is Overpriced Yankees-Game Food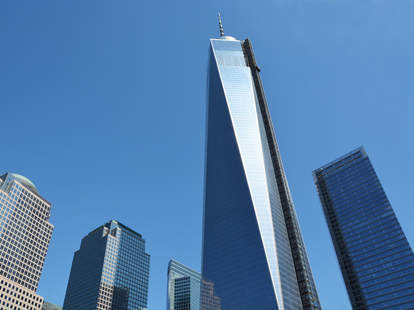 <a href="http://www.shutterstock.com/gallery-673576p1.html?cr=00&amp;pl=edit-00">LehaKoK</a> / <a href="http://www.shutterstock.com/editorial?cr=00&amp;pl=edit-00">Shutterstock.com</a>
Just as Ali G once expounded on in his experience of buying and selling Chicken McNuggets, dining really high isn't worth the money. We're talking about altitude-wise. What were you thinking?
Eater has a post up reviewing the cuisine offered inside One World Trade, and, well, it's none-too-flattering. The post details the food and pricing at One Cafe, One Mix, and One Dine -- all the dining options run by the folks who run the food program at Yankees Stadium, Legends Hospitality. And much like the food program at Yankees Stadium, dining at OWT is an overpriced, middling affair that often takes too long. Which also describes the Yankees' on-field product the last few years.
As Eater lays out, when you add the cost of admission, meal, and tip at One Dine, "even though your three course meal is nominally $75, you end up spending $130 per person after tax, tip, and cover. That means your appetizer is $40, your main is $70, and your dessert is $20." And it's apparently not that great.
While the "fine-dining" option gets a damning enough review, the building's most-accesible dining option, One Cafe, lacks visible pricing, and is best summed up by this sub-head: "One Cafe Is a Terrible Place to Eat."
But hey... at least there are great views of New Jersey?
Read the full Eater post here.
Ryan Craggs is Thrillist's Senior News Editor. He has been to OWT. It went OK. Follow him @ryanrcraggs.