So you're stuck in NYC during Passover, miles from your bubbe's lipstick kisses and stinging cheek-pinches. Think of it this way: You've been spared the heated political dinner table debate your ill-informed relatives will surely dig themselves into and the embarrassment that, even as an adult you're still tasked with answering the Four Questions. But, despite these freedoms, you're still gonna need a bowl of matzo ball soup.
Even if the only thing you'll miss is "discovering" the afikomen tucked behind your uncle's tie -- like it is every year -- there are still plenty of opportunities to recoup the sanctioned (and delicious) traditions of Passover, here in New York City. To guard against the burden of answering a fifth question, we've rounded up the best places for a sit-town or takeaway Passover Seder.
NoHo
Chef Hillary Sterling's April 3 Passover Seder takes inspiration from Roman-Jewish cuisine, but each dish is dressed up with Italian and Mediterranean influences. Her Seder plate swaps a hard-boiled egg for a roasted one doused in lemon and Pecorino, the house-made matzo is paired with sharp horseradish-lemon butter, and rounds of brisket polpette are infused with spring onions and tomato passata. The menu will be served a la carte, and reservations can be made on OpenTable.
NoHo
Mile End's self-led, family Seder on March 31 is a BYOH (bring your own Haggadah) affair -- but if your Haggadah is stuffed somewhere in your bubbe's basement, they'll lend you one. The menu includes the likes of matzo with pickles, chrain, and charoset, matzo ball soup, roasted za'atar cauliflower steak, and to finish, a flourless chocolate cake.
West Village
Each dish on Jeffrey's Grocery's Passover menu (served March 30 through April 7) is inspired by a spot on the seder plate: the matzo ball soup swimming with cabbage and carrots as the matzo, the grilled hearts of romaine as the maror, the oeufs mayonnaise topped with smoked trout as the beitzah, and the braised lamb shank spiced with preserved lemon and harissa as the zeroah, among others. Just maybe don't dip this maror into salt water.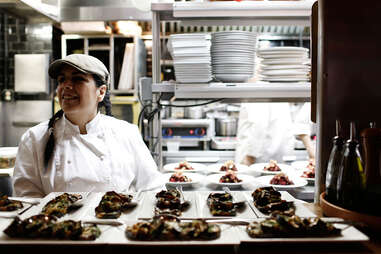 SoHo
Balaboosta will host its seventh annual Passover seder with live music, plenty of wine, and an assist from Food Network chefs Elizabeth Falkner and Claire Robinson. On April 1, a $170 (kids $120) prix fixe menu will feature quail egg schnitzel with amba aioli, chermoula-basted bass with braised celery, za'atar-rubbed lamb shoulder, and an orange blossom-blood orange-beet sorbet with black tahini cookies.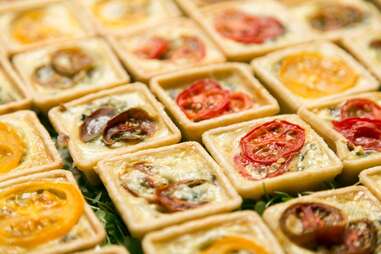 Midtown
Midtown's kosher French brasserie/steakhouse will elevate its status to kosher for Passover on weekdays during the holiday. French favorites reign -- think coq au vin and boeuf bourguignon -- plus a variety of salads, steaks, and plenty of desserts.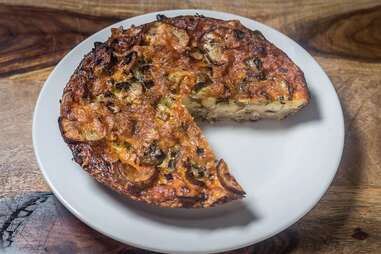 Union Square
While the beloved chocolate babka certainly won't grace Breads' Passover menu, pick up a host of sweets (coconut macaroons, orange marzipan cookies, chocolate mousse, cheesecake) or dishes for the seder table (spring matzo brei, pizza brei, matzo ball soup, matzo balls).
Lower East Side
What better way to celebrate Passover than with the pastrami wizards of the LES? Pick up all the Passover essentials -- charoset, matzo balls, tzimmes, whole-roasted chicken -- or dine in for $32.45 per person: start with matzo ball soup, a choice of chopped liver, potato pancakes, or gefilte fish, plenty of brisket, turkey, or chicken, then finish it all off with sweets like sponge cake or its sweeter honey variety.
Upper West Side
If you're a sucker for some homemade unleavened bread (more formally known at matzo), Good Enough to Eat is a reliable staple -- they've been serving the stuff here since 1981. Each year, the place dishes out a spectacular Passover feast replete with a steaming chicken matzo ball soup, golden pillowy potato pancakes plated with chunky apple sauce and sour cream, and a horseradish-crusted pot roast. We promise it'll all be more than just good enough to eat.
East Village, Tribeca, Upper West Side
If you're hoping to spice things up this Passover, look no further than Rosa Mexicano. In honor of the holiday, the place is putting a Latin spin on your standard Passover menu. Traditional beef brisket comes wrapped in banana leaf; chicken liver is smothered in salsa verde; and each table will be set with its own plate of house-made charoset. The four-course menu clocks in at $55 a person.
Cobble Hill
Born and raised on Zabar's Nova lox and Kossar's classic bialys, owner Peter Shelsky is precisely the sort of guy you want prepping your Passover feast. At his quaint, cozy Cobble Hill joint, he'll treat you right this Passover with a comfort food takeout menu built of dishes from his own childhood kitchen. Expect homemade horseradish, three varieties of latkes, chopped liver, and for good measure, plenty of gefilte fish.
Sign up here for our daily NYC email and be the first to get all the food/drink/fun New York has to offer.