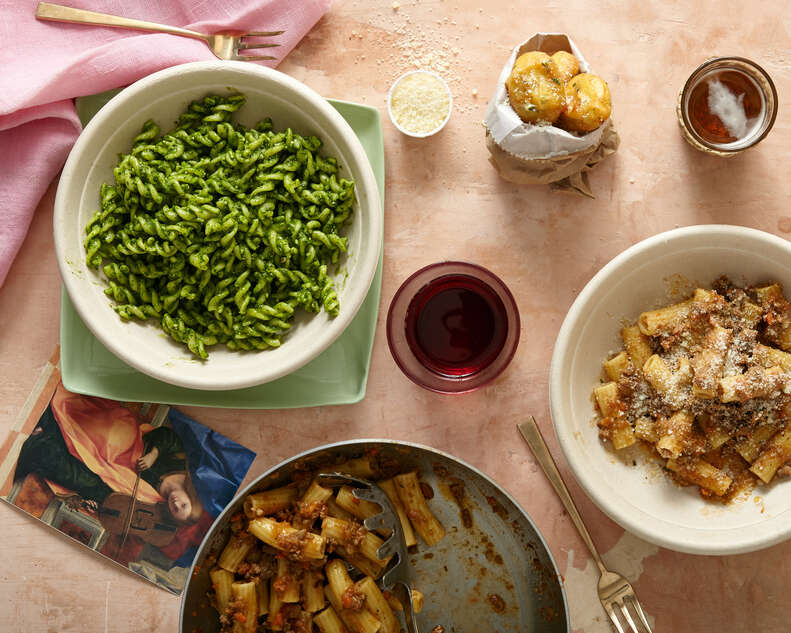 Pasta Flyer

| Beth Galton
Pasta Flyer

| Beth Galton
It's 6:30pm on a Friday, and the line at chef Mark Ladner's newly opened Pasta Flyer is curling down the steps. Since the doors opened at 5pm, a steady crowd has been filling up on organic fusilli with basil pesto, and whole grain rigatoni with Nonna's meat ragu. The plush floral benches complement the flowers that stand on each table, unless of course you've scooted them to make room for a second tray of pasta. Portions are a decent size, but it's hard to stop ordering, especially when each dish is so cheap.
A bowl of pasta, ranging from $7 to $8 ($9.99 if you add a side and a San Pellegrino) costs less than a burger at the neighboring Bagel Buffet, or a burrito with guac from Chipotle. This is a new type of fast food: satisfying, cheap -- and created by an expert chef.
Until recently, quick-service pasta invariably meant lackluster, overcooked mush, reheated behind a cafeteria sneeze-screen. Now, suddenly, Manhattan is turning up tons of restaurant-worthy pasta you can grab on your lunch break.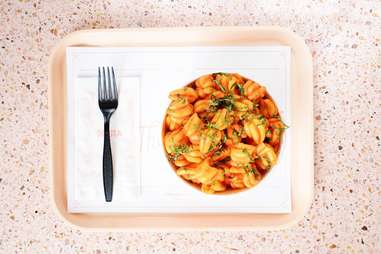 Two miles south of Pasta Flyer sits the Sosta, a millennial-pink haven of fresh pasta and Instagram-ready brunch boards. It's the work of creative director Samantha Wasser (formerly of By Chloe) and chef Ali LaRaia, who was inspired by the Italy's gas station pasta to create an on-the-go equivalent in New York. Open since July, the Sosta already has plans to expand broadly, like its estranged vegan cousin, By Chloe.
Ten minutes' walk away in SoHo, there's the chic, sit-down Sola Pasta Bar, and even super-celeb cook Giada de Laurentiis has got in on the act with a one-night pasta pop-up at Chef's Club Counter (tickets for the October event sold out in minutes). "Like hamburgers and pizza, pasta can be done really well but really quickly," De Laurentiis tells me. "In Italy, we make it all the time; it's an inexpensive way to feed a lot of people. People want to eat it fast and on-the-go, and I think you need a solid Italian chef to make it."
Now that the big names have arrived, there's no going back. Pasta Flyer and Co. are launching New York into a new era of carb-fueled fast food.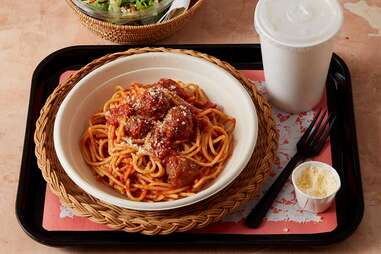 The making of Pasta Flyer
The dream of "pasta for the people" boiled up in Ladner's mind nearly five years ago, while he was the executive chef of Del Posto. In 2014, he launched the first iteration of Pasta Flyer as a side hustle. Ladner and his business partner, Nastassia Lopez raised $85,000 via Kickstarter and used the funds to tour six college campuses in six states, selling quick-service, gluten-free pasta and using sales data from Square to build a business plan.
In the year that followed, Lopez enrolled in business school, developed the model, and found an investor. Ladner focused on the pasta.
"It started with my love, and hers as well, for pasta -- specifically dry pasta," Ladner tells me in his restaurant one afternoon; it was empty, because so far it's only open for dinner, with Ladner working the line most nights. "For the last 20 years I've focused on making pasta my specialty. Working with Mario [Batali] and Joe [Bastianich], I always sort of felt, especially coming from really high-end dining, that there was no reason that people who aren't wealthy shouldn't have access to really good pasta."
This is a new type of fast food: satisfying, cheap -- and created by an expert chef.
Thus, the concept was born. Still, he hadn't found an Italian precedent for fast, good pasta. Instead, he looked to Japan, "where noodles are a viable and even preferred form of fast food," Ladner says.
Operationally, Pasta Flyer functions a lot like a Tokyo ramen shop. "It's basically slow food in back and fast food in front," he says. "Everything up until where you order is cooked like a very traditional restaurant. It's just that the service is lightning-fast." When an order comes in, a line cook reheats the al dente pasta, stirs it in hot sauce and spoons it into a compostable bowl, to be sprinkled with cheese or crunchy garlic breadcrumbs. The futuristic UFO in Pasta Flyer's logo represents "speed and efficiency," while the black and white mural of Roman ruins at the counter recalls "the Italian culture of matriarchal food and wine."
Gourmet pasta doesn't have to come off a $300 tasting menu
A $9.99 meal deal at Pasta Flyer is a fraction of the price of a tasting menu at Del Posto -- or pretty much any sit-down restaurant in Manhattan. And Ladner isn't the only chef moving from Michelin stars to fast-casual. Former Del Posto pastry chef Brooks Headley left to launch vegan-patty specialist Superiority Burger in 2015, and even Eleven Madison Park now has its own "fast fine" derivative, Made Nice, which serves protein, veggie and grain bowls under $20.
With high quality coming so cheap and accessible, it's easy to wonder: Are New Yorkers being duped into exorbitant pricing by flashy marble staircases, hard-to-secure, easy-to-covet reservations, and leather-bound menus? Pasta Flyer and its ilk have much lower overheads -- there are no hosts, sommeliers or servers, and no linens to fold, silverware to polish, or glassware to replace -- yet the product itself is superb. Ladner imports dry pasta from Italy (he prefers its texture to the supple, fresh stuff); the sauces are all homemade; and while the food is no work of art, it's neatly presented.
"Most people feel that great pasta has to be handcrafted in an elaborate and romantic way, which is not untrue in a fine dining environment," Ladner says. "But it certainly doesn't have to cost $50 a plate."
Ladner isn't dismissing the provenance of pricey pasta in Manhattan, but rather wants to expand diners' ideas about what great pasta is and where it's eaten. "There's room for everything in New York, that's what makes the city so great, but it's also always changing, which is also what makes it great," Ladner says. "I loved working in fine dining, but the elitism of it... just seems sort of strange."
Manhattan is turning up tons of restaurant-worthy pasta you can grab on your lunch break.
Ladner felt bad asking his peers to visit Del Posto and taste his work, which could almost cost them their week's wages: "It just seems odd after a while, when you're constantly cooking for people who are wildly outside your tax bracket, all the time." Pasta Flyer isn't reinventing the spaghetti bowl, nor trying to create the next Instagram sensation, but rather serving familiar flavors, expertly cooked. The menu features just five classic pastas.
Leveraging old industry relationships has also helped Ladner keep prices affordable, and he hopes to buy ingredients in higher volume at lower cost, too. The master plan is to bring something like healthy fast food to the masses.
But before Pasta Flyer can become anything like the McDonald's of pasta, he's focusing on making the first restaurant a success. "I don't know [about being the McDonald's of pasta]; maybe that's too boastful," Ladner says, "We think that it has the potential to be. We think that fast food doesn't necessarily need to have a negative connotation and it can also be healthful." An order at Pasta Flyer, from arriving at the counter to swiping a credit card, takes 30 to 40 seconds.
Prime pasta time
When Ladner first conceptualized Pasta Flyer in 2012, fast food was still a very hand-held type of cuisine. And then, brands like Sweetgreen and Dig Inn made space for portable pasta galore. "We were kind of waiting for the culture to be ready for the introduction of a utensil or implement [for fast food pasta]," Ladner says. "When the bowl culture and salad craze started, it paved the way for us."
Now, fast pasta is on the rise, with businesses like Pasta Flyer, the Sosta, Sola and Pasta Wiz blazing the trail. And while New York is hardly teeming with tasty, quick service pasta (it's not poke, after all), expect the carb game to only get stronger in 2018.
"For the most part, I think everyone's trying to boost the idea," Ladner says of his potential competitors. "I went to the Sosta as soon as they opened. We're almost identical in many ways, but I liked it a lot more than I thought we would." He wouldn't even be worried if the Sosta opened up a new location next door to Pasta Flyer, "because it would just bring more people to this neighborhood for pasta."
Sign up here for our daily NYC email and be the first to get all the food/drink/fun New York has to offer.