Your Holiness, we hope you're listening.
You've come out and said you want a big ol' slice of New York pizza during your NYC mega-pilgramidge/worship extravaganza. We already know you dig pizza. Like, you really, really, really enjoy it. 
And despite the fact you allegedly can only consume fish, white rice, bananas and water, well, you'll have no fewer than 8-10 opportunities to down a greasy slice within the 34-hour holy tornado tour around the Big Apple. Listed here is every pizza joint you should hit, based around your loaded itinerary. These are some of the most authentic local flavors in the neighborhoods you'll be hitting. Basically, it's a Pope-style pizza crawl across greater Manhattan.
Hey, you can even get some 'za with your likeness crudely stamped on it. Now that's a real form of canonization. You're welcome.
Recommended Video
Break Into This Butter Chicken Calzone
JFK Aiport
You're fresh off the plane from Washington DC, what better place to start indulging in Italy's finest import since Vito Corleone. Actually...there are a lot better places, but they are not inside JFK. if you need pizza straight off the runway (why not?), your best bet at authenticity is here. Or you could just get Cinnabon to really experience America?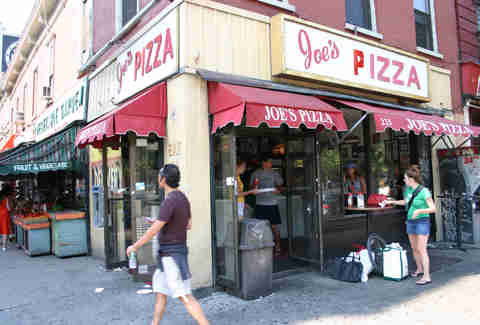 West Village
When you land in Lower Manhattan via your chartered helicopter (a modest helicopter ride), grab a real New York slice from a city institution at Joe's Pizza. Fold it. Reflect on this holy grail of zesty Italian sauces and cheese. Consider moving the Vatican to West Fourth Street.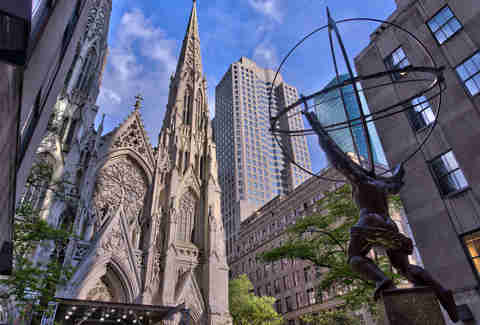 Mass at Saint Patrick's
Anyone who went to Catholic school, and attended roughly three trillion masses, knows that service drags excessively and holy wafers aren't as filling as they look. Patzeria Perfect Pizza is a pepperoni-drenched haven in the sea of chain restaurants and selfie sticks that is midtown Manhattan. When your Mass is over, get your 'za in.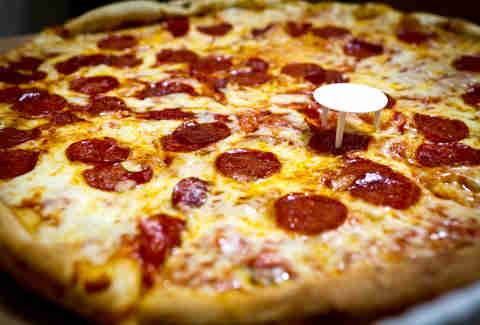 Upper East Side Townhouse
The best thing about New York City (well...besides the art, culture, commerce, diversity, history, and opportunity) is the ability to walk out of your apartment 24/7/365 and get pizza in your hand in less than 10 minutes. You don't even need to hop into your Youmobile to get to Delizia's 73, one of the Upper East Side's finest joints. If you bless their stockroom, they can sell soda at a 45% markup. Pretty sure that's somewhere in Leviticus.
 
United Nations General Assembly
You can't get an authentic taste for New York pizza without stumbling into a dollar cent hole in the wall, and scarfing down some grease-tastic pepperoni slices in a bewildered haze. Again, with the whole modesty thing... this is right up your alley. Most people only really eat here after consuming too many spirits (and not the Holy kind), but why not make an exception?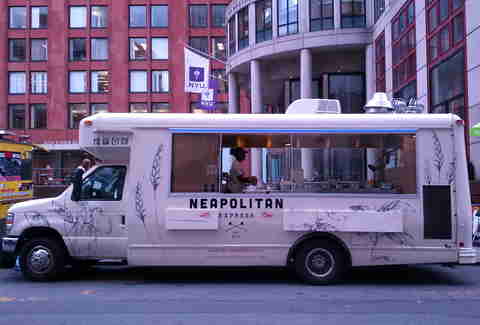 The World Trade Center
After paying your respects and reverence to the World Trade Center Memorial, it would behoove you to swing by Neapolitan Express, a food truck with quality that betrays the humble set-up. Try to cut the line of Wall Street dudes elbowing their way to lunch. Use your staff to smite them if you must.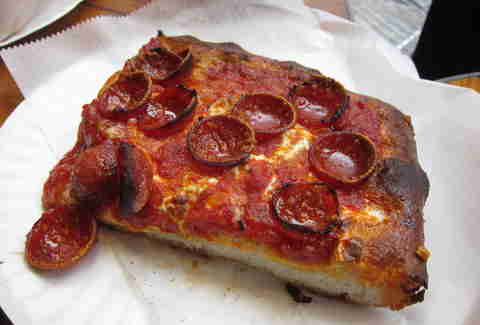 Soho
Before hopping on the FDR to get to Harlem, dodge the wanna-be models and car commercials littering the cobblestones of Soho, and get into Prince Street Pizza for a thick, Sicilian square slice. And stick around to get your picture on the wall. A quick Peroni or three should be okay: you don't need to really speak English, anyway. Pizza + beer = Heaven. Right? Isn't that what the afterlife is?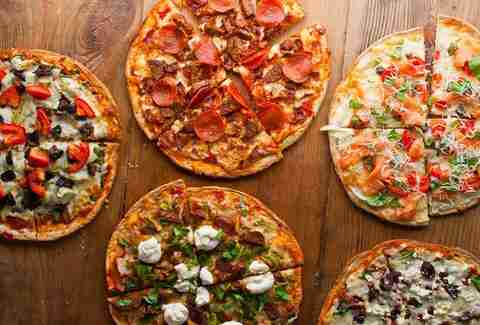 Harlem
After hanging with the kiddies and being the best thing they've seen since Monster University, go to the massively underrated Bad Horse on Frederick Douglas Boulevard for some thin-crusted delicacies in one of the most vibrant (and under-appreciated!) neighborhoods in the city.
 
Upper West Side/Hell's Kitchen
Pizza maestro Antonio Starita knows what he is doing. So after you're done cruising down the west side in your Popemobile with the top down, take a breather, and sit down in his Midtown joint for some pre-Mass vino and gourmet slices. You have a big show at MSG coming up, and you'll need the nourishment. 
Penn Station
No trip to NYC should be considered a success unless you end up huddled against an NJ transit terminal wall, exhausted and chewing on some Don Pepe's pizza, slightly tipsy (blood of Christ?), wondering how the hell you're going to get home. If you're going to Philly, you're definitely gonna want to get your fill before you hit the road -- especially if you're schlepping it on Amtrak.
 
Philadelphia
N/A
Since they stop making pizza altogether when you pass over the PA state line, you're shit out of luck. Jokes.
It's OK. You can come back to NYC whenever you want. You should also try our bagels. 

Wil Fulton is a Staff Writer for Thrillist. He wishes this Pope still wore the tall hat. Follow him @wilfulton
Sign up here for our daily Thrillist email, and get your fix of the best in food/drink/fun.