Known and revered for its massive and insane Franken-burgers like the Deep-Fried PBR Burger, Philadelphia-based burger shop PYT is coming to NYC's Lower East Side this summer, and starting Monday, it's going to start selling cards that will get you unlimited burgers for a whole year. Unlimited. Burgers. For. A. Year.
Although PYT hasn't yet revealed the exact address of its upcoming NYC location, on Monday it's launching a 3-day promotion for the unlimited burger card, and claims Taylor Swift, even though she's probably never once had a burger, got the very first one. For $144.99, you'd get the privilege of flashing one of the wooden cards at PYT's Philadelphia and NYC locations for free epic burgers, whether two times a week, or five times a week — or even seven days a week — for a whole year. PYT said it did the math for you, and if you're crazy (or, really, perfectly reasonable) enough to use it every day, you'd get over $4,380 worth of burgers.
PYT's Tommy Up says there are only 177 cards available and that he's seen "a ton" of traffic to the site where they'll be available to order. So basically get on it.
Here's exactly what the year's worth of burger madness will entail: one burger and fries per day for a year and a chance to get upgraded to a "BURGERS FOR LIFE BOSS'S CARD," which is just incomprehensible. That's a helluva lot of deep-fried Twinkie burgers. What's not included: free burgers via delivery services and gratuity for PYT servers.
As for the new LES location, Up says he wants to keep some surprises under wraps, but shared one of PYT's big plans for its NYC debut.
"We are striving to maintain surprises, as always, but I can tell you we will be making our own donuts in house for the first time, which is really mind blowing for me," Up said. "We are the only place I can think of that offers donut buns — we use Krispy Kreme now — and I can't wait to start experimenting with our own. We are going to f**k these donuts up."
Check out some of their greatest hits below. Time to start shopping for some bigger jeans, guys.
The Deep-Fried Twinkie Burger
The Double Bacon-Wrapped Cheddar Burger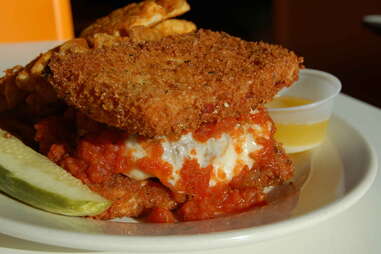 The Deep-Fried Ellio's Pizza Burger

Tony Merevick is Cities News Editor at Thrillist and has found himself at a complete loss for words. Follow him on Twitter @tonymerevick.