Queens Comfort's Deep-Fried Atomic Mac 'n Cheese Balls = Holy Crap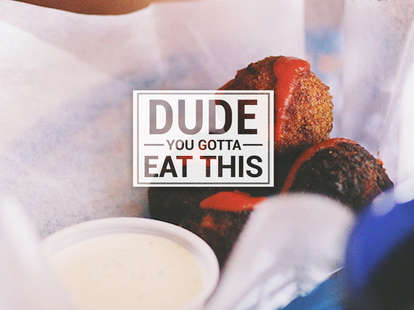 Welcome to Dude, You Gotta Eat This -- a new Thrillist series where we direct your eating attention toward new, under-the-radar, weird, or just plain awesome eats you need to go try around the city.
Step into Astoria's Queens Comfort and you'll feel like you're reliving your childhood. There are funky superhero toys on the shelves, family portraits that line the walls, Christmas lights, and a movie projected on the big screen at the back. But you're not here for a trip down memory lane. You're here for mac 'n cheese, ballified.
(And Louisiana-style comfort foods topped with things like cornflakes and Cap'n Crunch, but that's for another day.)
Made from scratch, Queens Comfort's Atomic Fireballs start with a spicy béchamel mixture that uses three different types of hot sauce: Texas Pete, Tabasco, and the fan-favorite, Sriracha. Cayenne, paprika, yellow and white cheddar, and fontina are then added for an even fierier flavor. Macaroni is tossed in and the whole shebang is refrigerated overnight. The next day, the balls are shaped, coated in a cayenne-and-paprika panko, and then deep-fried and drizzled with Sriracha for more sex appeal.
They're the perfect blend of crumbly and creamy -- everything you know and love about mac 'n cheese but with a badass kick that you can dull down (WHY WOULD YOU DO THIS???) with a taming, tangy ranch dipping sauce that comes with them. The only downside? You'll probably down the entire basket in around a minute.
And our record is totally 45 seconds, step it up.
Alisha Prakash is a contributing writer at Thrillist NYC. Her mission: make Sriracha a food group. You can find more of her musings on her website or follow her on Twitter.