There's Queens, and then there's "Deep Queens." Deep Queens is where I live, and probably where I'll always live. As far as I'm concerned, anything West of Flushing is Brooklyn. Deep Queens is known for its decades-old pizza joints, and while there are tons of great options, these seven are the very best. Do yous remember how to drive a car? Good. Here we go.

Maspeth
What you're getting: Regular or Sicilian slice
What the hell is in Maspeth? Who cares? Just stop at Rosa's for a Sicilian and get right back on the LIE. While famous for its sauce-on-top-Sicilian, Rosa's also has crazy pies with ravioli and taco toppings if you're into that sort of thing. Ask Maspethians where to go for a slice and you'll get the answer in exclaimed unison: "Rosa's! What are you, stunod?"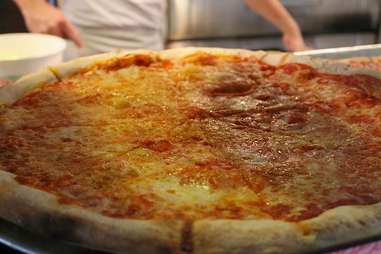 Flushing
What you're getting: Regular slice
Since 1960, Pizza Garden has been my neighborhood pizza joint: a family operation since day one that always makes me feel welcome. Always busy, always fresh, and you can actually take some time to eat inside in the comfort of the surprisingly spacious dining room. If you see a hilarious, bald guy who reminds you of David Lee Roth without his wig, that's Richie. He owns the place. For two bucks, you get a thin and crisp slice with a dash of oregano that cracks perfectly when folded. Cheesier than a lot of the other places on this list, the Pizza Garden slice has a nice, gooey mozzarella that starts to slide off the crust about halfway through eating. And if that doesn't convince you, maybe the sweet theme song will.

Forest Hills
What you're getting: Regular slice
Gloria was a pizza place on Main St in Flushing that we used to eat at when I was a kid. It was incredible. Then it closed for 20 freaking years. Then, in 2012, the pizza gods finally heard our laments and it reopened in Forest Hills. There was much rejoicing. [Warning: fake Italian accent.] The slice, she is-a-thin. She flops a bit like Danilo Gallinari, but not-a-so-much as the King LeBron James. The grease, she is not-a-thick like oil from the bicycle, but like a fine orange wine. She look-a-like the same texture as Amore's, but have a crispier crust that makes a nice music like-a when-a-you dance on the beach seashells without-a-you shoes. So nice. So beautiful this slice -- is like making love to a woman you no see in 20 years because she break-a-you heart. But now, your heart is to sing once more. [End of fake Italian accent.]
Fresh Meadows
What you're getting: Regular slice
The older and dumpier the sign, the better the pizza. This has never been more true than at Brother's. This no-frills, quintessential neighborhood pizza place is so hardcore, it only serves regular and Sicilian slices. No Buffalo chicken, no avocado kale smoothie nonsense -- just pizza. The classic, thin, crisp, saucy slice with a good shot of oregano is pure New York.
Brother's has been around for more than 50 years and Joe, the guy behind the counter who's ALWAYS making another pizza (whether it's necessary or not), has been there for over 40. Dennis, the owner, started working there when he was a kid. It's a friendly joint with a counter full of regulars that makes you feel like you've stepped back in time to the days of the old soda shop. But don't just take my word for it, ask Alec Baldwin.
Flushing
What you're getting: Regular slice
Sure, you're taking your life into your hands when braving the Wild West of parking lots at Amore, but the regular slice will have you hugging the chooch who just liberated your side-view mirror. Like Brother's, this is another thin slice, but with a different taste. This is slightly sweet with a crisp flop and a texture that demands an immediate fold. Everyone knows Amore. It's the kind of joint you mention and people start "mmmmm'ing." It remains my buddy Carmine Famiglietti's favorite pizza shop and his name is Carmine freaking Famiglietti, for Christ's sake. He contends that it's "the best working man's slice in Queens," and I have yet to find anyone who disagrees.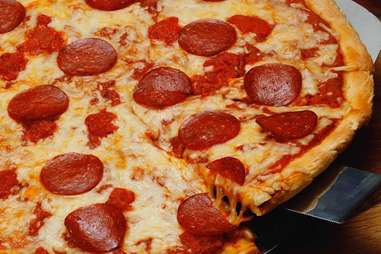 Flushing
What you're getting: Regular slice
Finally, a place you can get to by subway. Take the 7 train to Flushing Main St, head straight to Lucia Pizza, and squeeze into the tiny restaurant for a stand-up slice (there's usually nowhere to sit). This place has been around at least since I was a kid and not much has changed. Another NY-style, thin slice, its makers have seemingly mastered the art of melding just the right amounts of sugar, salt, grease, and cheese into the perfect storm of pizza.
Bayside
What you're getting: Sicilian slice
VIPizza on Bell Blvd in Bayside serves up the best Sicilian slice I have ever eaten -- there's a good reason it's been in business for a century.
While a regular slice at VIPizza is probably great, no one ever gets that here. Why? So many places have a low turnover on Sicilian. It's the most hit-or-miss thing in the world. Either it doesn't heat up right because it's been sitting out too long, or they don't put enough effort into it because they don't sell as many... whatever the problem, VIPizza doesn't have it. Perfect Sicilian slice. Marone.
Sign up here for our daily NYC email and be the first to get all the food/drink/fun New York has to offer.
John Houlihan is a native Queens resident and the host of the radio show, Live from the Barrage. He sees no reason to leave Queens. Ever.