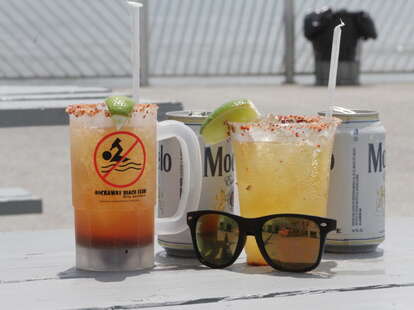 When Hurricane Sandy destroyed the beach and boardwalk out in the Rockaways, it left the future of the relatively new -- but fully charging -- scene out there in question
But thankfully, as of July 4th weekend, all the vendor stations are back up and running (Rippers and Caracas have actually been operating since approx Memorial Day). And despite the lack of a proper boardwalk and sand (who needs it?!), the islands on Beach 86th, 96th, and 106th -- where the vendors are -- are actually improved thanks to additional seating, shade, phone chargers, and the like. Here's what you can check out all Summer, from familiar things to some new hotness.
First stop is Rippers on Beach 86th St. Much of the same vibe is here, just on an expanded island, but you'll still be getting parties, music, beers at noon, and the Hardbody -- consisting of two patties of straight-up heaven covered in the works, it somehow manages to make the cheese and meat taste as one.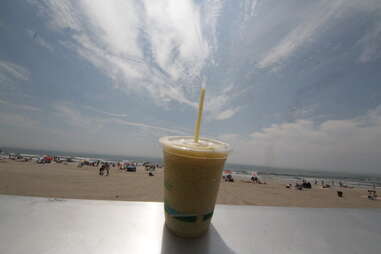 Before you move on to explore the most recently opened vendors, you should probably grab a road smoothie. Here we've got the Mango Inferno loaded with lime, mint, coco juice, agave, salt, mango, peach, pineapple, chili, and NOTHING else, as any more ingredients would just be ridiculous.
Here're the new digs at Beach 96th St. They're still waiting for the Army Corps of Engineers to hook them up with sand to rebuild the beach, but you should definitely go support La Fruteria, DiCosmo's Italian Ice, The Bolivian Llama Party (so much better than The Bolivian Alpaca Party), Motorboat, The Big Banana, Lobster Joint, and Low Tide Bar, which's bringing the drinks, bands, and DJs back. More on these if you keep reading.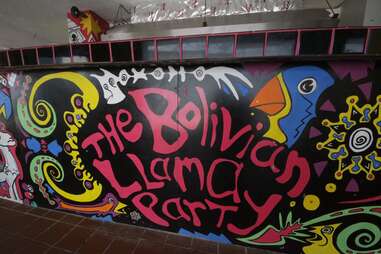 The Bolivian Llama Party, first off, wins the best name award in an actually stacked contest (runners up: Rippers, Motorboat, and The Big Banana). Second, it has an mucho-expanded operation from last year with a ton of meaty goodness, like the Chola Triple Pork Sandwich loaded with slow-roasted pork, cracklins, cured bacon, and their special cheese blend.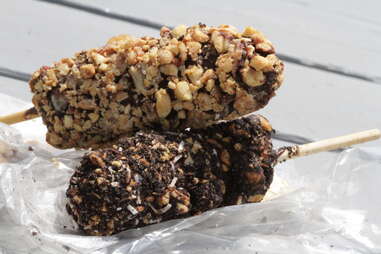 Speaking of Motorboat and The Big Banana, here're their frozen and dipped banana goods -- The Elvis, topped with peanuts and bacon, and the brand new Arrested Development-homaging double-dipped-and-covered-in-everything GOB.
Don't sleep on Motorboat's expanded seafood menu -- this is the fish po' boy, which, in case you couldn't tell, "is the sh*t". It actually is.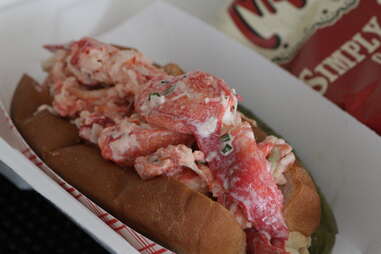 Low Tide Bar's got you on the drinks front: sangria, wine, beers (no hard A this year), and their specialty micheladas you should definitely get to go. Also you get to take home that cup, total score.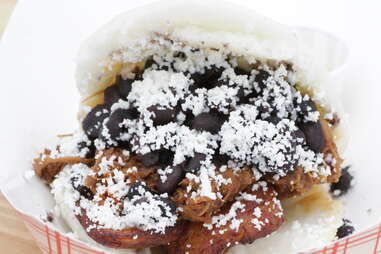 Beach 106th St is home to a couple new phone-charging stations and Caracas, whose pabellon arepa is stuffed to the arepa-gills with shredded beef, black beans, fried sweet plantains, and "white cheese".
Caracas also boasts a frozen twisted sangria. Welcome to heaven, ladies.
And, of course, it's all right near the beach... boyeeeee!!!