Smorgasburg Queens Reveals Its First Full Food Lineup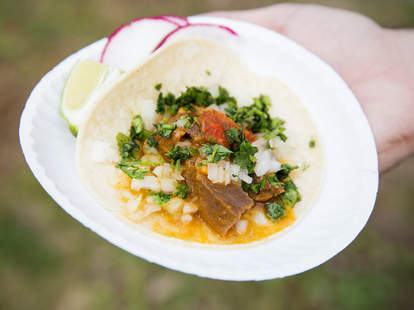 Smorgasburg, NYC's beloved outdoor feeding frenzy known for its enormous food markets in Brooklyn, has finally released the full food vendor lineup for its new, much-anticipated expansion out of its home borough, Smorgasburg Queens. As expected, it's a drool-inducing assortment of Queens' finest ethnic and exciting fare -- from authentic arepas out of Woodside to BBQ sandwiches from Astoria. Which is great. Although it'll still require you to trek out to Queens.
Check out the full lineup of 24 vendors below, and prepare to feel hangry.
Alchemy Creamery (LIC) - You could go with scoops of this creamery's vegan ice cream, or go for a two-scoop "Saturday Sundae" with gluten-free and vegan brownies, cookies, or caked spiced up with cinnamon, brown sugar, and cardamon. Your choice.
Bittersweet NYC (Jackson Heights) - This caterer has got you covered in the savory snacks department with meat and vegetable samosas, oh, and a rich Calcutta street food called rum balls, for a lil' something sweet.
Brine by Danny Brown (Forest Hills) - Here, you'll be able to get your hands on all kinds of rolls from Danny Brown's Forest Hills kitchen -- like a lobster roll with "tarragon-green-goddess" dressing; a crab roll with capers, Sicilian green olives, and hardboiled eggs; and a poached salmon roll with pickled cucumbers and creme fraiche. All of the above, please.
Celebes Bakar Grill (Astoria) - Hit up this stand for Indonesian beef ribs, and perhaps some banana pandan if you're craving something sweet.
Grandpa Val's BBQ (Astoria) - Southern-style BBQ smoked in an all-wood pit, on sandwiches. You can't ask for more, but you might end up ordering more.
Kim Chi Smoke (LIC) - This tasty pop-up series has found a home at Smorgasburg Queens, which means you'll have easy access to Robert Cho's life-altering "Chonut," the powdered sugar dusted fried brioche sandwich stuffed with pan fried smoked brisked, bacon, American cheese, a bourbon-chipotle sauce, and a sunny-side-up egg. Check out the "Korean Redneck Tacos," too, made with pork shoulder, pickled onions, kimchi, slaw and that bourbon-chipotle Fatboy Sauce.
KULU Desserts (Flushing) - Get your sweet fix, Hong Kong style, in the form of mango pomelo soup, ice cream with fresh fruit, and pudding milk tea.
Kyle's Kimchi (Flushing) - Handmade kimchi made from a 60-year-old recipe passed down by Kyle's grandma.
Marani Georgian Restaurant (Rego Park) - Georgian favorites like kebabs, bean stew with pickled vegetables, traditional meat dumplings, and more.
Outer Borough (Flushing) - You may have seen them at Smorgasburg in Brooklyn serving up charcoal grilled meats and sausages.
Papa's Kitchen (Woodside) - Feeling adventurous? Head to this stand and you'll find dishes like stingray sandwiches and even belot, which is a 6-day-old fertilized duck egg boiled and then eaten from the shell.
Pata Paplean (Elmhurst) - A neighborhood favorite. They'll be grilling up wings, sausage, and pork neck.
Tony Merevick/Thrillist
Patacon Pisao (Elmhurst) - Venezuelan fare. Try the patacon, or meat sandwiched between "slices" of mashed and fried plantains.
QI - Thai papaya salad, grilled chicken, and sticky rice. Simple, but good.
Queens Kickshaw (Astoria) - Eat from a rotating menu of grilled cheese sandwiches, chilled soups, and even ice cream sandwiches. 
Ramen Shack - From the guy who brought you the Ramen Burger comes a custom-built shack at Smorgasburg Queens serving up traditional ramen soups like a classic ramen, a chilled shio ramen, and a soupless Okinawa-inspired ramen.
RaR Bar (Astoria) - Savory and sweet, perfectly combined with bites like bloody marry donuts, bacon jam sticky buns, and a croissant filled with bacon, peanut butter, bananas, and honey drizzle called "The Elvis."
Roosevelt Ave Fare (Jackson Heights) - Korean fried chicken wings and roti tacos, all at the same stand. 
Silk Cakes (Forest Hills) - Mini cupcakes and regular-size cupcakes in flavors that put red velvet to shame like raspberry buttercream and sriracha chocolate with chocolate buttercream.
Son - If you like tamales, try Son's Ecuadorian hallacas, for sure. They've also got chicken and beef empanadas and shrimp ceviche. 
Sugar Freak (Astoria) - Deep. Fried. Pudding. Specifically, banana pudding battered with beignet dough and deep fried to hot, gooey perfection.
Teaus (Flushing) - Here you'll find Chinese teas and desserts.
The Arepa Lady (Woodside) - Feast on arepas from the famous street cart turned Woodside restaurant, like the arepa de queso, arepa de choclo, among others.
Wooly's - Taiwanese shaved snow topped with "party rocks" or freaking Pop Rocks mixed with Fruity Pebbles. 
Smorgasburg Queens debuts this Saturday, July 11th, from 11am to 6pm at 43-29 Crescent St in Long Island City.
Follow us on Facebook for a steady stream of daily NYC stories, and be the first to get all the food/drink/fun/news New York has to offer.
Tony Merevick is Cities News Editor at Thrillist and his head is spinning from all of the delicious-sounding foods. Send news tips to news@thrillist.com and follow him on Twitter @tonymerevick.