Recommended Video
France's Fête des Lumières Is a Light Festival Unlike Anything You've Ever Seen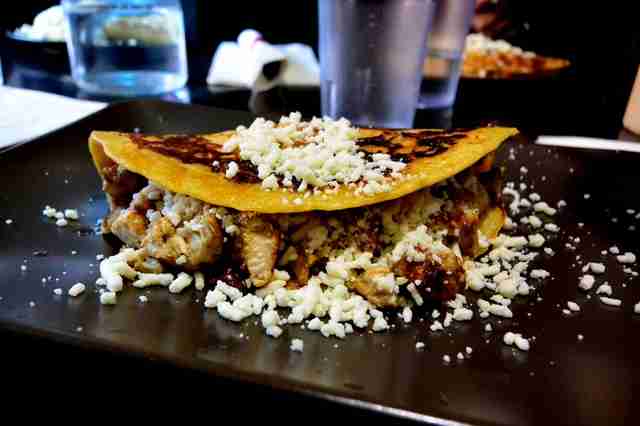 Whether you're getting Maria Cano's arepas at her Roosevelt Ave cart that's been around for what seems like forever or getting them at her newish brick-and-mortar location, these arepas are satisfying to eat, quite filling, and beautiful to look at. Get the arepa de queso (a thick pancake-style arepa with cheese) or the arepa de choclo (a thinner, sweeter arepa folded over). Pro tip: take advantage of the variety of condiments at the restaurant; the cart doesn't have much of a selection.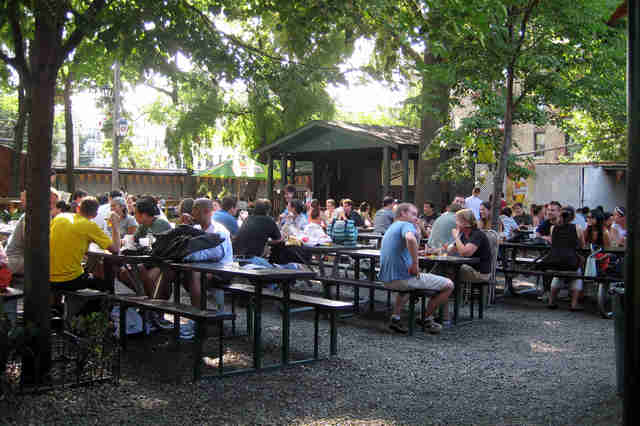 The selection of legit Czech beer goes nicely with the authentic Czech/Slovak food at this real-deal, 100+ year-old beer garden. Early Sunday afternoons are relatively quiet, so if you really want to chill in a more peaceful setting, that's the time to go.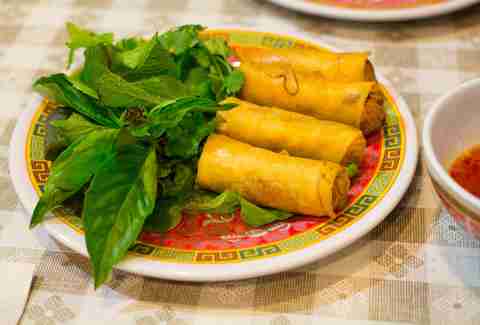 Bun-Ker, located in a small space on Metropolitan Ave just over the border in industrial Maspeth (you can call it Ridgewood if you like -- they do), has become one of the most well-respected Vietnamese restaurants in NYC, serving classic Southeast Asian fare like pho ga (chicken soup), crab spring rolls, and coconut tapioca pudding.
Even before it got a flashy new Michelin star, Casa Enrique was putting out excellent regional Mexican cuisine from the state of Chiapas. And it keeps getting better and better, if that's even possible. The go-to order is cochinito Chiapaneco (roasted pork ribs marinated in guajillo chiles) and a margarita (the red pepper one is particularly interesting).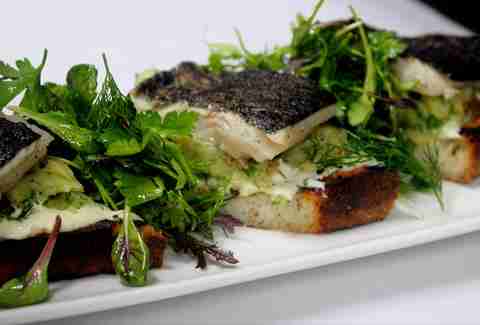 Located in sleepy Dutch Kills (the northern section of Long Island City), Crescent Grill is offering creative and interesting food based on the seasons, so the menu changes regularly. Meats are often organic, produce is local, and it always feels like a special meal when you eat there. Be sure to check out the Dougherty Gallery near the restaurant's entrance, which features the work of local artists.
In 2011, Danny Brown was the first restaurant in Queens to be granted a Michelin star for its European-focused menu of food and wine. Have a light meal of cured meat and cheese with wine, or dive in and have something more substantial with the variety of small and large plates (the chicken under a brick is a must-try). Pro tip: on Tuesday and Wednesday evenings the resto offers a three-course prix-fixe menu for $30/pp.
Dutch Kills is considered the top cocktail bar in the borough and even established its own hand-cut ice program. The space is modest with low, moody lighting, and the bartenders really know what they're doing. If you want a cocktail made with certain flavors, ask the bartenders to make you something with them, and they'll come up with something truly memorable.
Ihawan is regarded by many as the place in Queens for Filipino-style barbecue meat. It comes on a stick, and is huge, cheap, and filling. Plus, what omnivore doesn't like fried pork belly? Also, yes, you enter through the kitchen and go up the stairs. No, you're not in the wrong place.
New Yorkers from the old country proclaim Koliba to serve the best Czech and Slovak food in Queens, and you'll get no argument from us. Animal heads and folk art adorn the walls in the understated dining room, where the staff always treats you like a long-lost cousin. Go for the Bryndzové halušky (spaetzle with sheep's milk cheese and bacon) and don't miss the annual venison fest in the heart of winter.
Owners Hugue Dufour and Sarah Obraitis, the creative team behind the now-defunct and wildly popular M. Wells Diner, decided to open a steakhouse in an old auto-body garage in LIC. Aside from steak, a lot of people get a thrill of choosing their own trout for dinner straight out of the tank, to be whacked and cooked up in real time; you may be one of them. Pr -tip: Smorgasburg Queens has taken up Saturday residence in the lot next door and M. Wells is open then, serving wood-oven pizza and drinks.
Flushing
A trip to Flushing is not complete without a stop at the mall to eat at the food court. Choose the well-worn Golden Mall basement for spicy cumin lamb at Xi'an Famous Foods and maybe some dumplings. Or head to the shiny New World Mall, descend the escalator to the food court, and hit up any of the 32 stalls of East and Southeast Asian food. Vendors change fairly regularly here, so grab the chance to hit up anything that looks good when you're there.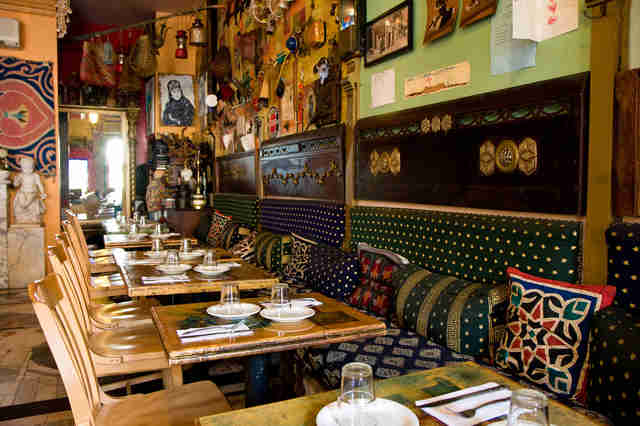 Mombar has one of the most eye-catching storefronts in Queens, and the interior is lovely as well. Moustafa El Sayed serves cuisine from Alexandria (Northern Egypt), and makes particularly exquisite tagines (chicken, lamb, rabbit). Be aware that no alcohol is served; but enjoy the sweet mint tea instead.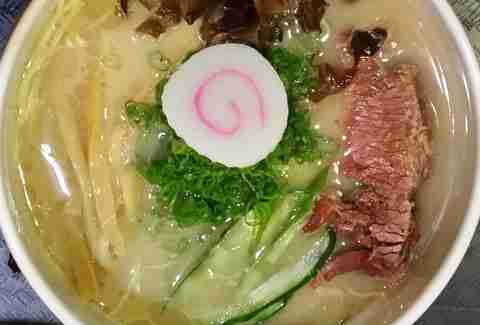 Mu Ramen might have a small menu, but everything is very good, and we mean everything. Broths are incredibly flavorful (thanks to the roasting of bones and long cooking times), and the apps are all tasty and interesting. Pro tip: call ahead and make a reservation; if you get a busy signal just keep trying, you'll get through!
Head here for top-notch pies and tasty salads in a bright and airy space just off bustling Austin St. Yes, you can get dessert (always get the cannoli) but it's mostly about the pizza here.
Sure, you can get beef, chicken, or veg momos anywhere in Himalaya Heights, but head to Phayul for the shogo momos filled with potatoes. Nothing says love like carbs stuffed with carbs. The food can be wonderfully spicy here, too. And don't forget to get a cup of butter tea to wash it all down.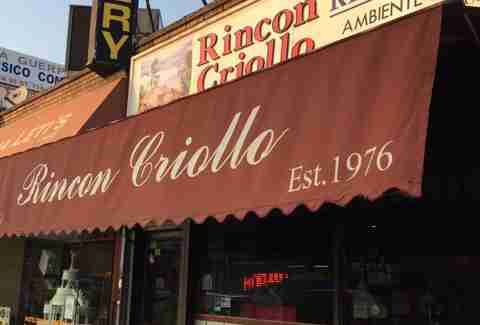 Since 1976, Rincon Criollo has been serving up excellent Cuban fare to hungry people near and far (that includes Guy Fieri). Order the ropa vieja and arroz con pollo, and be sure to take a gander at all the photos of famous people on the wall (like Celia Cruz!). The restaurant is steps away from the express Junction Blvd 7 stop, so you have no excuse not to check it out. (Unless you hate Cuban food, which is something we just can't help you with.)
Salt & Fat was the first modern, high-end restaurant to open in Sunnyside, and it still maintains somewhat modest prices for the food it offers. The meal usually starts off with bacon popcorn, which is always a good sign. Go-to menu items include yellowtail tartare and Korean BBQ wraps.
Pro-tip: arrive on the early side of the evening, as the place can fill up quickly.
When you sit down to dinner at SriPraPhai, don't be afraid of the menu, which is the size of a freaking tome. The food, especially the curries, is rich and tasty, but there are great noodle dishes, salads, and plenty of vegetarian options. Keep in mind that it's cash only.
The long lines along the sidewalk say it all -- this is one of the best Greek restaurants in NYC and people clamor to get in. Sure, it's annoying to wait, but it's worth it. Just get the octopus, if anything (not chewy like calamari), and get the lemon potatoes with it! Pro tip: the food is just as good for lunch as it is for dinner, with less of a wait.
Chef Rocco Sacramone has built and marketed Trattoria L'incontro to be considered the king of the Italian food scene in Western Queens, and remains one of Queens' destination restaurants. It's famous for its mega-list of specials, piped through your waiter's earpiece. The move is to order the specials and/or the mezza luna ravioli. And don't be afraid to ask them to repeat the specials; everyone does it.
Head to Wafa Chami's casual and homey eatery for some of the best Lebanese and greater Mediterranean cuisine in the city. You'll want to eat everything on the menu, from well-executed basics to more elaborate dishes. We recommend the Swiss chard soup, baba ghanoush, and shish tawook. And seriously consider getting dessert -- baklava and strong coffee are just the ticket.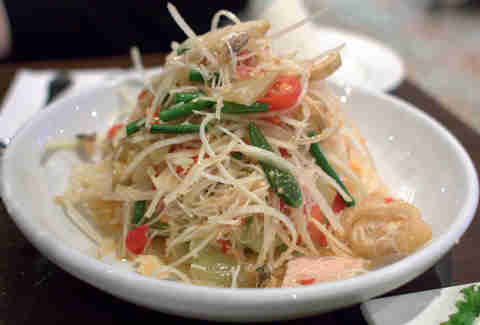 Zabb Elee is the third spot in Queens to garner a Michelin star, and that's due to its excellent Northern Thai cuisine -- lots of sour, funky, and very spicy food that packs a flavor punch. Get the Som Tum Kortmuar (an elaborate papaya salad), or the Sai Kroong Esan (a Thai sour pork sausage dish). This is not your average Thai food. Pro tip: when you're done with your Thai meal, check out the partially hidden sushi and sake bar in the restaurant's basement.
Years ago, Glendale (along with Ridgewood) was the center of German culture in Queens; Zum Stammtisch is all that's left of the German food scene in the neighborhood. The restaurant transports you to another place and time, complete with waitresses in dirndls and solid classic German fare like krainerwurst (pork sausage) and jägerschnitzel (veal) -- plus good German beer. And don't leave without visiting the Stammtisch Pork Store next door, full of excellent sausages and imported German foodstuffs.
Sign up here for our daily NYC email and be the first to get all the food/drink/fun New York has to offer.
Meg Cotner loves Queens, avocados, and is a budding cheesemaker; her apartment is slowly becoming a fermentation fun house. Follow her on Instagram and Twitter for details on her latest adventures in food preservation, and her new obsession with pawpaws.
Stuff You'll Like