You've heard of Flushing and its legendary Chinatown, but for whatever reason (irrational fear of Queens, don't like being in the subway for more than 20 minutes, can't figure out why you should travel when you can just get Dragon Express to deliver...), you've never been. And, even if you have (again, you haven't), you probably got overwhelmed and just went to the first place you saw and got dumplings.
Well, we teamed up with Asian eats expert Wendy Wei (who grew up going there and speaks Chinese) and her mom (who lives there now and is opening her own restaurant there shortly) to help us put together a definitive guide and map to Flushing for next time you make the trek out there on the LIRR. Oh, right, definitive guide tip No. 1: take the LIRR and buy a "city ticket" -- it's half the price of a regular ticket and much more pleasant than the 7 train.
1. Corner 28 (number one on our sexy map)
As soon as you step out of the train station, you're going to be overwhelmed -- it's a massive marketplace with a zillion people, and seemingly everyone yelling something. Collect yourself and beeline towards the corner of Main St and 40th. Don't bother looking for something that says Corner 28 ('cause you won't find it); instead, walk right up to the window with red signage around it that says "Rice Wrap/Peking Duck", and order some Peking duck buns. This is a guide, not a crawl, so hit up the place you want, but always start this way -- they are crispy, sweet, fluffy, excellent, and close.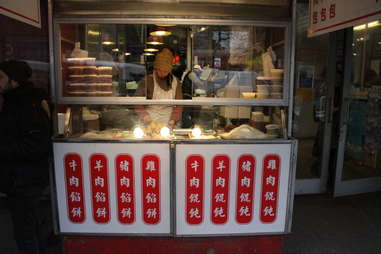 2. Golden Mall (number two on our sexy map)
The Golden Mall can be confounding; a lot of things will be named with the same address and likely have signs that say "Golden Mall". Take aim for this street-level takeout window for some delicious stuff that our expert says you can't get anywhere else in Flushing. Here're the three things you should be trying: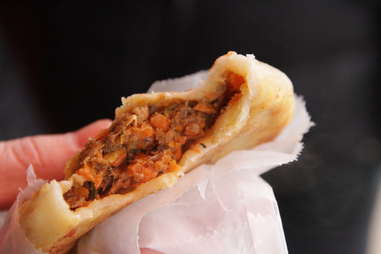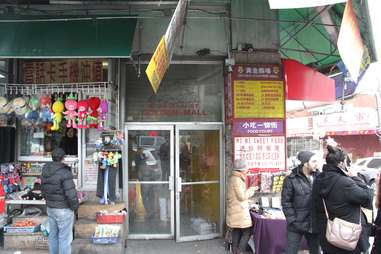 This is the other part of Golden Mall that you need to focus on: the downstairs. It's home to the now-famous Xi'an Famous Foods (which you should totally go to, even though you don't need to come to Flushing to get it anymore) and our expert's dumpling spot...
... Tianjin Homemade Dumplings, located directly next to Xi'an. Space is going to be tight down here, but don't you dare leave without the lamb & squash, or pork, chive & shrimp dumplings topped with hot chili oil, vinegar, and fresh garlic. Also, the beef tendons here are great... if you're getting adventurous.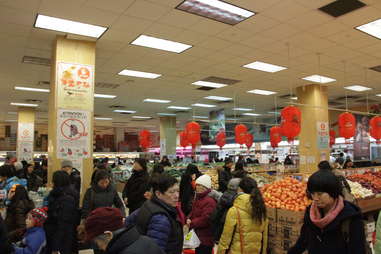 You're going to have an incredible amount of options down here, but if you want to impress people with what looks like the biggest dumpling in the world, head to the right-corner behind the escalators for Li Lanzhou Stretch Noodles, which is also identifiable by a guy hand-pulling noodles in the window.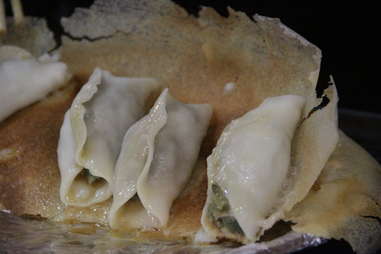 Now, about that giant dumpling: flip it over, and there're actually five SMALLER pork & chive masterpieces hiding in there. Also, grab an order of the hand-cut lamb noodles.
At the opposite corner behind the escalators is Live Seafood (... we think that's what it's called), where you can pick out your lobster and choice of sauce, and they'll stir fry 'em up.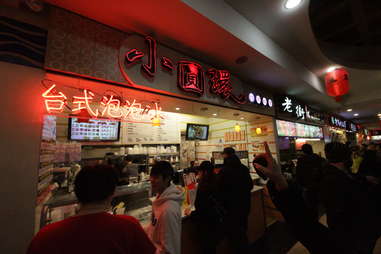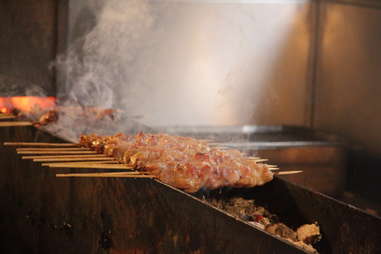 6. White Bear (number six on our sexy map)
We like to imagine that, once upon a time, some uninitiated guy came upon White Bear by accident and the wontons blew his goddamn mind. This dingy little place on the main strip is that good. Order as many as you can eat, because they're delicious... and they'll get kind of mad at you if you don't order a lot. There's also a stretch of sit-down spots -- each great for different tastes -- near this guy: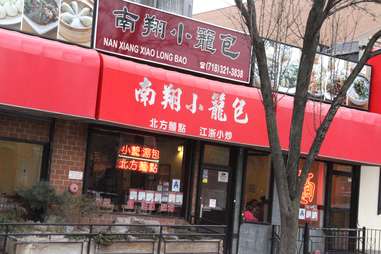 10. TenRen's Tea and Ginseg Co. (number 10 on our sexy map)
Bubble tea time! You're gonna recognize this place by the fact that it seems to be endorsed by Deuce Bigalow: Male Gigolo (really!). Get the green tea milk or that purple one (taro root), which tastes like cereal milk.
11. No. 1 East Restaurant (number 11 on our sexy map)
The most sandwich-y thing you're going to have all day should be this beef scallion pancake, that has nothing to do with any pancake you make at home, and much more to do with a flaky, sesame puff pastry filled with meat.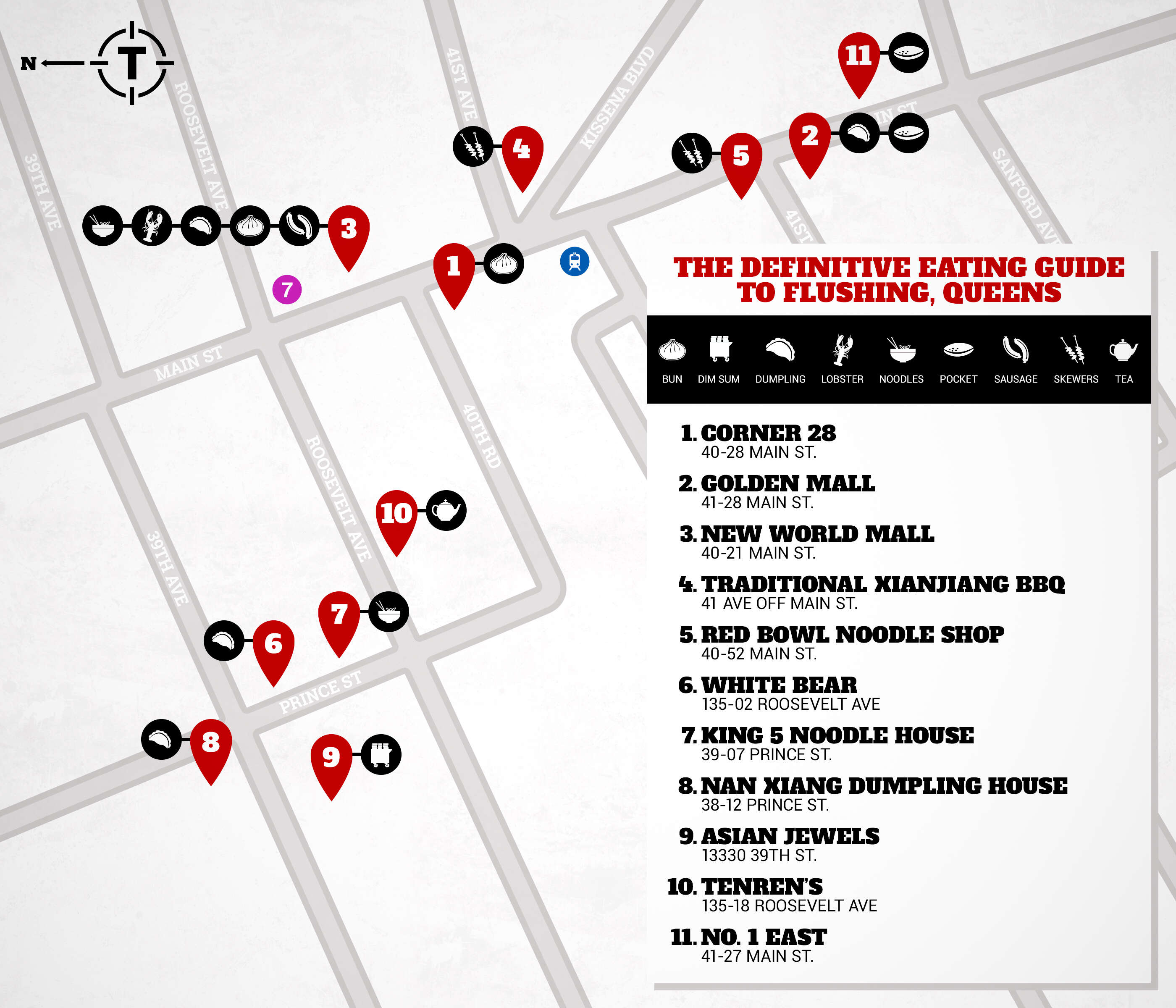 Print this out or save this page for quick reference while you're there.
Andrew Zimmer is Thrillist's NYC Editor, and just about his favorite thing to do in the world is walk around different neighborhoods and eat food. Follow him on Facebook, Instagram, and Twitter.