Brooklyn may get the lion's share of New York's non-Manhattan glory, but Queens dwellers (including this author) know their borough is pretty damn special. What it lacks in plethoras of hipster-filled, exposed-brick cafes, artisanal charcuterie plates, and indie bookstores, it makes up for with vibrant art scenes (RIP, 5POINTZ), searing urban landscapes, slice joints, and off-the-hook affordable ethnic eats that're the welcome result of living in the city's epicenter for cultural diversity.
Here are 20 reasons (most of which you can go do) why Queens is actually the best borough. NO Jersey, you're not a borough. Stop it.
Every summer Saturday, these all-day al fresco soirees in the courtyard feature a lineup of DJs, dancing (without having to drop a ton of money), and a line you're gonna want to get in quick, if you want to get into the club. Hungry? Yeah, you're gonna do M. Wells Dinette.
 
Thai food
Actual, authentic Thai cooking -- wherein spicy, sweet, sour, and salty all successfully commingle, super nakedly -- proliferates in Woodside and Elmhurst. Here's how to do it right: get anything at SriPraPhai, the crispy catfish salad at Ayada, the fiery chicken larb at Ploy, and seafood-laden khao soi noodles at Chao Thai Too.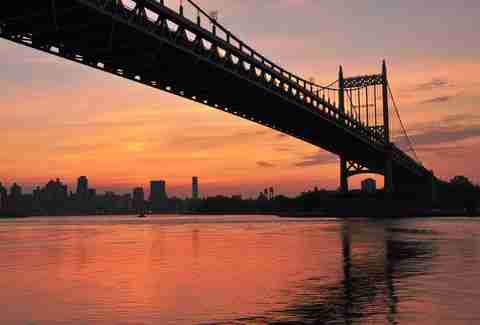 Astoria Park
There's both water you can swim in (hello, public pool), and water you can year-round stare at (hello, East River... especially the views between the RFK and Hell Gate Bridges).
 
You'll be hard-pressed (like, REALLY hard, we're talking borderline pushing) to find a better bowl of noodles than the one served up at this Elmhurst favorite. Uncle Zhou -- that's owner Steven Zhou -- hails from Henan, Central China's breadbasket, and it's clear the man's got a way with wheat. He stretches and twirls each mound of dough into delightfully chewy, never-ending ribbons that get knife-shaved and smattered with tomato, egg, and mushroom, or doused in vinegar.
Queens' microbrew scene -- particularly in Astoria and Long Island City -- is thriving. One of the first to make a dent with its quality beers across the city is Astoria's SingleCut Beersmiths. Hanging out in the brewery's relaxed tap room, with a shepherd's pie and the Mahogany Ale = Uh, yeah, let's do that.
I mean... Goodfellas was filmed at Neir's Tavern. But if you need more: it's one of the city's oldest bars (1829!). Unassumingly situated in Woodhaven, it's really one of its essential dives, with a mix of old-timer bar flies and bikers that make it one of the most memorable stops for a burger and a pint.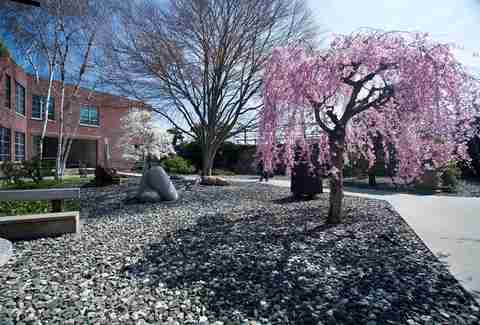 Acclaimed Japanese-American artist Isamu Noguchi designed a home for a bunch of his insane art in this open-air sculpture garden in the middle of industrial Long Island City. Basically, it's way more zen than a yoga class.
Roosevelt Avenue
Food cart-laden Roosevelt Ave, one of Queens' main drags, does late-night the way late-night should be done: with the scent of freshly griddled arepas, the 7 rumbling above, and muffled music filtering out of mysterious clubs. It's equal parts seediness and possibility. Actually, hopefully a little bit more possibility.
A finer drink in Queens will not be had than the one sipped at Dutch Kills. This dark, ambient bar is from Little Branch and Milk & Honey alum Richie Boccato, who's held court on a barren crook of Long Island City for five years now.
 
Wafa Chami does deep-cut Lebanese at her namesake Forest Hills restaurant -- from tender chicken shawarma, to smoky baba ghanoush, to parsley-dotted logs of kefta -- while her sons rove between the kitchen and dining room, dispensing killer homemade hot sauce and pouring inky black coffee. The signature dessert (which you're gonna order as soon as you read about it, EVEN IF YOU'RE NOT IN THE RESTAURANT)? A warm cheese oozing out from underneath a shredded, wheat-like kataifi.
Queens County Farm Museum
This is a place in Queens. This. Is. A. Place. In. Queens. The Queens County Farm in Little Neck, right on the Long Island border, has been around since 1697, and it's one of the city's most serene spots, complete with an orchard, freshly laid eggs, and house-made raw honey.
 
You have a soft spot for demolishing an old-school slice folded in half. In Queens, the place to do it is Dani's House of Pizza, a Kew Gardens institution since 1959. Grab a stool at the counter, order a fountain seltzer, and then check out a movie at the porno film house(!!!!!)-turned indie cinema (ohhhhh...) across the street.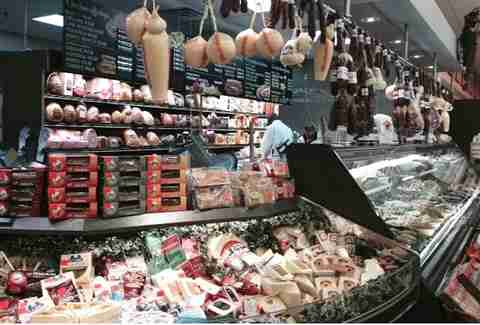 Formerly the old Pathmark supermarket on Long Island City's car dealership-packed Northern Boulevard, Food Bazaar offers an abundance of fresh produce, 24 hours of fun, and ethnic delicacies galore (behold the extensive Goya selection), spanning Jamaican Scotch Bonnet pepper hot sauce, organic sushi rice, kimchee, and Ecuadorian sardines.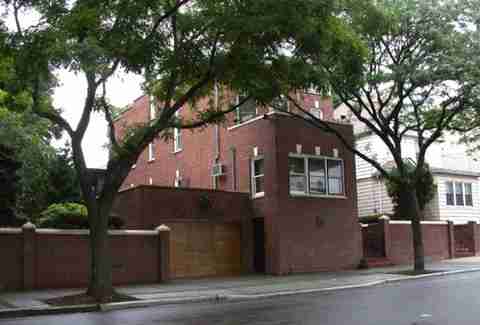 Legendary New Orleans trumpeter, Louis Armstrong, moved into a Corona home in 1943, and lived there with his wife, Lucille, for nearly 30 years before they turned it into a museum. If you haven't seen his gilded bathroom (yep, the entire wall is mirrored, which is pretty baller) and the trippy, futuristic blue kitchen, your life is just a little worse than everyone else's.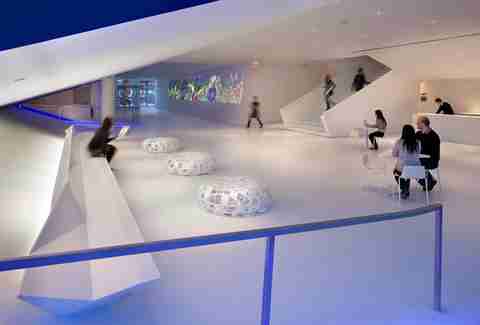 After undergoing a slick revamp in 2011, this institution is better than ever, with loads of cinematic artifacts, tons of screenings that often bring in celebrities (Martin Scorsese! Julia Louis-Dreyfus!), and an opportunity to play a vintage Space Invaders game, which is just awesome.
This Sunnyside lair run by the affable husband-and-wife team Dan and Tara Glasser is where you go to get your mid-century Danish home bar and an impressive stash of vinyl that they constantly replenish, including a first pressing of John Coltrane's Giant Steps and Funkadelic's Maggot Brain.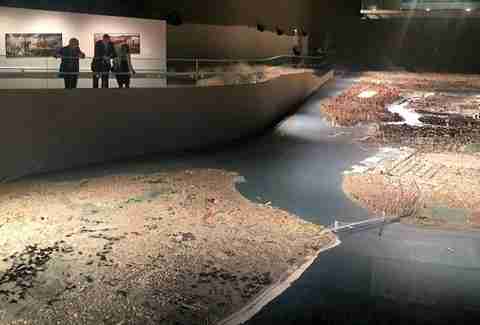 Flushing Meadows Corona Park
Home to both the 1939 and 1964 World's Fairs (do they still have those?), Flushing Meadows Corona Park remains an awesome place to check out landmarks like the The New York Hall of Science, Queens Theatre, the Unisphere, and the just-expanded Queens Museum, where you'll get all the world-class art of the Met, and none of the crowds.
Sign up here for our daily NYC email and be the first to get all the food/drink/fun New York has to offer.
A longtime resident of Astoria, Alia Akkam was born in a Forest Hills hospital that no longer exists, lived out her tyke years in Laurelton, and, when not writing about food, drink, travel, and design for myriad outlets, is the editor of Edible Queens. Follow her on Twitter.
This article was originally published on April 10, 2014.