If you don't live in Red Hook, you've probably only been there for meatballs and a dresser you sucked at assembling. Well, that's about to change with the return of the food trucks at Red Hook Ball Fields, which will be slinging some of the best and most authentic Latin American eats in basically all of NYC throughout the entire Summer.
Fair warning: it can be a little tricky for the uninitiated. Which's why we put together this guide to getting there and knowing what to eat once you do. Enjoy.
The Basics
If you want to beat the lines, it's best to head over to the fields before the Red Hook pool opens near the end of June. Most of the trucks open at 10am, and crowds don't form until the soccer games start in the afternoon. In the Summer, customers keep the trucks open well into the night.
Getting There
The ball fields can be confounding to get to -- it's a jaunt from the nearest subway station (Carrol St F/G), so you could take a bus, but the aforementioned dresser purveyor is actually probably your best reference point. There's a shuttle and a ferry that runs to Ikea, and after that, you take a right out of the Ikea parking lot, and then a left onto Columbia St. Go past the paddle ball courts and take a right onto Bay St. The Red Hook park is big; you'll see bleachers, a track, and a baseball diamond before you make it to the corner of Bay and Clinton, where the trucks are located. Or you could just take a cab...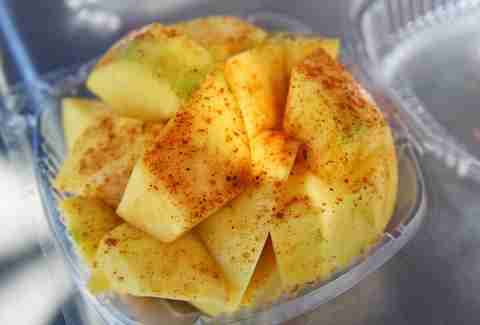 Vaquero
One of the first stands to greet you will be Vaquero, a shiny, silver Mexican fruit and juice-ery that also serves corn (elote) and tamales. Start with the "fruit salads" -- plastic containers of chopped fresh fruit. The mango is the move, and on request, they sprinkle the fruit with chili, lime, and salt. So yeah, request that.

Oh, and get one of the fresh juices -- they're all-natural and not too sweet. Don't worry, you're going to have a lot of less-healthy stuff very soon.
Pro tip: the elote on a stick is better than in a cup. If you've never tried corn this way, get it. It's only $3, and it's covered in mayo, chili, and lime, and simply delicious. If you have tried corn this way, you know what to do.
Before moving, take a tamale to-go. It's made of masa, filled with chicken, steamed in a corn husk, and totally worth the carbs.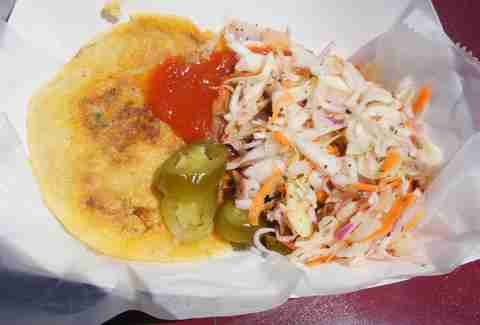 Solber Pupusas
In front of Vaquero is Solber Pupusas, one of two Salvadoran pupusa trucks (pupusa-off!!!). Rafael runs the truck with his wife, and his Dominican Republic roots are evident in the cooking. Because he's also at the Brooklyn Fleas and Smorgasburg, he doesn't make it to the Red Hook Ball Fields until around 1pm, but when he does, ohhhhh boy. Pupusas (corn cakes stuffed with cheese FTW!) and other goodness are cooked on the grill, including the Revuelta; it's loaded with cheese, spiced chicken, pork, and beans, and's served with a side of shredded cabbage and carrot.
El Olomega
In front of Solber's is El Olomega, the winner of the most recent Vendy Award (the Red Hook food vendors have four Vendy's combined -- it's practically a rite of passage). Marcos and his family have been running this truck for more than 20 years, and it's his Mom who first started making the pickled cabbage bright red.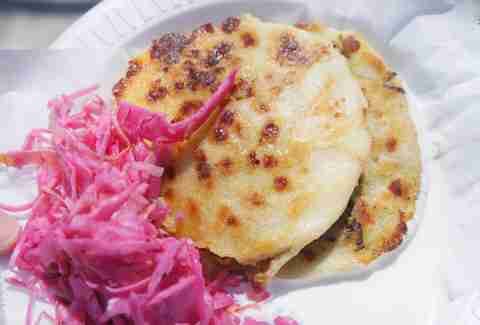 The pupusas here are really cheesy, and the soft masa shell makes for some truly gooey goodness. The ham and cheese is the most popular, but the more interesting option is the pupusa filled with the loroco, an edible flower bud from El Salvador.
The Colombian Food Truck
There's a Colombian food truck in the very front of the line-up on Bay St. It doesn't have a name, and the owner is a bit secretive, but it's been there the longest of the bunch, so maybe there's something to be said for keeping a low profile. Get the arepa. It's similar to a pupusa, but the difference is in the corn meal used to make it. The taste is something like cornbread stuffed with cheese, which is something you should be on board with.
They've also got you covered -- if you need a hangover fix -- with the salchipapas, a combo of salchicha (sausage) and papas (potatoes). It's a plate of fries and hot dogs with slices of eggs on top, served with salsa rosada, a mixture of mayo and ketchup.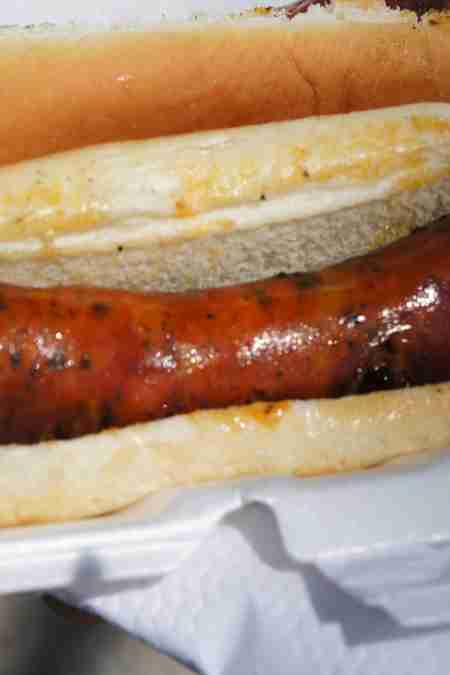 Also worth getting: the Colombian sausage. Put some fries in the bun with it. MIND. BLOWN.
Piaztlan
Behind Country Boys is another Mexican food truck, Piaztlan. The side of the white truck has a menu with big pictures and descriptions, making this one of the easier spots to order. Tacos are the go-to items here. There's a carne enchilada taco with pork marinated in red chili sauce…
… a barbacoa de chivo taco that's packed with slow-cooked, pulled goat meat...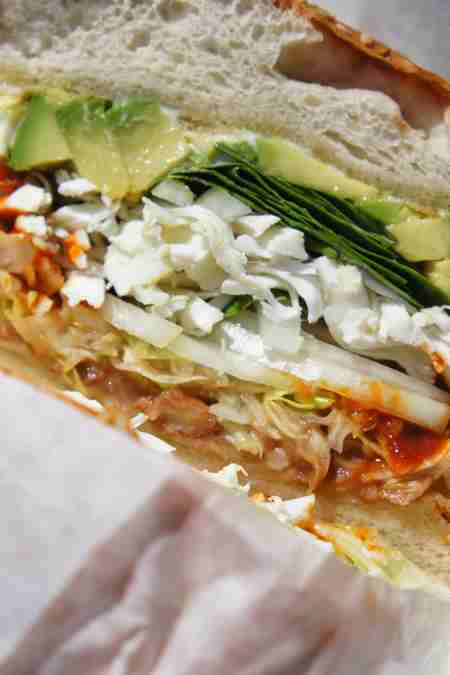 … and a cemita, a sandwich served on a sesame seed bun that comes with your choice of meat or beans, mayo, avocado, cilantro, onion, quesillo (a type of string cheese), and chipotle sauce.
Country Boys
On Clinton St (at the corner of Bay) is Country Boys, a smaller, also-silver Mexican food truck. The portions are huge (maybe don't end with this one), but definitely try the huarache. It's a tortilla stuffed with a layer of beans inside -- add beef or chicken, and ask for it with everything so you get all the toppings: lettuce, pico de gallo, sour cream, guacamole, and cheese.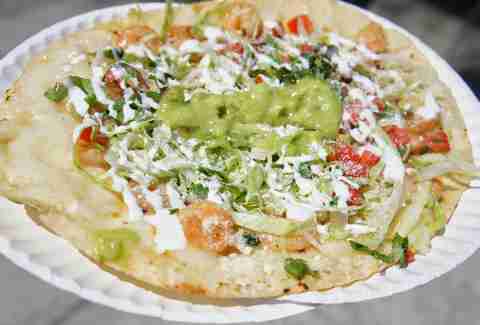 And if you want something a bit lighter, or (hopefully) just two things from this truck, try the (very similar-looking) shrimp quesadilla.
Amy Hamblen is a freelance writer who -- after practicing Spanish for a really long time -- still only knows how to say, "Dos cervezas, por favor." Follow her on Twitter.