Village new-Chinese spot RedFarm recently closed its doors to make some renovations, but never fear: while that's going down, they've taken over the former laundromat space beneath them (that wasn't a super-cool club that only played Nirvana's Bleach, it was an actual laundromat), and created a steak-centric version of the upstairs spot with some new dishes in a rustic, speakeasy-meets-hanging-gardens space all centered around a big communal table.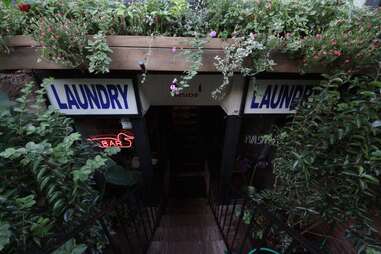 Make your way down the steps underneath the proper restaurant, and don't be scared off by the laundry signs... nobody's gonna make you do any.
Start things off with an inside-out filet mignon. It's a lot like a steak bun, but the dough is rolled around the meat and slightly resembles a cross section of a big ol' bone.
The egg rolls are now filled with Benton's bacon, and the shells are battered then fried so they're extra crunchy. The whole thing is sided with a little kaffir lime honey mustard -- suck it, little yellow packet that's impossible to open.
They've still got dumplings and they're as whimsical as ever (remember the little stingray and Pac-Man shaped numbers upstairs?), including this "Beggars Purse", which's filled with veggies and not actually topped with anything... it's just colored green. And naturally, they have a spring roll that looks like a tree.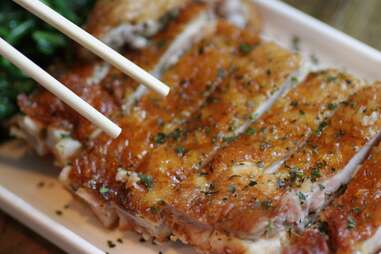 Chicken "steak" stuffed with shrimp, where the shrimp is basically like what's inside a shrimp dumpling.
Marinated in "bulgogi-ish" sauce, then served and sliced with mushrooms that have been "Michael Jacksoned" (read: turned white), the steak is a can't miss. If you're sharing it, make sure you go for the fatty part at the end.
Takes on classic cocktails will be on hand down here as well, including this nifty barrel-aged Manhattan. To always having someone else do your laundry!