Don't miss our guide to the Macy's Thanksgiving Day Parade in NYC. Check it out and go work up an appetite!
There's really no upside to cooking Thanksgiving dinner in New York City, especially if you're the kind of person who, for 364 days of the year, uses your undersized oven exclusively for sweater storage. Frankly, even if you could manage dinner, your guests are hardly going to enjoy squeezing around the coffee table that can barely hold your nightly Seamless order.
Nope, this Thanksgiving, you're going out -- especially if your visiting family is paying. Here are all the best places in New York City to feast on Thanksgiving. Bonus: Almost all of these feasts are south of $100 per person, leaving you some holiday cash to, um, buy some bigger pants?
Also check out our list of the best chain restaurants open on Thanksgiving and serving up turkey!
Recommended Video
These Mac & Cheese Nachos Just Won the Comfort Food Game
Greenpoint
This romantic French-ish restaurant by the team behind Maison Premiere will serve a three-course prix fixe menu from 1pm to 10pm. Courses include cauliflower soup with peekytoe crab and black truffle vinaigrette, and heritage turkey with chestnut stuffing, braised kale, cranberry jam and gravy. Alternatives include your short-rib-and-mushroom fantasy come true, and a vegetarian acorn squash ravioli. Chocolate tarts with pomegranate, and pumpkin pie topped with spiced mascarpone will be served family-style for dessert.
Price: $65 per person, reservations can be made on OpenTable
Midtown West
This historic Prohibition-era establishment will be serving two Thanksgiving menus: a prix fixe in the Bar Room and a buffet in the Puncheon Room. Because this holiday is all about overdoing it, consider the buffet, which will be loaded with oysters on the half shell, crab cakes, and an all-important carving station loaded with turkey, pork rib, lamb leg, beef tenderloin, and lobster cavatelli. All the trimmings, including creamed spinach, truffle mac & cheese, and Brussels sprouts are laid on too, plus a selection of desserts if you've (somehow) still got room.
Price: $155 per person, for reservations call 212-582-7200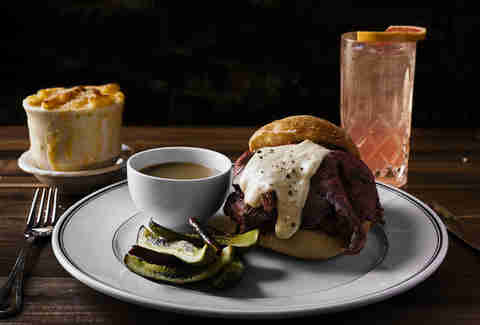 Upper West Side
For a Southern-style Thanksgiving that'll make you glad you left the house sans belt, book dinner at this ode to all things unhealthy and delicious. The menu is everything you want and more: sweet potato soup with marshmallow foam, roasted turkey breast with brioche stuffing, mashed potatoes, cranberry sauce, creamed spinach, mac & cheese. For dessert, it's sweet potato pie with pumpkin ice cream.
Price: $75 per person, for reservations call 212-496-9100
Flatiron
For the one annual holiday that stars oversized poultry, it makes a lot of sense to dine somewhere that dubs itself "the bistro of beautiful birds." In addition to a heritage turkey whose lineage can be traced back 174 years, diners can gorge on duck foie gras with cranberry chutney, turkey consommé with black truffle ravioli, and chef Antoine Westermann's signature gingerbread and caramelized apple tart with orange sauce.
Price: $90 per person, call 212-267-7426 for reservations
NoMad
If you can't make it all the way home to the West Coast for the holiday weekend, go for a Californian family-style Thanksgiving at Covina. Dishes include roasted honey-nut squash soup, spice-rubbed turkey with tasso ham gravy, and andouille sausage stuffing, plus an all-star cast of sides. Dessert is delightfully simple: apple or pumpkin pie a la mode.
Price: $70 per person, for reservations call 212-204-0225
West Village
If you were an expat in Paris, this is the cozy corner restaurant you'd seek out for Thanksgiving. The multi-course meal will include cauliflower and leek soup, followed by the hallowed turkey served with cranberry sauce, cauliflower purée, spaghetti squash, charred Brussels sprouts, and broccoli soufflé. The vegetarian option is fresh tagliatelle with wild mushrooms.
Price: $75 per person, call 212-727-1170 for reservations
West Village
"A refined holiday spread" will be served at this New American restaurant, which still has its Despacito cocktail on the bar menu. Expect gourmet snacks, salads and confit heritage turkey served with walnut-date sauce, as well as slow-poached turkey breast, collard greens and more. Houseman will be organizing its own game of touch football outside on Greenwich Street, should you want to build up an appetite for seconds.
Price: $85 per person; tables can seat up to 20. For reservations, email thanksgiving@housemanrestaurant.com.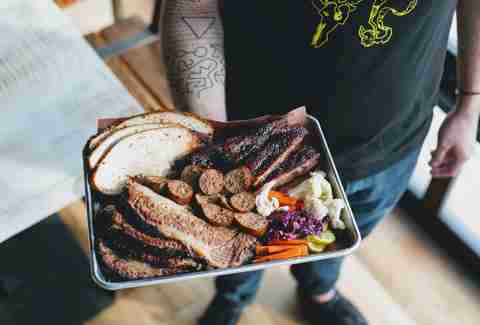 Astoria
If you're homesick for the Lone Star State, head to Bareburger's BBQ sibling. The stars of the casual Friendsgiving-style meal are the smoked turkey slathered in butter sauce, the smoked brisket, and the salt-and-pepper pork -- all of which are antibiotic-free and humanely raised (let's not dwell on the merciless slaughter afterwards). Sides include brioche stuffing, jalapeño mac & cheese, and wood-fired baked sweet potato with maple sour cream and toasted marshmallow.
Price: Meats are about $15 per half pound; sides and desserts are $7 each
NoMad
If you're not ready to invest $245 in a Thanksgiving feast at Eleven Madison Park, head to the fast-casual sibling of the World's Best Restaurant, where takeout for eight people runs to $250 (and you eat it in your pajamas). In the bag you'll find a classic spread of roasted turkey with sausage stuffing, potato purée, green bean casserole, cranberry chutney, and roasted autumn veggies. Pumpkin or apple pie is technically extra (one for $30, two for $50), but you may as well consider it essential.
Price: $250 for eight people (desserts are not included); email catering@madenicenyc.com by November 21 to order
Midtown West
Is this New York's best Italian restaurant? Nah, but the food is solid and it's an on-point option if you're into the slightly cheesy, red-checkered tablecloth ambiance (I am), and if you're looking for a deal (I definitely am). The meal is a no-nonsense pile of sliced turkey, spicy sausage stuffing, garlic mashed potatoes, and green beans, all drenched in the house gravy, with pumpkin pie for dessert.
Price: $20 per person
Midtown West
Head here for an Indian-spiced twist on Thanksgiving -- and get ready to inhale chef Manish Mehrotra's festive menu. Dishes include sweet potato shakarkandi and roast turkey pinwheels with sage and paneer. The sumptuous sides deserve almost as much attention. The standout options are French beans with black garlic and golden almonds, bacon kulcha with rosemary butter, and cumin maple potatoes. "Potatoes plus syrup?" we hear you say. Oh yes. Yes indeed.
Price: $95 per person, call 212-842-8070 for reservations
East Village
This is your holiday go-to for a Southern-style family supper that includes biscuits, deviled eggs, fried turkey, creamy green bean casserole, and more gut-busting sides. For dessert, choose from pumpkin or pecan pie, and pair each course with a house-recommended beer ($15 extra), wine ($25 extra), or bourbon ($35 extra).
Price: $85 per person; call 646-682-7076 for reservations
East Village
Sometimes you need a nice, calm reprieve from the chaos of the Holiday Season -- that's where this tiny restaurant and bar comes in. Chef Jeremy Salamon's menu starts with a hot brown butter cider and cockle-warming pumpkin soup, then moves onto roast turkey with truffle risotto, brioche chestnut stuffing, and mashed rutabaga. Dessert is a ginger-spiced pain d'epices with pear sorbet.
Price: $85 per person, call 646-895-9884 for reservations
Sign up here for our daily NYC email and be the first to get all the food/drink/fun New York has to offer.