In an Ever-Changing NYC, Roll-N-Roaster Keeps Old-School Brooklyn Alive
"Fine, but be back by the bell," my 12th-grade yearbook advisor would say after he'd written us passes to leave school grounds when we weren't technically allowed to. He'd say we needed to go get craft supplies or something.
"And here's three bucks," he'd add. "Get me corn fritters."
It would be 2pm, we'd have skipped lunch, and with empty stomachs and full hearts, we'd hop in the car and head to Roll-N-Roaster.
Unless you live in Sheepshead Bay, Roll-N-Roaster is basically on the other side of Brooklyn. It's a 15-minute drive from my old high school, Edward R. Murrow in Midwood, and an hour and 16 minute train ride from Williamsburg -- the actual other side of Brooklyn. (That's a $50 uberX, just to put it into perspective.) But the car ride is one of the best parts -- the anticipation building with every red light you hit. In 2009 (the year we were seniors in high school), we'd throw on the radio and belt Taylor Swift's "Love Story" at the top of our lungs. Young and wild and free… and on a quest for roast beef.
The fact that Roll-N-Roaster is far is probably why you've either never heard of it or haven't made the trek. But general manager Eric Rodriguez tells me that's been changing. While R-N-R started as a place only locals would frequent, it's become so much more in the past 45 years. "People come from Downtown Brooklyn. They come from Queens, from Staten Island, New Jersey. They come from Connecticut," he says. "And now we have people from the Bronx that come and make an order for 30 or 40 sandwiches and take it to their company [for lunch]."
Seems like quite the trek for lunch. So why are people journeying that far? Especially when the Verrazano costs $16? Ask any diner there why they keep coming back, and the answer is the same: the food, and the fact that it will forever feel like it did four decades ago.
"It has a hometown feeling," says Sheepshead Bay resident David Shapiro, who's been eating at Roll-N-Roaster since he was a kid. "It's a neighborhood-type place if you really want to get a feel of Brooklyn, and not an up-and-coming trendy place."
In 1974, my mom and her friends would also head to Roll-N-Roaster after school for roast beef, "cheez," and that "hometown feeling" you probably couldn't imagine finding in Brooklyn today; the thing is, almost nothing has changed since.
Any local will tell you it's a rookie mistake to go cheez-less.
Cole Saladino/Thrillist
Bud Lamonica opened Roll-N-Roaster back in 1971 and started serving the now-famous roast beef sandwich: thin-sliced hot roast beef, onions, and cheez sauce on a gravy-dipped bun (now also served as a panini). The cheez is, of course, the best part -- piping-hot, pumped from a vat, and almost certainly not real cheese (not that anyone cares). You could get the roast beef (or anything on the menu) without cheez, but why would you? The motto at Roll-N-Roaster -- "You can have cheez on anything you pleez" -- is just a suggestion, but any local will tell you it's a rookie mistake to go cheez-less.
(I asked one of the cashiers, Alessandra Cappa, how literally people take the Roll-N-Roaster slogan. She barely waited a beat before responding: "Someone once asked us to put cheez in their Coke.")
"People come every day," Rodriguez says. "They just love it. You don't get sick of the food."
Aside from the cheez, the other reason people don't get sick of Roll-N-Roaster is the cost. That Brooklyn-famous roast beef -- and the chicken tenders (my personal favorite) -- come in at just $5.95; fries-n-cheez are $3.45 (get a cup of cheez on the side so those golden angels stay crispy); and lemonade and orangeade are $2.95. Nothing on the insanely extensive menu is more than $10. And if you pool your orders and spend more than $35, you even get a free pizza.
Cole Saladino/Thrillist
Victoria, one of my best friends since age 14, picks me up the Sunday before Labor Day. We throw on a mixed CD I made her in high school for the drive over (we were big into The All American Rejects), and try to quickly catch up, as it's understood there won't be much talking once we get our food.
It's only noon, and you can tell from the parking lot that it's not too crowded yet. (Nothing short of a miracle.) Roll-N-Roaster is a grandiose standalone structure. Its faded orange roof doesn't look weathered or worn, just suggestive of the past. In the windows, neon signs reading "roast beef," "roast turkey," and "fries-n-cheez" invite you in warmly.
And that's when you see it's bustling. More than a dozen workers are hustling behind the counter already -- even though it only opened an hour ago. They're shouting out order numbers as customers salivate with anticipation. "Babe! We got a free pizza," a woman yells to her significant other across the restaurant. Her thick Brooklyn accent makes me homesick. I make a mental note to call my mom later. "You wanna refund on the pizza we ordered?" she asks him. He decides that, no, they'll just take it home and eat it later. A good choice.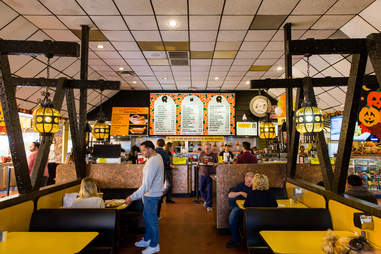 Cole Saladino/Thrillist
People are shuffling between the two rooms -- one is completely sun-drenched, and is where I've spent literally hours upon hours of my life; the other is a little more cave-like, where the registers are located. You can spot the newbies easily; they're the ones actually reading the menu. My order rarely changes. Sometimes I go for the Western burger or the Western roast beef, which both have onion rings and barbecue sauce on top. Sometimes Victoria gets mozzarella sticks. Sometimes my other friends get wings. Roll-N-Roaster is too busy a place to take your sweet time deciding.
"If you come over here, you're gonna love it… You're gonna keep coming back and keep coming back." - Roll-N-Roaster General Manager Eric Rodriguez
All of the interior is old wood, and everything from the tabletops to the gigantic backlit menu to the many signs behind the counter are varying shades of yellow and orange. There are always balloons near the cashiers, and every time you see the word "please" it's spelled like "pleez." A sign below the menu reads, "We cook to order and your wait will be tastefully rewarded," which is true. While Roll-N-Roaster might be constantly buzzing, that doesn't mean your food will arrive quickly. It's fondly known as the "not-so-fast fast-food restaurant." But that's OK, because you're waiting on quality. And, my god, you haven't experienced joy until you've heard them call your number over the microphone. "864 pleez!"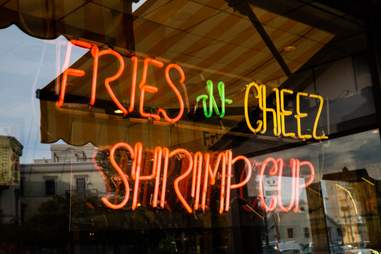 Cole Saladino/Thrillist
Rodriguez, who's been the floor manager for 12 years and the general manager for one, didn't know anything about the restaurant before he started working there in 1999. After moving from the Dominican Republic when he was 18, he found himself passing by Roll-N-Roaster while out with his family. Noticing the "help wanted" sign in the window, he came by the next week and Lamonica just happened to be outside. He came back the next day, and 17 years later he's still there.
If you haven't figured it out by now, Roll-N-Roaster isn't the kind of place you up and leave. Or even the place you eat at once and never return.
Rodriguez has an allegiance to this place and his employees. Seeing the restaurant through Hurricane Sandy was the proudest moment of his career. With the rest of the staff, they cleaned up and opened in three days because the community needed them. People in the neighborhood had no clean bathrooms, no working kitchens, no power, he says. They needed a place to go, and that place was Roll-N-Roaster. Rodriguez adds that he and Lamonica are always talking about how to improve. "How can we do things better? How can we take care of our crew?"
One thing remains true always: "If you come over here, you're gonna love it," he says. "You're gonna keep coming back and keep coming back."
Both Rodriguez and Shapiro hark back to this idea that it's all about nostalgia, about always knowing you can come home and feel at home. "It's like when you have the food from your mother, you move away from your house and then you come back home for Thanksgiving," Rodriguez says. "It brings memories for people."
One strong memory of my own is from years ago, when I brought my ex-boyfriend to try Roll-N-Roaster for the first time -- I think I was more nervous than the day he met my family. And another: three years ago, Victoria and I had just finished a meal and The Beatles' "I Want to Hold Your Hand" came on over the speakers. After the song finished it started over again. And then again, and then again. The song played on repeat for 45 minutes. It felt like we were in the Twilight Zone, but for some reason we just laughed and stayed put. That's the thing about Roll-N-Roaster: you could hear the same song for 45 minutes straight and still not want to get up and leave. Honestly, I'd probably sit through an hour of Nickelback and not care, so long as I had my comfy seat and roast beef sandwich.
The point is: Roll-N-Roaster means a lot to a lot of people. If you don't have any memories there, you should go make some. It's a sliver of New York that remains unchanged in the face of rainbow bagels and Cronuts® and Ramen Burgers. And that roast beef is damn delicious.
Sign up here for our daily NYC email and be the first to get all the food/drink/fun New York has to offer.