Because not all menus are as extensive and encompassing as that one diner that's got like 30 omelets and "Delights From The Sea", we dug up the unlisted treasures of NYC restaurants that're only available by special request, including special gooey cheese-topped burgers and massive, buttery steaks.
Secret Burger, Peels
East Village
Asking for the secret burger at the Southern-sired Bowery spot will score you a beast done up with gooey house-made pimento cheese, house-smoked bacon, pickled jalapeño, red-onion slaw, and fresh pickles. Maybe the best part of all? It comes sided with tots.
Whole Roasted Duck, Edi & The Wolf
Alphabet City
You've got to call ahead for this one, but your forethought will be rewarded handsomely with this celebratory rustic fowl served with pretzel brioche, braised red cabbage, and marjoram jus. Bring hungry friends.

Grilled Cheese, Shake Shack
Multiple locations
This bad boy is a buttered and toasted potato roll griddled with American cheese, plus it's totally toppable with bacon or peppers. However, if you're gonna wait in line, think hard about getting a burger, then ALSO getting this, maybe as a substitute for fries.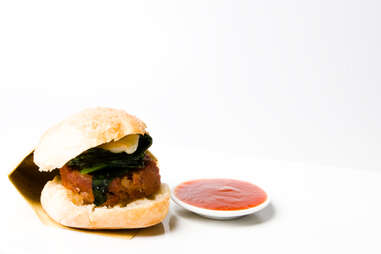 Mini Lamb Burgers, Antica Pesa
Williamsburg
Created basically because Quentin Tarantino wanted a burger at their Roman branch during the Django Unchained premiere, it's so good that they continue to offer it off-menu with smoked cheese, chicory, and the same meat used for the on-menu lamb chops. First that great joke in that one scene in Desperado, and now this? Thanks, Quentin.
Gyro "Mikey-Style", Amali Street Food
Upper East Side
Midtown Mediterranean spot Amali's has a gyro-dishing street food cart, and, if you mention you want it "Mikey-Style", they'll load yours up with a shload of bacon. Also of note: their gyros always come with French fries stuffed in them.

Steak Diane, 21 Club
Midtown West
The classic NY spot (it's the one with all the lawn jockeys outside) still has some tricks up its sleeve, including this available-by-request, popular-in-the-'50s dish that involves pounded beef medallions and a flaming cognac, mustard, and beef/veal stock sauce.
The Burger, Gramercy Tavern
Flatiron
Maybe it's not so much a secret anymore given how awesome it is, but it is off-menu. The lunchtime-only, while-supplies-last patty is a brisket, shortrib, chuck beef mix topped with clothbound cheddar and house-made bacon, then served with potato chips fried in duck fat.
Toffee Sauce on Fry Bread, Blue Smoke
Battery Park
Back in the kitchen, they used to eat the fry bread that's on the menu. But, instead of the chipotle butter they serve it with, they topped it off with toffee sauce, which tastes kind of like maple syrup and caramel. So yeah, it's an appetizer.
40oz Cote de Boeuf, Piora
West Village
This thing is amazing. We'll let the process speak for itself: "The bone-in ribeye is dry-aged for 28 days and rubbed in a bourbon barrel-aged maple syrup, garlic, chili flakes, and herbs before being held in a butter bath of the same marinade. The same butter then becomes a rosemary-maple Hollandaise to go alongside the steak." Oh yes.