Keeping a secret in this city is next to impossible, but not all the way impossible, thanks to these five after-hours ramen operations that stay hush-hush-hush by only being open crazy-late at night... and only in other people's restaurants, and only until the broth runs out (so, 2am or 3am).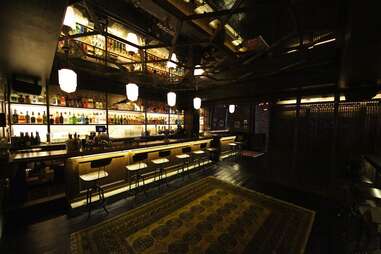 Benkei Ramen, inside Hill & Dale (click here for address and info)
Available: Monday-Wednesday after midnight, and Sunday, after 5pm
This ramen pop-up was once, uh, popped-up in sushi restaurant Ushiwakamaru, but recently moved to the Lower East Side's Hill & Dale solely because one of H&D's owners loved Benkei's crazy-addictive ramen bowls and wanted easier access. You basically have to get the Tonkotsu Miso Ramen with a rich, creamy base made from miso and pork broth that clings to the wavy egg noodles that're topped with a soft-boiled egg, a tender slice of pork, and buttered corn.
Bonus information: during Benkei's pop-up, H&D offers lives music, a cocktail list at $7 (perhaps the cheapest mixology in Manhattan), as well as a $7 beer-and-shot special that we somehow missed on our insanely long beer-and-a-shot special list.
Sanshiro, inside SEO (click here for address and info)
Available: every night at 11pm
The predominant language in both the front and back dining rooms of this pop-up spot is Japanese, but the late-night ramen appeals to a wide variety of eaters. Sanshiro offers three versions of ramen: shio (a salt-flavored broth), the soy sauce-flavored shuyo (which offers a richer sip with each bite of noodles), and a less-slurpable cold option with soy sauce-flavored dipping sauce
Bonus information: the later into the night you visit Sanshiro, the rowdier (and obviously more fun) the restaurant gets. Beware, though: this cash-only ramen will sell out, and it'll sell out fast.
Takashi (click here for address and info)
Available: only after midnight on Fridays and Saturdays
Takashi Inoue -- the chef behind this meaty, West Village, Japanese barbecue joint of the same name -- wanted to create a ramen that stood out from the masses of soup noodles in NYC, and thus set out to create his signature beef broth ramen. Served in two varieties, Takashi's Original Ramen and Grandma's Spicy Ramen both use 100% beef broth, which simmers beef bones, marrow, garlic, ginger, herbs, and the magic ingredient (intestines!...?) for 24 hours, before being topped with seared Kobe beef, a perfectly soft-boiled egg, thin custom noodles from Sun Noodle, and Takashi's Grandmother's chili-shrimp paste for the spicy version.
Bonus information: reservations for midnight and 1am seatings open at 5pm every Monday, and by Tuesday morning, all 40 seats are filled for each night. So get on it, like, now.

1 or 8 (click here for address and info)
Available: Friday and Saturday, after midnight
"In Japan, we have ramen after drinking," said 1 or 8 owner Maho Mizutani. "In the morning, it may not feel so good, but we keep doing it anyway." And 1 or 8's late-night ramen is certainly a great reason to keep this boozy tradition alive. It features a flavorful chicken, fish, and pork stock broth, curly noodles, bok choy, a spattering of scallions, and generous slices of pork. It's easily shareable among friends with a ladle and extra bowls, which you won't do... because they can get their own, dammit.
Bonus information: the dual-page cocktail menu includes sweet, spicy, vegetable, and starchy cocktails. Plus, there're other Japan-meets-Brooklyn eats on hand, including duck prosciutto and incredibly crispy breaded chicken wings with a spicy dipping sauce... that this writer just now called "the best thing she ever ate".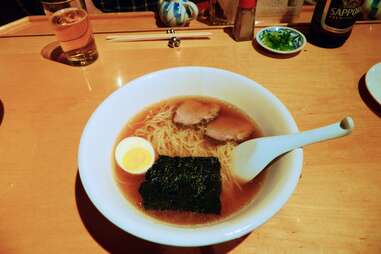 Tsukushi (click here for address and info)
Available: any night after 10:30pm
Descend down the steps into this subterranean, Midtown omakase restaurant, request a seat at the counter, and immerse yourself in a literal underground ramen experience. Prices aren't listed, but the dozen items available are all under $10. The standout -- and the reason you're here -- is the "Ramen" presented with no description, and unless you can speak or read Japanese, this is all you'll know as you place your order. The piping-hot bowl features soy sauce-flavored chicken and bonito stock with a generous portion of noodles, tender slices of roast pork, a crisp sheet of nori, and half a hard-boiled egg.
Bonus information: a long list of wine and various shochus are available (if you've never tried rice or potato shochu, don't be shy about asking for samples), but as in Japan (and everywhere really), the food is best enjoyed with a cold beer.
Melissa Kravitz is a New York City writer who is most comfortable with chopsticks in one hand and a pen in the other. Follow her on Twitter and Instagram.