Shake Shack and Big Gay Ice Cream team to create Layer Shakes, really long lines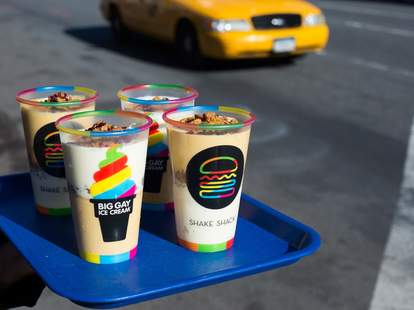 Forget Jordan, Malone, and that absolute stud Laettner at the '92 Olympics. The dream team of Shake Shack and Big Gay Ice Cream have paired on a limited-edition frozen dessert that will be available from November 21st-23rd. The only problem is it's not a cheeseburger crammed into an ice cream cone.
Enter the "Layer Shake": a three-tiered frozen treat, featuring Shake Shack's pumpkin frozen custard, La Newyorkina's graham cracker crumble mixed with caramelized pumpkin seeds and cranberries, and Big Gay's egg nog soft-serve (developed in collaboration with Ronnybrook Farm).
Just to make you walk off 1% of the calories, there will be two different, venue-specific versions. Big Gay will serve the "Layer Shake" with their soft-serve at the bottom of the cup as a base, with Shake Shack's custard spun into a shake on top, and a middle layer of the cookie crumble. Shake Shack will do the opposite, using the egg nog flavor as a shake on top of the graham cracker blend and the base layer of custard. Both versions will have extra graham mixture, and it'll all be dished up in a Shake Shack + Big Gay Ice Cream-branded 16oz cup, for $6.50
Big Gay Ice Cream co-founder Doug Quint put it eloquently: "Pumpkin pie and egg nog, BGIC and Shake Shack—I mean, DUH. OBVIOUSLY."
In celebration of the collab, they'll also be giving away free limited-edition Shake Shack + Big Gay Ice Cream T-shirts to the first 10 people in line at both locations on all three days the "Layer Shake" is offered. The "Layer Shake" will be only be available at Big Gay Ice Cream West Village (61 Grove St) and Shake Shack DUMBO (1 Old Fulton St), so hurry to one (or both!) November 21st-23rd.
Sign up here for our daily NYC email and be the first to get all the food/drink/fun New York has to offer.
Lucy Meilus is an Editorial Assistant at Thrillist and thinks this dessert sounds incredible, but also would maybe, potentially eat a cheeseburger crammed into an ice cream cone. Follow her on Twitter @lucymeilus.