Shake Shack
Shake Shack
Things you know about Shake Shack: it has great burgers. Things you probably don't know about Shake Shack: anything that isn't the having-great-burgers thing. That's why we compiled this list of 15 things you should know about Danny Meyer's titular NYC burger chain, so you can drop some knowledge the next time you're in line for a SmokeShack and need to kill some time.
1. Shake Shack began as a hot dog cart in NYC's Madison Square Park
In support of the Madison Square Park Conservancy's first-ever art installation, "I Heart Taxi", the cart was open for three straight Summers from 2001-2003. The permanent kiosk didn't actually open until June 2004. #TheMoreYouKnow
2. There's a separate window for booze and shakes
If you're waiting on line at the original location, go up and grab a beer and a milkshake, then get back in line for your burger.
3. Aziz Ansari is a big fan
He's said one of the things he misses most about NYC is "not my friends so much", but rather, Shake Shack. And yes, this is a video of him giving an interview while waiting in line for burgers at the Madison Square Park location.
4. Danny Meyer drew the idea for the "roadside burger stand" on the back of a napkin
And thankfully, he didn't then use it to wipe burger juice off his face.
5. They've got a signature beer that's made exclusively for them by Brooklyn Brewery
It's called Shackmeister Ale, a name given to it by BK Brewery's head brewmaster Garrett Oliver. They've also got their own wine made at Frog's Leap Winery, which is cool, but not gets-its-own-numbered-headline-in-this-story cool.
6. NYC has the most locations, but tied for second are Dubai (duh) and Istanbul (obviously)
They've got four each, beating DC, Philly, and Miami.
7. They won the Burger Bash at the 2014 South Beach Wine & Food Festival
Thanks to the "BurgerMeister", a cheeseburger topped with crispy, beer-marinated shallots and Shack sauce.
8. Danny Meyer said both Steak 'n Shake and Crown Candy Kitchen influenced the type of burger stand he wanted to open
You know, Crown Candy Kitchen. "St. Louis's oldest soda fountain", aka a place in St. Louis you now kinda want to actually visit.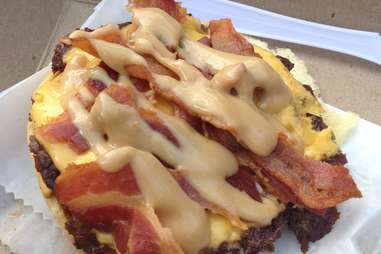 9. They've got a secret menu
Items include a grilled cheese made with buns instead of bread, and a peanut butter bacon burger.
10. They replaced their standard frozen, crinkle-cut fries with hand-cut, twice-cooked, skin-on fries for about a year
But the crinkle-cut loyalists won out!
11. Shake Shack breakfast sandwiches exist
There's a sausage, egg & cheese, a bacon, egg & cheese, and just an egg & cheese, all served on toasted potato buns. Unfortunately, the JFK Airport Shake Shack in Terminal 4 and Grand Central are the only locations in the world that serve them.
12. Shake Shack launched a group running club in March 2013 called Shack Track and Field
They do a run once a month in NYC, Philly, DC, and Miami where you get free beers and burgers at participating Shacks at the end of the run. Definitely don't just show up at the end of one of these with running clothes on and pretend you've been running though. Yeah... definitely.
13. They also have a table tennis league
But before you get too excited (crap, too late! Stop being so excited!), it's not in NYC -- it's in Coral Gables. The Shake Shack table tennis league (launched in February) is open to the general public and totally free. Tournaments are held once a month and run in a bracket-style format with the winner taking home a $75 gift card, and the soon-to-be-coveted "Golden Paddle" trophy, which they hopefully use to eat burgers.
14. As of 2009, the Manhattan Shacks outpace even McDonald's in sales per restaurant
That's according to a NY Times article that says they pull in an average of $4 million a year each, compared to McD's $2.29 million.