We Tried Shake Shack's New Salt & Pepper Honey Chick'n Sandwich
Food-obsessed New Yorkers may very well look back on the past 12 months as the Year of the Chicken Sandwich. We've seen all sorts of poultry purveyors attempt to tantalize us with their various versions of the classic deep-fried bird on a bun, from cult-favorite fast-food chain Chick-fil-A (which finally opened its first NYC location last October) to celebrity chefs David Chang and Carla Hall.
Arguably the best of these, though, is the one at Midas Touch-restaurateur Danny Meyer's burgeoning brand of burger joints, Shake Shack. Striking a near-perfect balance between crunchy and juicy, the Chick'n Shack, which debuted earlier this year, has been described as a "game-changer."
Now, the Shack is attempting to change the game yet again with an even fresher take on chicken -- sorry, "Chick'n." The new Salt & Pepper Honey Chick'n is an even simpler rendition than its predecessor, casting aside traditional toppings of lettuce, mayo, and pickles in favor of two new additives: salted honey and black pepper.
Unveiled on Thursday, October 6th, the new sandwich is only available at the Shack's three existing Brooklyn locations, which makes sense. That way, if the Shack suddenly runs low on the honey, management can just bum some from the nearest neighborhood rooftop beekeeper.
How does this sticky-sweet upstart compare to its more homey sister chicken sandwich? We decided to find out.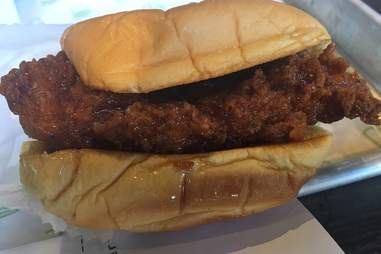 Chris Shott/Thrillist
The verdict
Stickiest. Sandwich. Ever. Far from a mere glaze of honey, a prodigious amount of the all-natural amber-colored dressing oozes out of the thing before I even put a finger on it. That's not entirely a bad thing. The sweetness and saltiness of the saucing shone through with each bite, though I would have appreciated the thoughtfulness of a complimentary moist towelette to clean up afterwards. The breaded chicken breast, meanwhile, came just as crunchy and delicious as the Shack's regular chicken option.
What it lacked, though, was any hint of the advertised pepper. Specks of the black stuff were clearly visible to the eye, but barely even registered on the tongue. A few pickles wouldn't hurt either. A little pucker might help counterbalance the predominant salty and sweet notes. This probably explains why the cashier initially asked, "Wanna add anything to that? Some people like to."
Next time, I'll request some pickles. And maybe bring my own pepper mill. Oh, and some wet wipes, too.
Overall, though, not a bad chicken sandwich by any stretch. Give it a try. The limited-time offering is $6.29.
Sign up here for our daily NYC email and be the first to get all the food/drink/fun New York has to offer.
Chris Shott is Thrillist's Senior New York Editor. His keyboard is still very sticky from all that honey. Follow him on Twitter: @chrisshott