<strong>Kosher Deluxe |</strong> Cole Saladino/Thrillist
<strong>Kosher Deluxe |</strong> Cole Saladino/Thrillist
In these days of skyrocketing prices, most people in New York City feel lucky to even find a juice for under $10. This is completely insane, but it also means that when it comes to sit-down meals, $60 sounds like a bargain (for some context, a dinner at Masa is $595 for two diners). But if you do a little digging, you can still find an incredible sit-down meal with actual waiter service for under $10. These 10 spots fit the bill, spanning four boroughs and a multitude of cuisines (some are buffets, but table service is still offered -- and plus, who doesn't like buffets?).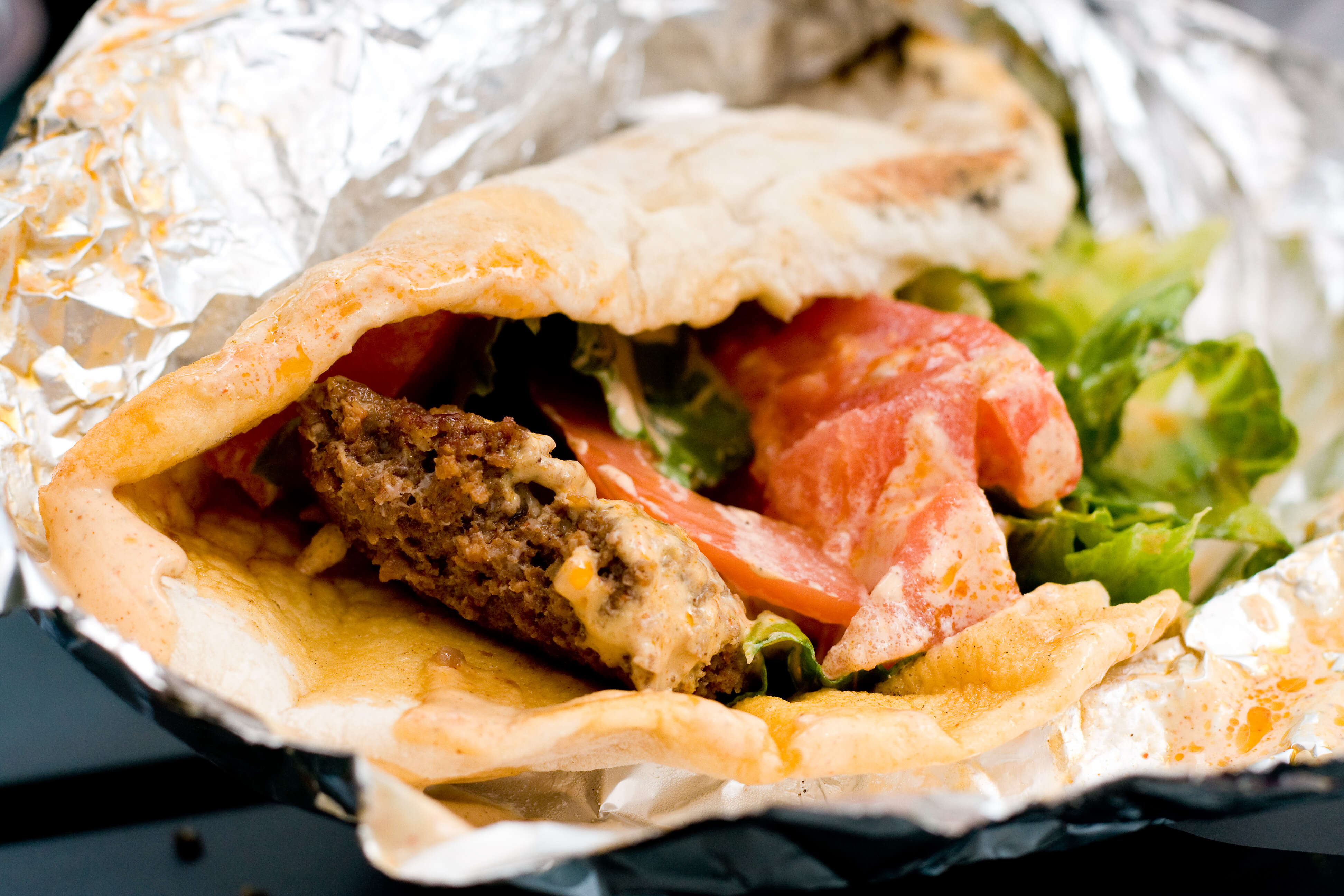 <em>Boerum Hill</em><br />
There are tons of sub-$10 options at this longtime pan-Middle Eastern spot along Atlantic Ave in Brooklyn (it's also the sister restaurant to Moustache, another cheap eats standard in the East Village). The falafel and hummus are hearty and cheap, but the best thing on the menu is the lambajin ($8), described promisingly on the menu as a "lamb pizza." It's basically a large pita topped with minced lamb, onions, tomato, and herbs. The pita oven in the front of the restaurant imbues the lamb (and all the other pitas) with an unforgettably dark char, so make sure to fill up on as much pita as you can handle.<br />
<br />
<!-- single line template -->
<em>Jackson Heights</em><br />
This tiny "restaurant" within a bakery in Jackson Heights serves one of the best Tibetan thalis in town. The sign outside reads "Tawa Food," but enter and you will find two operations: a tiny kitchen and a separate bakery. For only $9, the waiter will bring you a metal thali plate filled with daal, chickpeas, a curry of nutrela (soy protein) and potatoes, mustard greens, and my personal favorite, fried pieces of bitter gourd. To keep yourself entertained, watch as the women in the bakery roll out paratha after paratha for sale at the only other table besides yours.
<em>Bushwick</em><br />
Breakfast is the best (and cheapest) meal of the day at Cocoyoc, this longtime Bushwick taqueria along Wyckoff Ave. Opt for the chilaquiles ($9), some of the best in town, or the huevos con chorizo ($9) or even a steaming hot bowl of pozole (served with a tostada) for only $8.50. Better yet, the expansive backyard offers some of the most relaxing al fresco dining in the heart of Bushwick.<br />
&nbsp; <!-- single line template -->
<em>Prospect Heights</em><br />
Patties are the specialty at this little Trini spot along Washington Ave in Prospect Heights. Best of the lot is the jerk chicken patty ($2.50), filled with spicy chunks of chicken in a piquant gravy, but the curry chicken and spicy beef versions are also excellent. If you prefer a heartier lunch than two patties, opt for one of the many daily specials from a roster of Caribbean standards or, better yet, the excellent Trini corn soup.<br />
&nbsp;
<em>Midtown West</em><br />
The falafel sandwich ($7.50) at Kosher Deluxe right smack in the middle of Midtown Manhattan is fine, but the real reason for this purchase is unlimited access to the outstanding salad bar. Filled with a bounty of vegetarian delights -- multiple cole slaws, beets, roast peppers, pickles, and best of all, meaty eggplant -- this is the salad bar of your dreams. The sparse dining room is a melting pot of cultures: Orthodox Jews, high schoolers looking for a cheap bite of shawarma, and office workers out for a cheap, filling lunch.<br />
<br />
<!-- single line template -->
<em>Chinatown</em><br />
Down near the base of Eldridge St in Chinatown is one of the better, if not cheaper, sit down Fu Zhou Chinese restaurants in the neighborhood. Make no mistake, patrons are here to eat, not chat, as every seat faces the wall. Here, you can basically order the entire menu and still come in comfortably under $10. Try the diaphanous wonton soup ($2), a plate of dumplings ($3 for a large order!), and peanut butter noodles ($2) and you will still not have spent $10. Make sure to take a bunch of frozen dumplings home with you, too.
<em>Bronx</em><br />
You'll have no trouble eating for under $10 at the best Bangladeshi restaurant in town -- though if you're coming from outside of the Bronx, it's quite the hike north to Parkchester. It's worth it, though. Here you will find Neerob, which simultaneously functions as a restaurant and Bengali community center. Opt for a variety of <em>bhartas</em> -- basically mashes laced with sinus-clearing mustard oil and chilies. Among these, the green banana, chickpea, eggplant, and shutki <em>bharta</em>, featuring funky, dried fish are the standouts. Most are only $3 a pop, so try a few. Grab a milky chai to soothe the fire in your mouth while marveling at how you've only spent a few bucks for a transcendent meal.<br />
<br />
<!-- single line template -->
<em>Midtown West</em><br />
Walk down West 37th St, peek into an otherwise nondescript loading dock, and you will find one of the most incongruous eating experiences in all of New York: a tiny lunch counter. Tony Molina is the Ecuadorian chef who, 20 years ago, opened what is possibly the most minuscule sit-down establishment in Manhattan. Pernil and roast chicken with rice and beans are usually your best bets, all easily under $10 (and none above $7), but the menu changes daily, so ask what's cooking before sliding into one of the five stools at the counter.
<em>Chelsea</em><br />
Keep your eyes open and you can find unique, cheap eats even in Chelsea! This massive buffet is only $7.99/lb and you can get some of the best West African food in the city (but mostly the cuisine of Ghana) as well as other favorites like jerk chicken and stewed oxtail. Go for the goat, any preparation you can find. For the more adventurous, liver and kidney dishes are sometimes on offer, too. Make sure to get stewed cassava leaves or any of the multiple rice preparations.<br />
<br />
<!-- single line template -->
<em>Jackson Heights</em><br />
Brazilian rodizio by the pound? Yes, please! Head past the buffet, which is mostly unexceptional (except for the feijoada, a hearty bean stew) and park yourself at the meat window, where for $7.99/lb, you can sample as much grilled meat as you can stomach. Best of the lot are the ribeye, top sirloin, and juicy chicken sausage in a snappy casing. Come early and you may sample some grilled chicken hearts, too. Top all of this with garlicky, herbal chimichurri and you've got a meat feast for under $10.<br />
<br />
<em><a class="vortex-open" data-campaign="2842" href="https://signup.thrillist.com/&quot; target="_blank">Sign up here</a> for our daily NYC email and be the first to get all the food/drink/fun New York has to offer.</em><br />
<br />
<em>Noah Arenstein is a lawyer, cook, writer, and event planner based in Brooklyn, NY. He also co-founded Real Cheap Eats, which sought out the best food under $10 in NYC. He recently opened El Atoradero Brooklyn, which relocated from the Bronx to Prospect Heights. Follow him on Twitter: <a href="http://twitter.com/@NMArenstein&quot; target="_blank">@NMArenstein</a>.</em>