Along with cherry blossoms and Daylight Savings Time, there's another sure sign that warm weather is right around the corner: the return of Smorgasburg. Even after seven years, the Brooklyn outdoor food market remains as popular as ever, thanks to a yearly addition of new vendors. Beginning April 1, the market will return to Williamsburg on Saturdays (along with the Brooklyn Flea, which is decamping from its flagship Fort Greene location) and Prospect Park on Sundays. Here's what to expect from some of the Smorgasburg newbies -- from spaghetti donuts to raclette to steak tartare.
Recommended Video
Where to Get the Best Waffle Fries You'll Ever Eat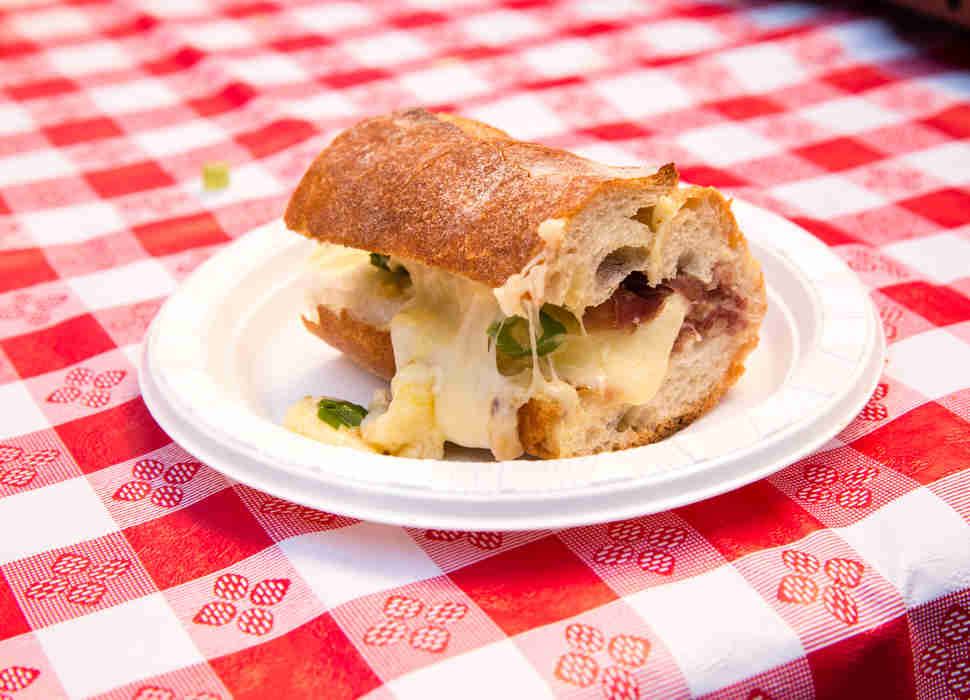 Saturday
Two Wisconsin cheesemongers are bringing raclette to the masses. After a stint at the Bryant Park holiday market, Jacob Croskey and Steve Bloom have returned to New York City with more wheels of their delightfully funky fromage. Melted in a heated stand, the gooey strands are scraped onto toasted baguettes with cured ham, cornichons, and green onions to form a fancy, cheesy sub.
Sunday
Fill up on traditional Haitian cooking at this first-time vendor. Traditional delicacies include crispy pork belly on a stick and a pumpkin soup teeming with vegetables, pasta, and a lot of heat.
Burrito Juarez
Saturday + Sunday
A group of Juárez natives has teamed up to recreate the burritos served in their Mexican hometown and the results are nothing like Chipotle. Each wheat flour tortilla is pressed to order, layered with multiple fillings (refried beans, organic chicken or brisket, and house-made chile sauce), then rolled into a portable, easy-to-eat meal. True to its origins, there's no rice involved.
Saturday
After a highly-successful pop up at Mission Chinese Food, patty slinger Mark Andrew Gravel is making his big Smorgasburg debut. The burger -- Fleisher's beef, white American cheese, and mustard sauce on a Martin's potato roll -- sounds deceptively simple, but Gravel's griddle-steamed technique seals in all the juices and flavors.
Destination Dumplings
Saturday + Sunday
Its name alludes to the concept -- crispy pan-fried dumplings showcasing flavors from around the world. The idea comes from "Queens kids" Tristan Chin-Fatt and Andrew Steinberg, Morimoto alums who draw from their diverse heritages (Chinese-Jamaican and African American-Jewish, respectively) to conjure up fillings like hoisin-drizzled Peking duck and spicy jerk chicken.
Saturday + Sunday
Subway churros, these are not. The airy, fried-to-order treat comes in two forms -- in long, sugar-coated sticks with a dipping sauce of your choice (dulce de leche, Nutella, or strawberry jam) or as crunchy discs sandwiching house-made chocolate, peanut butter, or horchata ice cream.
Saturday + Sunday
"All juice, no cups" is the tagline of this super-healthy drink vendor. Thanks to an imported Japanese machine, fruits are instantaneously blended inside themselves to make a refreshing juice while leaving the shell completely intact -- and Instagram-friendly.
Saturday
After a trip back to her family's Cambodian rice farm, Kreung owner Chakriya Un is shining a spotlight on regional specialities. Her signature dish is tuk prahok ktiss, a fragrant pork dip flavored with kreung (a paste made from lemongrass, kaffir lime, turmeric, and other aromatics) and prahok (fermented fish). All proceeds will be donated to the farm.
Saturday + Sunday
Smorgasburg attendees can get a serious pick-me-up courtesy of this coffee purveyor pouring Indian kaapi. Using a special two-tiered filter and imported beans, Danée Shows brews a thick, almost syrup-like decoction that's mixed with warm milk and raw sugar.
Monsieur Tartare
Sunday
Steak tartare has arrived at Smorgasburg by way of Frenchman Quentin Poignant, who hand-chops locally sourced beef on site. Choose from two variations: The Classic, mixed with Dijon and whole grain mustards, Worcestershire and capers, or the Italian dressed in pesto and Parmesan shavings.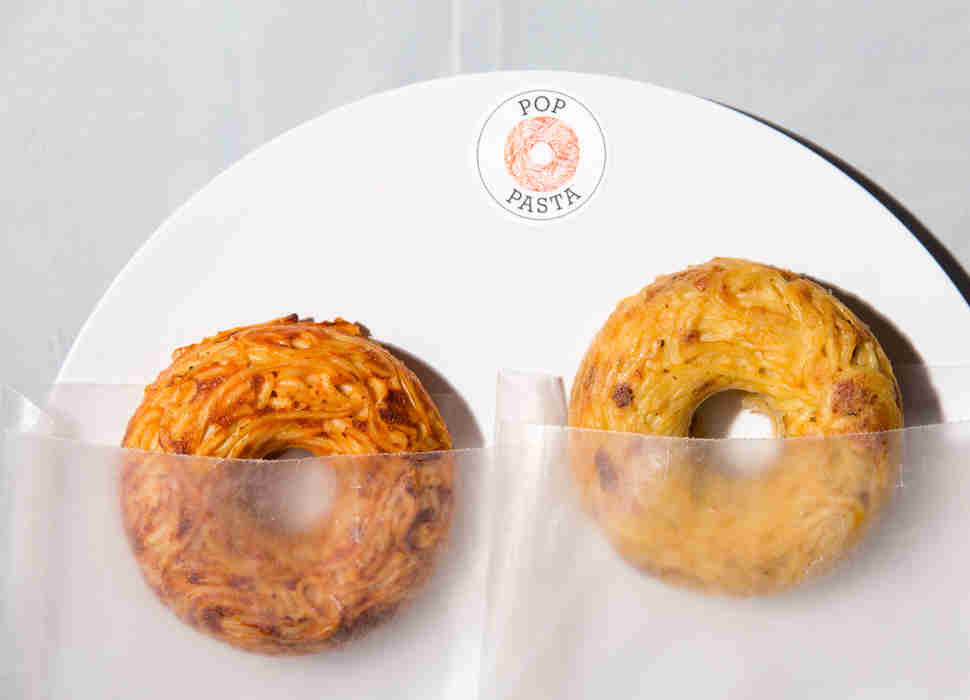 Saturday
This Brooklyn vendor has revamped spaghetti "pie" into another dessert-inspired form, a pasta donut. Strands of spaghetti and sauce -- offerings include classic red sauce, aglio e olio, and carbonara -- are molded into rings and baked 'til crispy.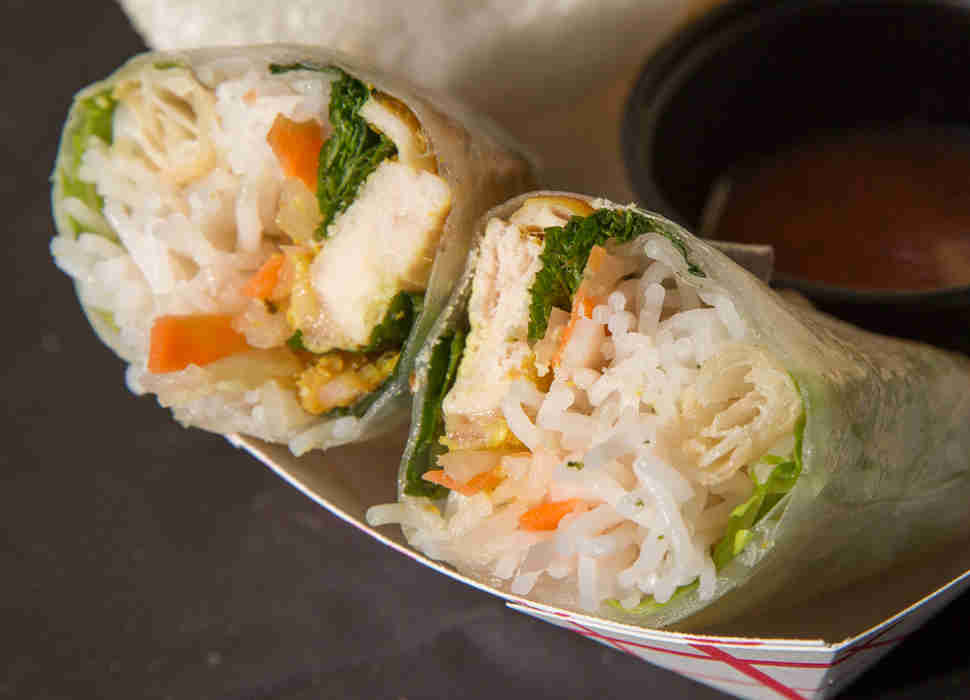 Saturday + Sunday
Helmed by Hoi Nguyen, who immigrated to the US from Vietnam in the '90s, Roll Play doles out summer rolls with a twist. Each transparent bundle is packed with staples like vermicelli, pickled daikon,and fresh mint, plus a crunchy fried wonton stick -- a trick that Nguyen picked up from his parents. That, plus the ginger and red bell pepper "sexy" sauce, helps these rolls stand out.
Saturday + Sunday
What's better than a fresh-from-the-oven cookie? A hot-off-the-presses Stroopwafel. Using a recipe passed down from his great grandfather, Okke Rutte turns out palm-sized rounds that are the perfect balance of warm, sweet, and chewy.
Saturday
This Bushwick pop-up, which has been slinging food from a walk-up window at The Johnson's, is finally expanding its reach. Menu items infuse classic American dishes with Sichuan heat -- expect the likes of spicy mapo brisket stuffed inside a fried sesame pancake and cucumber salad covered in chili oil.
Saturday + Sunday
It was only a matter of time before ube made a prominent appearance at the Smorg. This plant-powered Filipino dessert company highlights the purple yam in several ways, but we'd choose the halo-halo and its vibrant ube ice cream over the chia bowl any day.


Sign up here for our daily NYC email and be the first to get all the food/drink/fun New York has to offer.