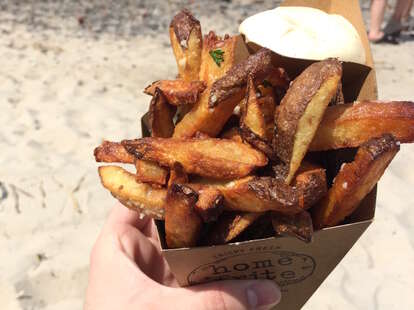 Adding to what seems like endless outdoor food options all over New York this spring, Brooklyn Flea has announced it is launching a smaller version of Smorgasburg at Coney Island, bringing about a dozen of NYC's best food stands to the popular summer amusement destination as soon as this month.
The mini food market, or Coney Smorgasburg, will be constructed with 13 shipping containers retrofitted to include air conditioning, hand washing sinks, and electricity and will take over part of a 50,000sqft lot at 1320 Bowery St -- right next to the Thunderbolt roller coaster -- along with a new art installation featuring street artists on a series of walls. So far, there are nine food vendors and one dessert vendor confirmed, including Smorgasburg favorites like Red Hook Lobster Pound, Home Frite, and Mofongo, along with a handful of newcomers.
Currently, Coney Smorgasburg is set to open May 22nd and run through Memorial Day, then the following four weeks from Friday through Sunday. By June 22nd, organizers hope to have it up and running seven days a week through Labor Day. So far, hours are slated as 11am to 8pm, but organizers said this could change depending on the crowds. This follows in the footsteps of Rockaway, which mightily stepped up its food game in recent years, becoming a destination for the burgers alone.
Here's the confirmed lineup provided by Smorgasburg:
Bon Chovie: Beer-battered fish and chips, shrimp and chips, grilled salmon burgers, as well as their classic 'chovies.
Dan & John's Wings: All kinds of wings, including boneless -- and, now, veggie seitan wings.
El Super: Here you'll find beer-battered tacos, tortilla-crusted squid chips n' salsa, and mahi mahi ceviche tostadas.
Excell Kingston Eatery: Along with jerk chicken and fish, they've got fresh coconuts.
Home Frite: Fries and all sorts of sauces packed into a cardboard cone.
La Newyorkina (dessert): Paletas, chamoyadas, and agua frescas -- which all sound refreshing.
Mile End: Burgers and hot dogs in the shadow of the enormous new Wahlburger's opening a couple doors down.
Mofongo: Get some of this Puerto Rican fried plantain-based dish, or rather, get in line for it.
Queen Cobra Thai: Your stop if you're in the mood for pad thai, or you can try things like Thai duck sausage or even a papaya salad.
Red Hook Lobster Pound: All sorts of lobster sandos; for example a lobster BLT with lobster, bacon, and apple-chipotle mayo. Also, tuna melts, lobster cobb salad, and New England clam chowder.
Additionally, Brooklyn Flea said it's looking for a 10th vendor to complete the Coney food lineup, so direct all your awesome favorite vendors their way.
Follow us on Facebook for a steady stream of daily NYC stories, and be the first to get all the food/drink/fun/news New York has to offer.
Tony Merevick is Cities News Editor at Thrillist and is looking forward to another amazing summer in NYC. Send news tips to tony@thrillist.com and follow him on Twitter @tonymerevick.