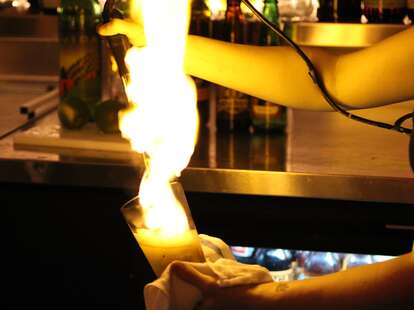 From top-notch yet laid-back cocktail bars, to West Coast Chinese in the LES, New York's top food & drink minds tended to prefer someplace casual to eat and drink -- plus, shockingly, restaurants right next door to their apartments
Chris Santos, Chef/ Partner at Beauty & Essex and Stanton Social"I know it probably sounds like I'm always schilling for Josh Capon, but El Toro Blanco is really the first restaurant that comes to mind. It's super comfortable and serves simple, well-executed food at a reasonable price point. I love the Queso Fundido, the intimate, private room behind the bar, and the tequila menu, which has many affordable options.
Shiraz Noor, Front of House at Aska"Mission Chinese. Danny and his team present flavor, fun, and incredible value.
Luis Bollo, Executive Chef at Salinas"Rosemary's. Ingenious idea to have a rooftop farm over a restaurant.
Eamon Rockey, Partner at Aska"M. Wells Dinette. The food and service are at a level of satisfaction and honesty that all restaurants strive for.
Manuel Trevino, Executive Chef at Marble Lane at Dream Downtown"This place Kobe Sushi. It's a great, new place that's steps away from my house. And they have $3 beer!