The Cronut guy is back again, this time with "Magic Souffles"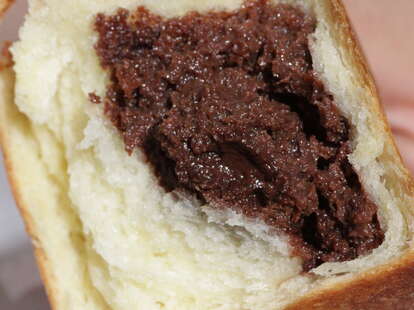 Lucky Charms and Tony Wonder baked in a loaf of bread aren't the only thing that's magically delicious anymore. Enter the Magic Souffle from Cronut King Dominique Ansel, which builds on his most recent Cronut iteration and his frozen s'mores, and is actually considered by many bakers not named Ginger (actually, probably him too) to be his most impressive work yet.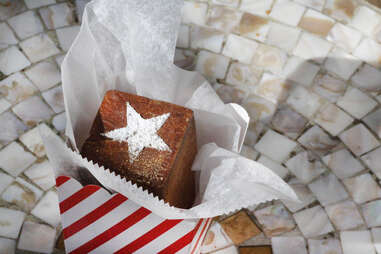 The box-shaped Magic Souffle is the product of roughly four months of intensive kitchen testing, which Chef Dominique fit in between long periods of staring at crazy people waiting in lines. Here's what you need to know: with a crispy brioche shell and powdered-sugar star, the outside looks pretty plain, but on the inside, you'll find a molten chocolate center with a hint of orange from Grand Marnier. It's light and fluffy, sweet but not too sweet, and also tastes a bit buttery from the brioche. Most importantly, you've gotta eat the whole thing almost immediately, while it's still good and warm.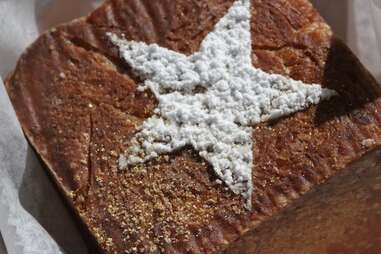 Now for the science. Because souffles are apparently totally hard to make and cave in on themselves like they were made of delicious quicksand, pastry chefs from all over have been swinging by DA Bakery in an attempt to decode just how this peculiar little rectangle stays so, well, rectangular. Of course, he won't tell them. He claims there's no secret recipe, just a technique used that's known to only a select few DA employees who are resistant to truth serum and pastry bribes.
Because New Yorkers only love what they can have after waiting for a hundred hours, people are queuing up for this thing every AM, which totally has Cronut people pissed, 'cause lines are now even longer than usual. They're even considering making separate lines, or just baking them at different times to avoid a full-scale war of pastry lovers.