The Cronut master's newest invention has arrived: Milk and Cookie Shots
Dominique Ansel -- Cronut & Frozen S'more creator, and all-around treat master -- has been teasing us with the launch of his Milk and Cookie Shots at SXSW, but starting today, March 14th, you'll be able to stuff your cookie-loving face with these hybrid cookie cups any day you want... after 3pm (which is when they start serving 'em). Our man on the scene, Dan Gentile, braved the lines and frenzy of SXSW to bring back some vital info about what you can expect, starting this afternoon.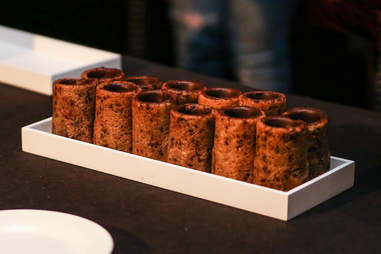 So here's the deal: these things are masterfully crafted chocolate chip cookie SHOT GLASSES that're made by aerating a special dough that makes them crispy on the edges, and moist towards the center. The chef came up with the idea for them after he had an Oreo dipped in milk for the first time just a few weeks ago (!?!?). Man, we can't wait for him to try Dunkaroos.
The shotkie glasses use a special chocolate coating that Dominique designed to coat the inside, which they've recently tweaked since SXSW so that they can be served slightly warm (suck it, Austin). The chocolate also protects the structural integrity of the cookie from the milk they use, which is from their supplier Swede Farm, and cold-infused with Tahitian vanilla.
Since you kind of feel like Mario standing on those weird disappearing platforms when you get this thing, there're three ways to approach this: the first and safest way is to just shoot the milk then leisurely eat your cookie; the second, you can just nibble and sip; or third, you can utilize the "drink the milk down a bit, and break a piece off and dip" method. Whatever you choose, you're gonna need to get there ASAP.
Andrew Zimmer is Thrillist's NYC Editor, and he's already in line. Follow him on Facebook, Twitter, and Instagram.