New brunch alert! Mister Benedict's pops up in SoHo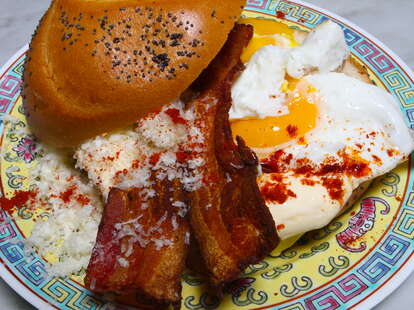 Mister Benedicts
Mister Benedicts
New York You've been to a LOT of the city's best brunches, and even MORE of its best boozy brunches. But one we can guarantee you haven't been to is this one: Mister Benedict's, a brand-new, brunch-only pop-up in SoHo's Chalk Point Kitchen & Handy Liquor Bar. It's got seven different eggs Bennies, a chill, last-night-was-a-little-too-epic-acknowledging vibe, and a downstairs bar that'll start in with a jazz band at 5pm. Here's what you need to know.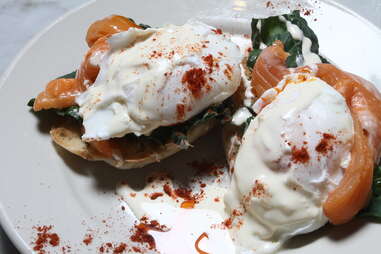 The Benedicts: Like we said, there're seven to choose from. They range from the classic with Virginia ham, to baller & less-classic choices that're topped with poached Maine lobster or grilled prime Romanian steak, to an even-less-classic one that's served with hot and spicy kimchi. Continue Reading
The Non-Benedicts: You're going to be getting a Benedict, but they've got a ton of other great eats that you can get (or someone in your party can get, and you can eat from), like oysters, handmade burrata, lamb sausage hash, or caramelized banana French toast.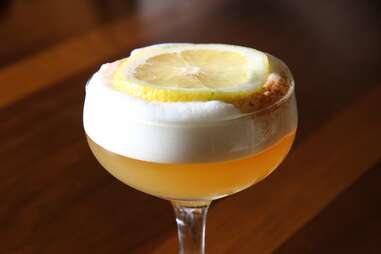 The Cocktails: Get the Vauxhall Garden Fizz (tequila, fresh-pressed pineapple juice -- they've got a bunch of fresh-pressed juices, if that's your thing -- grapefruit, lime, and spicy charred pineapple bitters), or the Orange-Maple Old Fashioned with a crisp bacon stirrer, so you don't have to use the one on your plate... as per usual.

The Bloody Mary: They've got a Bloody Mary cart -- doing table-side service downstairs -- with a base of vodka, tomato juice, horseradish, a "touch of orange juice", Worcestershire, Frank's Red Hot, and BBQ rub, which then gets piled on with cart additions like jalapeños, shrimp, and stuffed olives. Someone please get one with everything and Tweet it at us.
The Music: Once brunch is finished up, head downstairs for some live jazz music, which rotates with fresh, locally sourced jazz bands like The Milkman and Sons, Carte Blanche, and Seth Kessel and the Two Cent Band.