If you live here, you already know, but if you don't, you don't -- despite the top-notch pizza (like, REALLY top-notch pizza), Staten Island's food scene is supremely underrated, and probably a little bit misunderstood. Between authentic Sri Lankan, saucy Cajun-Creole, and gastropubs that'd impress even the most discerning of Brooklynites, we actually have way more to offer than red sauce. (Though we do have some really great red sauce.)
So do yourself a favor, hop on that ferry, and explore this belittled borough through these 12 outstanding restaurants. It'll be worth it, we promise.
17 Page Ave
Why you're going: The interior is hella swanky, as any self-proclaimed "upscale sushi lounge" is wont to be, and the speciality rolls -- like rock shrimp tempura in a soy nori wrap with spicy crab meat and yuzu creme dressing -- are scrumptious. Go on Sunday to score the "All-U-Can-Eat" glutinous extravaganza for $24.95.
What you're getting: The aforementioned rock shrimp variety, or a Volcano Roll -- crab meat tempura and avocado topped with spicy tuna, yellowtail, salmon, all topped with a spicy cajun aioli -- with a side of Takayama fried rice.

1072 Bay St
Why you're going: The Cajun-Creole fare delivers an incredible bang for your buck, for example, the $19.95 three-course prix fixe Sunday brunch comes with a complimentary cocktail and live jazz.
What you're getting: Alligator Bites. Then 1) seafood jambalaya -- a behemoth of a bowl filled with plump scallops, shrimp, mussels, succulent crawfish tails, calamari, and andouille sausage, all simmered in tomato sauce with rice -- or 2) Elba Blues -- roasted pork tenderloin medallions wrapped with bacon and topped with blue cheese and porcini mushroom sauce... plus a side of mashed potatoes. Quench the ol' thirst with a Crocodile Cooler (chilled melon liqueur, Citron vodka, Sprite, notably no crocodile).
27 Hyatt St
Why you're going: The rotating staff of Italian women craft regional specialties based on where they're from, but regardless of who's cookin', you'll be served some of the best Italian food in NYC. It's like having your very own Italian grandma to become concerned for your well-being when you struggle to polish off a third bowl of pappardelle alla bolognese.
What you're getting: The menu varies week to week, so ask your waiter for the chef's recs. Be advised that its business hours are "Wednesday through Sunday from 3pm until everyone goes home!"

1271 Bay St
Why you're going: Because its modern take on traditional pub fare is as gut-busting as it is creative, and the eclectic brew and cocktail selection ain't bad either.
What you're getting: The Honky Tonk burger -- two 10oz premium chuck patties, cheddar cheese, bacon, and fried onions, topped with freshly pulled short rib and BBQ sauce, and then stuffed between two toasted brioche buns.
Best Sri Lankan: San Rasa
19 Corson Ave
Why you're going: Staten Island is home to one of the largest Sri Lankan communities, which means there are ample spots to sample the cuisine. And although most will direct you to well-known Lakruwana, this Tompkinsville pick is the ultimate underdog.
What you're getting: Chef Sanjay Handapangoda's lamprie (rice and a variety of meat, curried vegetables, and cashews toppings steamed in a banana leaf), which is made using a 300-year-old recipe and spices imported from Sri Lanka. Pair it with a String Hopper -- kottu with chicken curry and a mango lassi (a yogurt-based drink).

1115 Richmond Terrace
Why you're going: Blue offers the trifecta of fresh seafood, intimate ambience, and waterfront views. Digest with a 10-minute walk to the Snug Harbor Cultural Center, Staten Island's "crown jewel."
What you're getting: The Sunday afternoon $29.95 clam bake, or, if you're there on a week/weekend night for dinner, the seafood pot of Cherrystone clams, Prince Edward Island mussels, and shrimp and oyster mushrooms steamed in a garlic-chive-lemon-thyme seafood broth over rice noodles.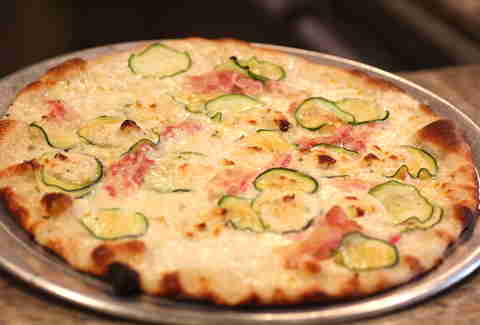 278 New Dorp Ln
Why you're going: There are tons of remarkable pizzerias on Staten Island, but this tops 'em all.
What you're getting: Go in, sit down, and order the Variopinta pie. It's topped with stracciatella, a checkerboard-pattern of pancetta, thinly sliced zucchini, and herb- and garlic-infused butter. If there's more than two of you, order an additional pie(s). You'll need 'em.

44 Richmond Terrace
Why you're going: Owner Danny Mills' hand-selected cuts are dry-aged 14-21 days, the rooftop seating has ridiculous views of Downtown Manhattan, the ferry is only a seven minute walk away, and Richmond County Bank Ballpark -- where you can take your date after demolishing the porterhouse -- is right across the street.
What you're getting: That porterhouse for two with sides of creamed spinach and lobster mac & cheese. And if it has it, double down on the mac with the porcini mushroom and shallot special.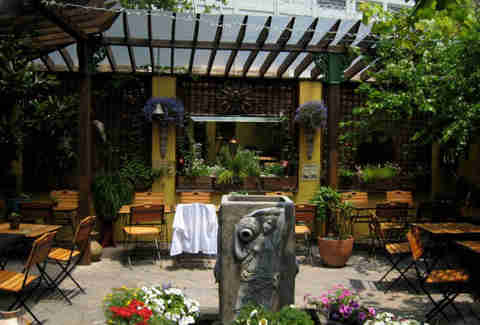 Best date spot: Zest
977 Bay St
Why you're going: With an ample wine selection and a seriously serene outdoor seating garden, Zest proves there is no better summer date spot.
What you're getting: Escargot to start, and then seared magret duck breast with a port wine demi-glace, carefully nestled on top of baby spinach and potato au gratin.

Most welcoming: Vida
381 Van Duzer St
Why you're going: This Michelin guide-mentioned SI stalwart has been raking in folks from other boroughs for a while now, not least because of the way Chef Silva Popaz lovingly blends Mediterranean, Spanish, Italian, and Portuguese cuisine into dishes all her own. Go once and she'll remember you forever -- tell her Chris, Franco's son, sent you.
What you're getting: Vida Bites, Vida Bites, and more Vida Bites! The slow-roasted pulled pork, pico de gallo, and avocado spread crostini are a perfect preamble to whatever entree Silva's cooking up special that night.
Best Spanish: Beso
11 Schuyler St
Why you're going: Because the $21 Monday-Thursday prix fixe is worth every minute spent on that ferry.
What you're getting: Go with the paella with lamb chops topped with smoked chili vinaigrette or, if you're a duck fan, the Pato -- smoked chili and honey-glazed duck breast sliced and served over spinach pasta with a roasted garlic cream sauce. The house-made red sangria is a necessity.

1250 Hylan Blvd #10A
Why you're going: This is THE spot for Italian-American cuisine. We know, our SI brethren, you're fuming behind that screen right now because your Trattoria Romana, or Da Noi, or Angelina's, or Basilio Inn was not selected. Our list, our rules.
What you're getting: The Carpaccio di Manzo con Caponatina to start. Don't try to pronounce it, just enjoy the thinly sliced beef tenderloin lovingly draped over eggplant salad with Parmesan shavings and truffle oil. Then the Pappardelle al Champagne -- wide fettuccine, lobster tail, scallops, and shrimp in a light cream and Champagne sauce -- for an entree.
Sign up here for our daily NYC email and be the first to get all the food/drink/fun New York has to offer.
Christopher DiScipio is a staff writer for Thrillist Media Group. You should buy him a steak at Ruddy and Dean's to compensate him for all the vital info he just provided you with. Tell him a time and date on Twitter and Instagram.