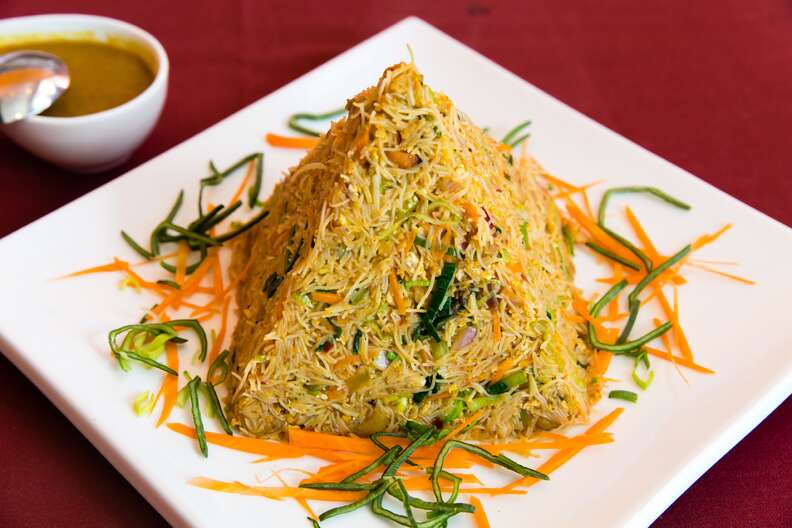 Each of the five boroughs under the "New York City" umbrella could function independently, but more than any other, Staten Island plays the lone wolf. It doesn't boast like Manhattan or suffocate you with its brand like Brooklyn. Other than providing the occasional backdrop for a reality TV stereotype, Staten Island culture is still something of an unknown, even among New Yorkers.
A short, scenic ride across the Hudson can begin to change all that. The Staten Island Ferry has been shuttling passengers to and from the hamlet for over 200 years, introducing countless visitors to its classic red sauce Italian restaurants, authentic Sri Lankan fare, and splashy gastropub newcomers. Get to know the borough with our favorite picks.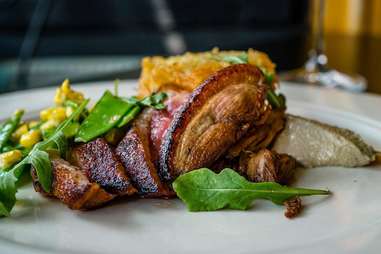 381 Van Duzer Street
Why you're going: This Michelin guide-mentioned SI stalwart has been raking in folks from other boroughs for a while now, not least because of the way chef Silva Popaz lovingly blends Mediterranean, Spanish, Italian, and Portuguese cuisine into dishes all her own. Go once and she'll remember you forever -- tell her Chris, Franco's son, sent you.
What you're getting: Vida Bites, Vida Bites, and more Vida Bites! The slow-roasted pulled pork, pico de gallo, and avocado spread crostini are a perfect preamble to whatever entree Silva's cooking up special that night.

1072 Bay Street
Why you're going: The Cajun-Creole fare delivers an incredible bang for your buck, for example, the $25 three-course prix fixe Sunday brunch comes with a complimentary cocktail and live jazz.
What you're getting: Alligator Bites. Then 1) seafood jambalaya -- a behemoth of a bowl filled with plump scallops, shrimp, mussels, succulent crawfish tails, calamari, and andouille sausage, all simmered in tomato sauce with rice -- or 2) Elba Blues -- roasted pork tenderloin medallions wrapped with bacon and topped with blue cheese and porcini mushroom sauce... plus a side of mashed potatoes. Quench the ol' thirst with a Crocodile Cooler (chilled melon liqueur, citron vodka, Sprite, notably no crocodile).
27 Hyatt Street
Why you're going: The rotating staff of Italian women craft regional specialties based on where they're from, but regardless of who's cookin', you'll be served some of the best Italian food in NYC. It's like having your very own Italian grandma to become concerned for your well-being when you struggle to polish off a third bowl of pappardelle alla Bolognese.
What you're getting: The menu varies week to week, so ask your waiter for the chef's recs. And keep your fingers crossed for the coniglio con patate.

1271 Bay Street
Why you're going: Because its modern take on traditional pub fare is as gut-busting as it is creative, and the eclectic brew and cocktail selection ain't bad either.
What you're getting: The Honky Tonk burger -- two 10-ounce premium chuck patties, Cheddar cheese, bacon, and fried onions, topped with freshly pulled short rib and BBQ sauce, and then stuffed between two toasted brioche buns.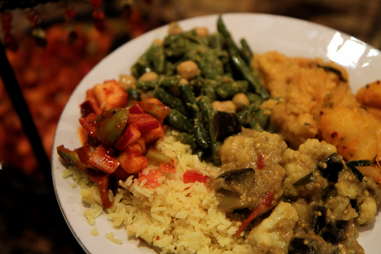 226 Bay Street
Why you're going: Staten Island is home to one of the largest Sri Lankan communities, which means there are ample spots to sample the cuisine. And although most will direct you to well-known Lakruwana, this Tompkinsville pick is the ultimate underdog.
What you're getting: Chef Sanjay Handapangoda's lamprie (rice and a variety of meat, curried vegetables, and cashews toppings steamed in a banana leaf), which is made using a 300-year-old recipe and spices imported from Sri Lanka. Pair it with a String Hopper -- kottu with chicken curry and a mango lassi (a yogurt-based drink).
1115 Richmond Terrace
Why you're going: Blue offers the trifecta of fresh seafood, intimate ambiance, and waterfront views. Digest with a 10-minute walk to the Snug Harbor Cultural Center, Staten Island's "crown jewel."
What you're getting: The Sunday afternoon $34.95 clambake, or, if you're there on a week/weekend night for dinner, the seafood pot of Cherrystone clams, Prince Edward Island mussels, and shrimp and oyster mushrooms steamed in a garlic-chive-lemon-thyme seafood broth over rice noodles.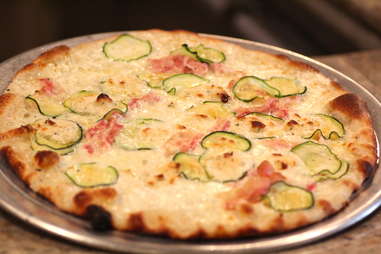 278 New Dorp Lane
Why you're going: There are tons of remarkable pizzerias on Staten Island, but this tops 'em all.
What you're getting: Go in, sit down, and order the Variopinta pie. It's topped with stracciatella, a checkerboard-pattern of pancetta, thinly sliced zucchini, and herb- and garlic-infused butter. If there's more than two of you, order an additional pie(s). You'll need 'em.
11 Schuyler Street
Why you're going: Just a 10-minute walk from the ferry, this cozy Spanish bistro is the perfect spot for a quick jaunt across the river.
What you're getting: You're on an island vacation -- try the seafood! Ceviche is dense with scallops, shrimp, and calamari, and littleneck clams are simmered in lobster broth. Carnivores can't miss larger plates like the El Pato (chili and honey-glazed oven-roasted duck breast), and their house-made sangria is a necessity.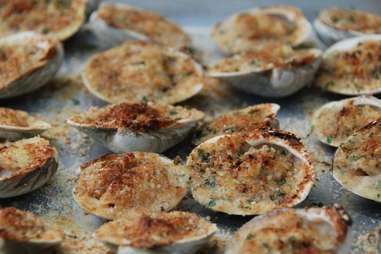 95 Water Street
Why you're going: Operating in NYC since 1922, Defonte's is truly a local culinary institution.
What you're getting: The Vinny D, a Staten Island classic in the making. Grilled Italian sausage, broccoli rabe, grated Parmesan cheese, and ricotta are piled on your choice of fresh baked Italian, whole wheat, or garlic bread.
611 Bay Street
Why you're going: Proudly purporting to be Staten Island's only African restaurant and one of a relative few citywide, Wazobia's menu is among the most distinct you'll find in any borough.
What you're getting: Take a culinary adventure with plates of goat's head or cow's feet cooked in traditional Nigerian spices, or try the igbin -- deshelled African land snails stewed in a tomato base. Tame options like chicken, fish, or beef are served with one of five spiced, complex sauces.
Why you're going: You must fortify yourself for the long journey home.
What you're getting: For $40 per person, you can sample every animal it's socially acceptable to eat in the United States. Gorge on bacon-wrapped filet mignon, leg of lamb, chicken thighs, jumbo prawn, and beer barbecue St. Louis-style pork ribs. These suckers even give you sides -- pile on some mac & cheese or creamed spinach. Don't fill up on salad.
Sign up here for our daily NYC email and be the first to get all the food/drink/fun New York has to offer.
Anni Irish and Christopher DiScipio are Thrillist contributors.