As of today, there are only FOURTEEN weekends left between now and Fall. So, it seems like as good a time as any to unveil our official unofficial "Summer Eating Challenge", wherein we give you one must-eat for each of the next 14 weeks, and you try to keep up.
And just like with the Outdoor Drinking Challenge we dropped last month, if you decide not to do this, you basically suck and are a terrible friend.
June 21-22: The Ramenrrito
It's ramen in burrito form, so get involved before another food mashup comes along and dethrones it.
June 27-29: Lobster Rolls
Look, we're not suggesting you only eat one lobster roll this Summer. In fact, if it were up to us, you'd eat one every day (challenge accepted?). That said, you do need to eat at least one of them on this brand-new lobster roll boat on the Hudson.
July 4-6: Hot Dogs
If ever there were a weekend for a hot dog, this is the one. Snag a grill and work up your own, or grab one at one of the city's many bomb places -- whether it be on a street corner, at Crif Dogs, or inside The Cannibal.
July 11-13: The cuisine of whatever team is in the World Cup Finals
If the US makes it, you better have a badass cheeseburger in mind. If Germany makes it, you better have a badass plate of sausages at Zum Schneider.
July 18-20: Oysters on a floating raw bar
For the Summer, the schooner F/V Sherman Zwicker at Pier 25 in TriBeCa (the last of a fleet of Grand Banks fishing boats) will transform into Grand Banks, a floating raw bar and actual bar serving nautical cocktails, oysters, and small plates.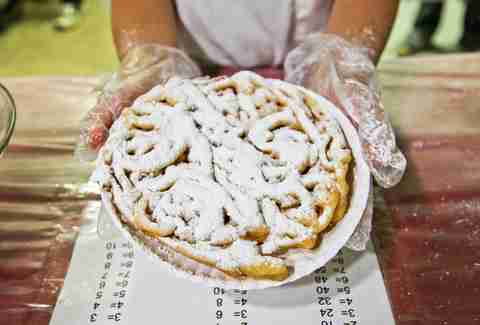 August 8-10: Funnel Cakes
You're going to find yourself at one of those ubiquitous, traffic-stopping street fairs/block parties during a lot of weekends this Summer, so you might as well make the most of it.
August 15-17: Fish Tacos
Arguably the ultimate Summer food, may we suggest Rockaway Taco (which has the bonus of being by the beach) or the new Cafe El Presidente in the Flatiron, which's working up some serious fish taco options you can dive into (with minimal travel and no sunblock).
August 22-24: Ice Cream Sandwiches
Do not go the grocery store-route on this one. Don't even go the old-school ice cream truck-route (okay, maybe do). Instead, go to Coolhaus where they've always got some craziness that'll help cool you down.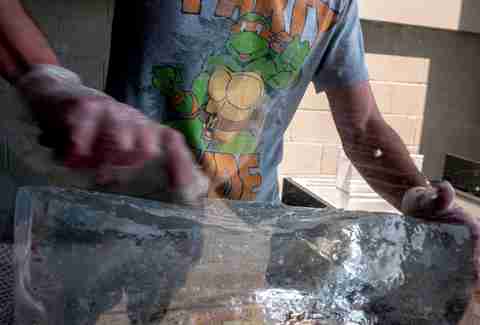 August 29-31: Shaved Ice
It's going to be unbearably hot, so it doesn't matter where you get this treat from -- though preferably, it'll be from a guy on the street (bonus points if you booze it up a bit with a flask!).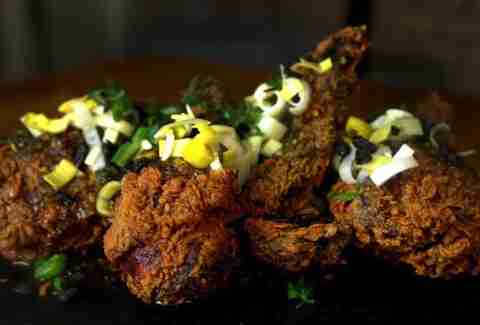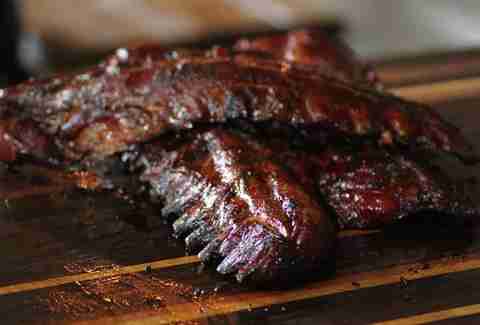 September 12-14: BBQ
You've hopefully stopped sweating enough now to be able to take down a massive plate of ribs, or some pulled pork from one of the best BBQ spots in the city while knowing full-well that sweater-weather is coming (which should appropriately hide the damage done here).
September 19-21: Corn
Cafe Habana's elotes with Mexican cheese, mayo, chili, and lime are off the charts, but Red Hook Lobster Pound also does dope, cob-less esquites that -- if you're smart -- you'll load up with some lobster, as well.
Andrew Zimmer is Thrillist's NYC Editor, and planning what he's eating on the weekend is one of his favorite activities. Follow him on Twitter or Instagram.