How To Spend a Perfect Day Supporting Black-Owned Businesses in Bed-Stuy
Insider tips and recs from the duo behind local shop BLK MKT Vintage.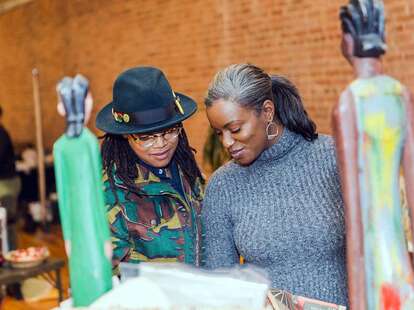 Home of notable icons like Shirley Chisholm, Jay-Z, June Jordan, and of course the Notorious B.I.G., Bed-Stuy is considered one of NYC's meccas for Black culture. With a Black population of 46%, the neighborhood spans 2.8 square miles in Brooklyn, including parts of Classon Avenue, Flushing Avenue, Broadway, and Atlantic Avenue, many of which are home to Black-owned businesses such as cafes, shops, and restaurants.
However, despite Black people making up 22% of NYC's total population, only 2% of the city's businesses are Black-owned. Several challenges contribute to the disproportionate rate of ownership, including a lack of access to capital and increasing rents. And during the pandemic, the economic effects of COVID-19 hit Black-owned businesses the hardest with ownership in New York state falling 70%. With these devastating numbers and hurdles in mind, it's more important than ever to support these businesses—and what better way to explore their offerings than by starting with those in Bed-Stuy.
The best way to navigate a neighborhood is by asking someone who truly knows it for insider recommendations on essential local spots. For guidance, we've enlisted the help of Brooklyn natives and founders of BLK MKT Vintage, Kiyanna Stewart and Jannah Handy. Before its current brick-and-mortar location and online store, the brand started in 2014 with the two collecting and selling items at flea markets and stoop sales. Today, it serves as a literal time machine for all things Black, including everything from vintage Essence magazine covers to wearable pins from various festivals, marches, and other historic events.
"As a kid, both of us were really interested in going to a space devoted to antiquity that looked just like us." says Stewart. "But we weren't necessarily seeing ourselves represented—not just in the items and the goods that were offered at antique stores, but behind the register, in the artwork, in the literature, and in the records section."
Although Stewart and Handy are from bordering neighborhoods, the decision to open BLK MKT Vintage's physical location in Bed-Stuy in 2019 was intentional.
"We knew we wanted to be in the Bed-Stuy region because there were so many of our contemporaries and folks that we knew and looked up to creating spaces in Bed-Stuy," says Handy. "There are a lot of POC and women-owned businesses within block radiuses of where we wanted to be. We wanted to contribute to some of the entrepreneurial buzz and community that was already being fostered."
Now, as integral parts to the community Handy references, follow along for the spots she and Stewart chose as quintessential recs in their itinerary of how to spend a full day supporting Black-owned businesses in Bed-Stuy. And remember to mask up if you dine out and always tip generously if you can.
Whether you're a "breakfast is the most important meal of the day" person like Handy or could do without it like Stewart, one thing's for sure: the food and drinks at Cafe on Ralph make it worth a visit. It's a perfect spot for a light meal, which is why Handy named it as where she'd start an ideal day. Owned by mother and son duo, Donna Drakes and Jamal Joseph, the cafe located on Ralph Avenue is filled with personality, plants, bright colors, and of course, delicious food. Check out their IG to take a peek at offerings such as avocado toast with smoked paprika; savory duck and waffles, and cold brew to get you up and running.
How to order: Storefront, outdoor dining is available. Order takeout and delivery via website.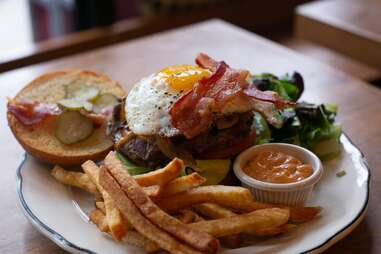 As a lunch enthusiast willing to forgo breakfast, Stewart enjoys starting her day with a meal at all-day eatery Zaca Cafe. "For me, a perfect day would be going to Zaca Cafe, which is on Marcus Garvey (one block down from us), because their food is relatively light," she says. Offering a fusion of French and American dishes from executive chef and founder Inoussa Campaore, Zaca's menu features the signature Zaca Burger with caramelized onions, lettuce, cheese, chipotle mayo, and toppings. Plant-based options like a popular vegan sandwich served on seven-grain bread or a spinach wrap are also available.
How to order: Storefront, call 718-443-2500 or order takeout and delivery via website.
For Handy, her go-to lunch spot, Soulfood Caterers (aka Soul Food Kitchen), might technically be in Crown Heights, but it's a literal hop, skip, and jump away from Bed-Stuy. "This is like an old Brooklyn pro tip. Go over to Soul Food Cafe and it's cafeteria style—but it's like your auntie and your grandma are back there cooking," says Handy. At this no-frills restaurant where the food speaks for itself, many diners don't leave without an order of fried fish or the pork chop plate (and honestly, get a plate or two for later, too).
How to order: Storefront at 88 Kingston Avenue, or takeout and delivery via Seamless.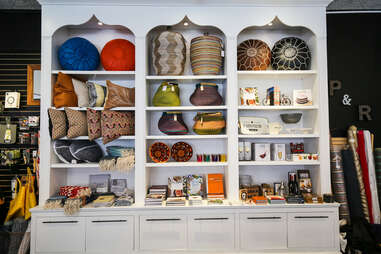 No day in Bed-Stuy is complete without perusing some of the local shops to discover new threads, plants, and other cool finds. For Stewart and Handy, it's only right that their first stop is BLK MKT Vintage—after all, checking on the space and doing preparation is a part of their workday. While the physical store is temporarily closed to customers, check the shop's IG for updates on its reopening. And in the meantime, take advantage of their online shop.
Sincerely, Tommy is another spot that's always on the BLK MKT Vintage team's radar. Not only is it a lifestyle store that carries handmade accessories, dresses, jackets, and vegan leather trousers that are perfect for cold weather, but the brand as a whole offers a multitude of services and products. Expect an in-house coffee shop that makes a mean honey latte with Pelah's sticky buns to pair it with, in addition to a recently-opened home goods store, Raini Home, located just three blocks away.
"Whenever we go to Sincerely, Tommy, we tend to go to all of the shops that are on that street that we like. So we would go to Peace & Riot and Byas & Leon right afterward," Stewart said.
Home decoration and furniture options are abundant with Peace & Riot and Raini Home, both of which offer the option to shop online for anyone not looking to venture out in the winter weather. In addition to Sincerely, Tommy, Byas & Leon also offers extensive vintage clothing options. And the best part about these shops? They're all within walking distance of each other.
And because there's proven health benefits to having indoor plants and New Yorkers can never have too many of them, according to Stewart, a trip to Natty Garden's Bed-Stuy location is a must.
How to shop: BLK MKT Vintage online store; Sincerely, Tommy storefront; Byas & Leon storefront; Natty Garden storefront and online shop.
When it comes to Bed-Stuy recommendations on where to eat, like many borough natives, Stewart and Handy say to run, not walk, to Peaches on Lewis Avenue. At this popular restaurant co-founded by Craig Samuel and Ben Grossman, its exceptional Southern cuisine makes it a regular destination for dinner and drinks for the BLK MKT Vintage duo. The spot's cocktail menu includes signature items like the Miss Jackson (made with gin, blackberries, orange juice and lime), and then the biggest draw from the drinks menu: the Brownstone Punch with coconut rum, pineapple, orange, and cranberry (which can also be delivered, FYI).
How to order: Storefront. Call 718-942-4162 for takeout or order takeout and delivery via Caviar, DoorDash.
Sign up here for our daily NYC email and be the first to get all the food/drink/fun New York has to offer.