The rapidly intensifying COVID-19 pandemic has put a strain on most economic activity, but it's the restaurant industry that's perhaps taking the biggest blow. Since Tuesday morning, restaurants, bars, and cafes in New York City have been limited to take-out and delivery only, inevitably leading to a rise in unemployment among food and beverage workers. With no stimulus package or rent breaks in place for local small businesses, the shutdown is likely to decimate the industry. It's up to consumers to help support these businesses during this time. Here's how we can make sure our favorite restaurants are still standing when all of this is over:
Order take-out or delivery (and don't forget to tip!)
Many NYC restaurants already work with major delivery services like Postmates, Caviar, Grubhub, and Seamless. If you're ordering from a non-chain restaurant through UberEats, delivery fees will now be waived. And restaurants that don't traditionally offer take-out or delivery are now expanding to offer those options, like HALL by ODO, Sushi Ginza Onodera, and Marea.
Some spots will also be doing specials: The Butcher's Daughter has transformed each of their locations to "Butcher's Bodegas," offering everything from fresh produce to signature pantry items; Oath Pizza will be offering "Take + Bake Pizzas" in addition to their full menu; Da Toscano is selling quarts of sauce as well as a daily homemade pasta; Karazishi Botan is bringing in new ramen options just for take-out, such as a porcini mushroom-based sesame spicy soup.
And then there are those that are giving back: In addition to providing delivery options, Mother of Pearl, Honeybee's, and Night Music will be providing free vegan lunches to NYC children at their locations, and they are collecting donations. In addition to offering take-out and delivery on Saturdays, Gertie will be partnering with Olmsted to transform their kitchens into relief centers, packing hundreds of to-go meals every night for furloughed restaurant workers.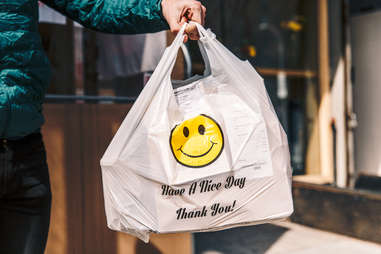 Buy gift cards and save them for later
Gift cards are a great way to ensure businesses stay afloat while also giving yourself (or a friend) a treat to look forward to post-quarantine. Restaurants like Dinosaur Bar-B-Que, Don Angie, Wayla, and Hudson Yards Grill are selling gift cards or gift certificates that can be purchased on their websites. Riverpark pledges to put 50% of the proceeds of all gift certificates purchased between now and the end of April into a staff fund designed to financially support employees. Note that smaller establishments may not be advertising gift cards online, but can usually set one aside if you call or email.
Pick up some merch
New York City is teeming with restaurants whose brand identity is just as valuable as its food. Support your favorites by buying T-shirts that are perfect for lounging around in -- like this one from Bubby's. Dimes even sells its own skincare and candles. If you're in need of some recipe inspiration, check out the cookbooks from Carmine's and Jack's Wife Freda. You can also contribute to the "Bought this T-shirt and Stayed the F*ck Home" campaign, which has partnered with over 25 restaurants, like Lovely Day, Osteria 57, and Jajaja, to create uniquely designed merchandise. One hundred percent of the profits will be donated to participating restaurants who have committed to giving 25% of what they receive to staff who are now out of work.
Donate to restaurant labor relief funds
In addition to donating to the drives that local restaurants are administering, you can also contribute to campaigns that feed into larger funds—many of which are dedicated to the protection of workers. The Restaurant Workers' Community Foundation launched a COVID-19 Emergency Relief Fund, which supports individual workers facing economic hardship and helps create zero-interest loans to businesses. The One Fair Wage Emergency Fund aims to provide no-strings-attached cash assistance to tipped workers in the food industry. A grassroots organization led by staffers from Andrew Tarlow's Brooklyn restaurant empire, the Service Worker's Coalition, are collecting funds over Venmo (@bkservicecoalition) to support restaurant workers and to help deliver groceries to people unable to leave their homes. And finally, make sure to donate to Street Vendor Project to help support and advocate for the rights of street vendors who aren't eligible for unemployment, paid sick leave or any other government support during this time.
Write a positive review
Lastly, if you're on a tight budget, leaving a positive review on a restaurant's Yelp or Google page can help to sustain its buzz. Think of a few places that you've recommended to friends but never actually rated, and take the time to write out some reviews.
Sign up here for our daily NYC email and be the first to get all the food/drink/fun New York has to offer.