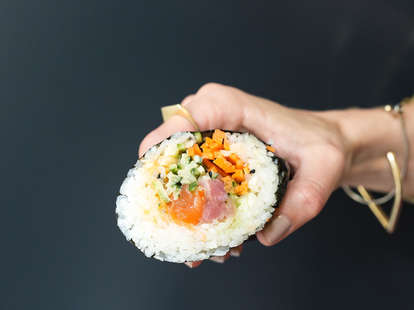 Courtesy of Uma Temakeria/By Ethan Covey
Courtesy of Uma Temakeria/By Ethan Covey
Sushi is great. Burritos are great. But sushi burritos? The greatest. That's why NYC's Uma Temakeria plans to take its portable sushi game to the next level in this belt-busting combo, rendering all your puny chopsticks obsolete.

In honor of International Sushi Day this Thursday, June 18th, the Brazilian sushi spot will roll out sushi burritos at its Chelsea location and at its booth at the Penn Plates food market. While they're totally customizable with other ingredients, Uma Temakeria's "classic" sushi burrito consists of fresh salmon, tuna, spicy mayo, julienned carrots, cucumbers, and sushi rice seasoned by Chef Chris Jaeckle -- all wrapped into a burrito with a sheet of crisp nori. You're gonna need a cereal bowl of soy sauce to dip this bad boy...
Follow us on Facebook for a steady stream of daily NYC stories, and be the first to get all the food/drink/fun/news New York has to offer.
Tony Merevick is Cities News Editor at Thrillist and can only image the food baby feeling after this thing. Damn. Send news tips to news@thrillist.com and follow him on Twitter @tonymerevick.