Courtesy of Sushi Lab
Courtesy of Sushi Lab
In order to properly experience a real sushi omakase, one must sit at a counter, in front of a chef, and savor each piece of sushi one by one as each is prepared. But all traditional sushi meals came to an abrupt halt last week when Governor Andrew Cuomo ordered local restaurants and bars to cease in-house dining. Since then, hospitality operators have scrambled to find solutions -- for some that has meant turning out the lights. For others, it meant a swift and uncertain dive into food delivery and takeout.
Right now more than ever, local restaurants need diners' help. Especially sushi haunts whose bread and butter, or rather rice and fish, is counter-style dining.
High-end sushi chefs throughout the city are finding ways to deliver that omakase experience to customers at home via sashimi plates, chirashi bowls, and set sushi meals.
For those who have been saving up for a blow-out omakase experience, or anyone simply craving a piece of buttery toro, now is the time to have that same top-quality fish delivered, at a fraction of the price. Below, here are the best options for luxe sushi in New York right now:
Tribeca
One of Manhattan's most transporting omakase experiences kicked off take-out and delivery last week. While chef Derek Wilcox is best-known for his haute tasting menus, now New Yorkers have the opportunity to sample his craft at a significant discount.
The chef is offering a subset of his regular menu (typically priced $190 or $252), and patrons can choose from zuke tekka don (marinated bluefin tuna over rice) for $50, sushi set A (seven pieces of nigiri plus makimono) for $80, sushi set B (10 pieces of nigiri plus makimono) for $120, or sushi set C (12 pieces of nigiri plus makimono) for $150. And it's worthwhile to note that Wilcox's fish is all wild-caught, and he's probably the only chef in New York offering freshly grated wasabi root to-go.
To Order: Pick-up starts at 3pm, and runs Monday through Saturday. Shoji also offers delivery depending on one's order size and location. Call 212-404-4600, email info@69leonardstreet.com, or send a direct message to @69leonardst.
Hell's Kitchen
Earlier this year, Derek Feldman -- founder of both quick-serve omakase concept Sushi on Jones and wagyu katsu sando seller, Don Wagyu -- combined the two Japanese eateries under one roof at Gotham West Market. As of a few days ago, customers can order a $58, 12-course mix of nigiri and temaki for pick-up or delivery, or opt for buttery beef via Don Wagyu's range of items built from the namesake protein. Think the classic cutlet sandwich, A5 gyoza dumplings, even a wagyu meatball bao.
To Order: Hop on UberEats for delivery from noon to 10pm daily.
Flatiron
Chef Hiroki Odo over at the discrete kaiseki haunt of the same name, typically serves a single, highly seasonal omakase for 14 counter guests at once, priced at $200. In light of the current pandemic, the team is flipping scripts, picking up a more casual motif via take-out and delivery. Built from the same quality-minded ingredients guests experience during the chef's choice meal, as of last week New Yorkers can order six-piece nigiri sets plus a temaki roll for $18. He'll also send a daily-changing Japanese comfort food set (such as white asparagus salad; or duck breast and bamboo shoot pasta) via adjacent front eatery, Hall. Check their 'gram to see the special.
To Order: Via Grubhub from 11am to 9pm daily.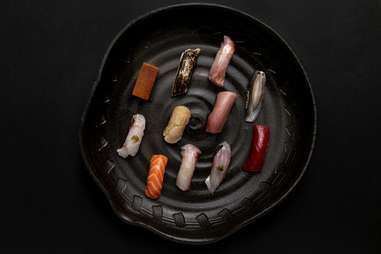 Tribeca
Lauded for its pristine seafood, downstairs seafood den Sushi Azabu is offering its full sushi menu to-go. Snag a seven-piece nigiri plus maki roll set for $60, or order à la carte, including a number of Japanese appetizers.
To Order: Call 212-274-0428 for pick-up. Or jump on Caviar or GrubHub for delivery from noon to 8pm daily.
Murray Hill
Helmed by a bunch of Sushi of Gari alums, Sushi Ryusei has been quietly slicing fish since 2018. Right now, you can place an order for delivery or pick-up for set sushi menus priced between $29 and $49, sashimi sets between $36 and $55, full omakase meals from $85 to $150, or simply go à la carte.

To Order: ChowNow from 4:45pm to 8:45pm.
West Village
One of New York's best kept sushi secrets, lower-level Omakase Room by Tatsu began its foray into takeout and delivery last week. Chef Tatsuya Sekiguchi (a Sushi Yasuda vet) is offering chirashi fukiyose (egg custard, lean tuna, fatty tuna, fluke, Spanish mackerel, salmon, yellow tail, golden eye snapper, pickled squash, and shiso leaf), assorted raw fish served over rice, in addition to a bowl of red miso soup for $60. But, note, at the moment he's only serving 20 bowls per eve, though this number might increase in the future.
To Order: Call 212-367-2067 for takeout and delivery within the West Village between 5 and 9 pm daily.
Upper East Side
Chef Don Pham didn't offer take-out when he debuted modern omakase haunt Sushi Ishikawa roughly three years ago. But as of last week, he's entered the delivery game. While he typically serves set omakase meals (at both his Upper East Side and newer Upper West Side location), for delivery he has launched a couple of new options, including the mini matsu omakase (nine pieces of seasonal nigiri plus a maki roll) for $59, and sakura maki (daily-changing set of three rolls plus miso soup and edamame) for $39. A la carte available, too.
To Order: Reserve on Resy or email hello@ishikawanyc.com for takeout and delivery within a 10-block radius of the Upper East Side location. Available from 4 to 8pm daily.
Flatiron
Beloved, quality-minded, affordably-priced Sugarfish is offering both delivery and pick-up. Choose from set menus priced $30 to $59, or pick from à la carte selections.

To Order: Order on Postmates or call 347-705-8100 for delivery and pick-up, daily.
NoMad
Sugarfish's casual hand-roll spinoff, KazuNori, is also in the to-go game. Choose from 16-piece set menus priced from $18 to $27, or order à la carte.
To Order: Order via Postmates or call 347-594-5940 for delivery and pick-up, daily.
Chinatown
Dual-part omakase sushi bar and izakaya, hip Japanese number Juku has recently joined the delivery and to-go circuit. In addition to a bevy of cooked izakaya-style dishes, famed sushi chef Kazuo Yoshida is offering a 10-piece nigiri plus roll set for $45, a chirashi bowl for $25, and a couple rolls for $10-$12.
To Order: Call 646-590-5111 from noon to 9 p.m. from Monday through Saturday.
Midtown
Frankie Chen, who heads up the creative Sushi Lab within Sanctuary Hotel, just kicked off delivery and to-go for the first time this week. Composed of the eatery's most popular dishes, Chen is offering a 10-piece omakase with a hand roll and smoky miso soup for $45, in addition to a number of other sushi selects. Also of note, all sake and beer is 40% off.
To Order: Via Seamless from 11:30am to 8:30pm, Monday through Friday.
Upper East Side
New York's original sterling seafood seller Sushi Yasuda just launched take-out and delivery -- a pared down list of its dine-in menu. There's an MP omakase menu, a 10-piece nigiri plus roll option for $49.50, and assorted sashimi for $33, in addition to a number of other prix fixe menus.
To Order: Call 212-972-1001 for take-out and delivery, 11:30am to 8pm Monday through Friday, and 4pm to 8pm on Saturday.
Sign up here for our daily NYC email and be the first to get all the food/drink/fun New York has to offer.
Kat Odell is a food and travel journalist. She is the author of low-alcohol cocktail book Day Drinking, as well as Unicorn Food, a plant-based cookbook hinged on medicinal ingredients. She was the Editor of Eater LA for five years, and afterward the inaugural Editor of Eater Drinks. She has been published in Vogue, New York Times' T magazine, Travel + Leisure, Conde Nast Traveler, Food & Wine, and has appeared on numerous television shows, as a series regular on Bravo's Eat Drink Love, and FYI's Midnight Feast. She also works with The World's 50 Best Restaurants organization.