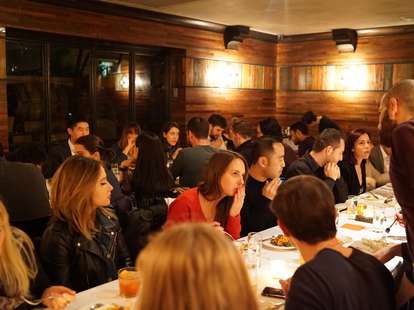 Courtesy of tasting collective
Courtesy of tasting collective
When you go out to eat at a nice New York restaurant, you can typically expect (or at least hope for) some good food and an atmosphere that fits it -- and aside from that (and a hefty bill), not much. But a new members-only dining club is trying to change that by bringing the chefs into the dining experience.
Tasting Collective is a private membership community for food lovers, offering chef-led dinners at some of the city's most popular restaurants. Founder/CEO Nat Gelb realized he wanted to get more out of his dining experiences than just eating the food. He wanted to learn about the history of the food, and of its creators -- to be able to interact with the chefs and hear their stories. "Having a community around a shared passion for food allows you to create a different dining experience at the restaurant," Gelb says. As more and more people become fascinated by what's going on in the back of the house at restaurants, Tasting Collective offers the unique access and experience you can't really get anywhere else.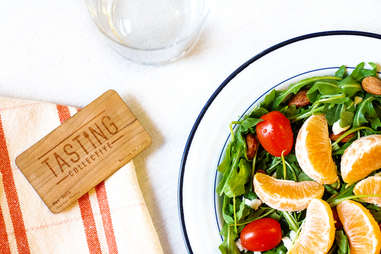 Can anyone join?
For now, yes. Simply visit Tasting Collective's website and hit "request an invite." After that, you'll typically get a response the next day with your invitation to join.
How much does it cost?
Membership isn't cheap. The standard membership rate is $199/yr for access to dinner events (each dinner ticket is $40-50 dollars), plus other benefits. Though your money arguably goes pretty far...
What do you get out of it?
Tasting Collective's private dinners occur every other week, during which the entire restaurant is shut down, and members can enjoy a multi-course menu of the chef's favorite dishes, plus food stories from the chefs themselves (who come out to introduce each dish). The largest dinner is around 50 people; the smallest is 25. For now, Tasting Collective is focused on smaller, independent restaurants (typically ones where the chef is a partner or an owner so they're more involved in every aspect). Some current partners include Pig & Khao, noreetuh, Edi & the Wolf, Huertas, Xixa, Yunnan BBQ, Shalom Japan, Mile End, Miss Lily's, Traif, and Flinders Lane.
In addition to the bi-weekly dinners, members also get benefits from food-related brands (like artisanal purveyors and cooking classes), and if they show their cards (which are wooden, because of course) at any of Tasting Collective's partner restaurants, they can receive complimentary dishes or cocktails with their meal. Members can also buy tickets for non-member friends to dine with them.
So what does this all mean for the dining-out culture in New York?
Well, technically your dinners would not only be more informative than most, but also cheaper (considering the average menu prices at the restaurants involved). Yes, you're also paying the $199 yearly fee, but since most large-scale chef-led events cost that amount for a single ticket, it would seem that you're getting more than your money's worth.
Are members-only meals the future of dining out in New York? Probably not (especially since New York is crazy expensive, and most people can't afford to dine out frequently, if ever), but for those with the means, and a deep interest in food & drink culture, a thing like Tasting Collective opens a ton of doors into that world, bringing people with a shared interest in restaurants together in a totally unique way.
Sign up here for our daily NYC email and be the first to get all the food/drink/fun New York has to offer.