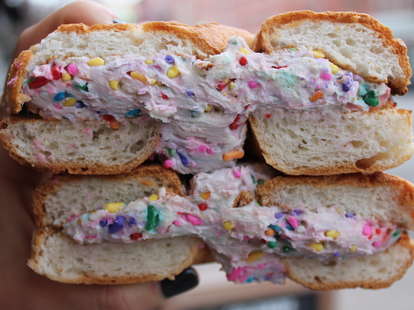 Nicole Cogan/Thrillist
Nicole Cogan/Thrillist
There comes a time in every gluten-intolerant's life when they must dine out with wheat-eaters. These insensitives will eye you with disdain as you have the server pick apart the menu to make sure you order the one thing that won't completely mess up your digestive system. The whole process is a total tummy ache, which is why knowing what you're getting before you go is crucial.
As founder of NOBREAD.com, I find the best gluten-free (GF) eats in NYC restaurants so you don't have to. Here are 11 of my favorites:

Multiple locations
If you've resigned yourself to a life of dense, soggy grilled cheeses made with inadequate gluten-free substitutes, it's time to reevaluate. With a grill sear that's totally unprecedented on GF bread (provided by Brooklyn's own Free Bread), the creative sandwiches here, like the Truffle Melt -- havarti, truffle oil, and arugula -- are up there with the best of 'em.

165 Avenue A, East Village
Gluten-free varieties are limited to everything, cinnamon raisin, and plain, but the avocado and/or bacon add-ons and specialty spreads are the real reason you're here. Combinations like peanut butter cream cheese and banana on cinnamon raisin may be too novel for the bagel-with-lox purist, but this line is still out the door on weekends for a reason -- mostly because legions of young NYC ladies love to Instagram the pink birthday cake cream cheese with rainbow sprinkles.
85 10th Ave, Chelsea
Six years ago when I first acquiesced to this lifestyle, it was extremely rare for a restaurant to carry one store-bought gluten-free pasta, much less make multiple varieties in-house. But Mario Batali is totally on our side. Find a GF version of every pasta on the regular menu -- gnocchi, lasagna, and a next-level chestnut ravioli with porcini ragu included.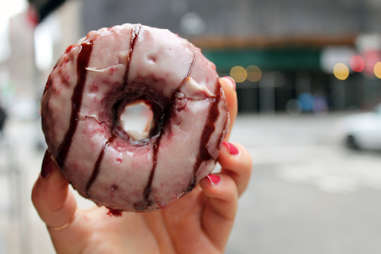 248 Broome St, Lower East Side
The first GF bakery to arrive on the scene way back in 2005, Erin McKenna's Bakery, aka Babycakes NYC, serves up sweets that are totally vegan, and free of refined sugar, gluten, dairy, soy, egg, and wheat. Which may sound like a total snooze, but somehow, someway, these treats are pretty damn comparable to those that come from regular bakeries.

141 2nd Ave, East Village
Order easy as all the tacos on this dinner menu (except the carnitas), are made with corn and rice flour tortillas, and are completely fair-game for a gluten-free eater. Masa fries are the move if you can handle stuff that's been cooked in a shared fryer.
Best gluten-free breakfast sandwich: Egg Shop
151 Elizabeth St, Nolita
Gluten-free eating options have certainly come a long way, but it'll probably be awhile before your corner bodega is slinging any kind of digestible breakfast sandwich. Until then, come here for a classic bacon, egg, and cheese, or try something a little more adventurous, like The Beast with pulled pork carnitas, a sunny up egg, cilantro, pickled onion, and chipotle bourbon ketchup. Both are available on Glutino-provided English muffins.
235 Mulberry St, Nolita
Eat big at this lil' dimly lit Italian gem, because with an extensive gluten-free menu that mirrors the regular one, almost nothing is off-limits. The pizza -- particularly the vodka slice with fresh mozzarella and vodka sauce -- is an excellent option, so long as it's preceded by fried calamari, but classic chicken parm or spaghetti and meatballs (made with gluten-free breadcrumbs) shouldn't be overlooked.

25 E 17th St, Union Square
This dairy-free, real fruit soft-serve is probably the healthiest dessert in NYC second only to, like, an apple, but if that's not a selling point, the outrageously delicious taste sure is.
Multiple locations
So here's the thing: the beef, spicy pork, and veggie balls are all a no-go for the gluten-free guild. BUT, when you pair the GF chicken meatballs with a fried egg, bacon, classic tomato sauce and sides of polenta and sauteed veggies, you won't know, nor care, about what you're missing.

Best gluten-free falafel: Taim
Multiple locations
The totally gluten-free chickpea fritters (some of the best in NYC!) at this hot, hot lunch spot are super tasty regardless of dietary restrictions. Choose from three flavor of balls: traditional green (parsley, cilantro, mint), yellow (harissa), or red (roasted red pepper) or opt for the mixed falafel platter, which includes a sampling of 'em all, plus hummus, s'rug hot sauce, amba (mango chutney), and Israeli pickles. Avoid the totally not gluten-free pita and tabouli salad and you're good to go.
18 Greenwich Ave, West Village
Eschewing the typical loaded pancake and French toast brunch affair, Executive Chef Wade Moises loads up his Italian menu with raw seafood and vegetable dishes that are highlighted by seasonal herbs and produce from his rooftop farm. Make your go-to the loaded Chopped Salad Siciliana (escarole, artichoke, olives, caper berries, sun-dried tomatoes, crispy chickpeas, raisins, ricotta salata, and sunflower seeds), because with so many fresh options (and excellent cocktails!), no one will be able to make fun of you for eating a salad for brunch.
Nicole Cogan is the Founder & CEO of NOBREAD, and when she's not eating, she's probably thinking about her next meal. Follow her on Twitter @NOBREAD and Instragram @NOBREAD.