In a city like New York, not commonly known for its Mexican food (which is total crap), finding the best nachos can be incredibly difficult... unless you read this story, which makes it incredibly easy.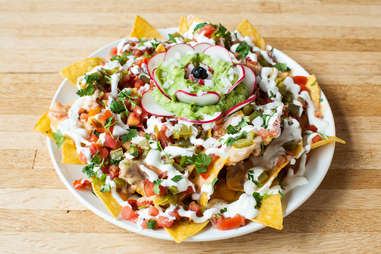 Nachos Chulos
Taco Chulo (address and info)
Williamsburg
There are many nominees for most likely to need a napkin, but only one official winner, and it's Taco Chulo's Nachos Chulos. As a constituent of the cheese sauce community, Taco Chulo's namesake 'chos pour on the orange cheese generously along with crema, pico de gallo, and fresh guacamole.

Nachos
Calexico (address and info)
Various locations
Calexico flips the script by also having melted cheese on its nacho platter. Beyond the mounds of cheese, this plate is rounded out with fresh corn, beans, crema, cilantro, and a noteworthy guacamole. (The chilaquiles are also a work of art.)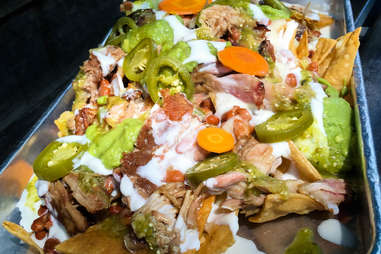 Nachos carnitas
Taqueria Diana (address and info)
East Village
When presented with a sheet tray filled with nachos, do not be alarmed. Instead, be proud of future you, who will have eaten these nachos. At Taqueria Diana they begin with great freshly fried homemade chips then pile on beans, white cheddar, jalapeños, carnitas, crema, and heaps of guacamole. Instead of forcing a spice level, salsa verde, salsa rosa, and a habanero salsa are waiting for you in bottles on the side.

Fresh vegetable nachos
El Maguey Y La Tuna (address and info)
East Village
This is the only nacho place around that somehow gets away with throwing broccoli and zucchini on chips (we're gonna go ahead and say it probably has something to do with them also engulfing them with black beans, cheese, heaps of guacamole, and pico de gallo). Oh, and the menu boasts another five types of delicious nachos, in case you're in a nacho takedown kinda mood.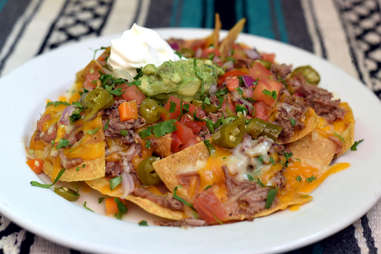 Nachos with brisket
Javelina (address and info)
Gramercy
A buzz-worthy Tex-Mex restaurant, Javelina's nachos feature an approachable mound of chips with refried beans and brisket covered with a blend of cheddar and Monterey Jack and hefty dollops of pico de gallo, sour cream, and chunky guacamole on top. Also, yep, the place has Shiner.

Nachos
El Camion Cantina (address and info)
East Village
El Camion Cantina cheats on its melted three-cheese blend with sprinkles of cotija cheese (aka FOUR CHEESES!), then drizzles of crema, a scoop of guacamole, and pickled jalapeños.
Nachos
Coppelia (address and info)
West Village
The secret to these nachos' success is the layering: they put some of the cheese and beans as the base level and build upon it, assuring each chip gets some of the action. The, uh, other secret to these nachos' success is that they're super meaty, thanks to the untraditional short rib added atop a mix of Muenster and Gouda cheese, crema, and guacamole. One note on these, though: they're probably the smallest plate of nachos on the list, which means you'll need to get two. (OK, fine, three.)

Cadillac nachos
The Commodore (address and info)
Williamsburg
Not a misnomer, these super-sized nachos feature a deliciously spicy cheese sauce, three salsas (verde, roja, and chile de arbol), quality chips, and a hearty sprinkling of radish and cilantro.
Macho Nacho
El Vez (address and info)
Battery Park City
El Vez has a unique technique for keeping its nachos from getting soggy: instead of piling high, El Vez goes wide, serving an almost pizza-like nacho that's served on a tray and pizza stand. Every part of the platter gets a handful of chorizo, Jack cheese, pickled red onion, and jalapeños.

Triple nachos
Professor Thom's (address and info)
East Village
An absolutely prototypical bar-style nacho and easily the largest quantity of them probably allowed by law, Professor Thom's serves its nach-es on a pizza tray on a cake stand. These will feed your team and the team you're rooting for, but beware -- this is a Red Sox bar. Chips are piled high with ever-present cheese, healthy helpings of guacamole and pico de gallo, and a separate cup of mild salsa.
Nachos (with chorizo)
El Toro Blanco (address and info)
West Village
Only being available at happy hour makes these nachos the most mysterious of the bunch. Why not serve them all the time? Is this too much goodness for the regular menu? These nachos boast homemade chips, Oaxaca and queso blanco cheeses, and crema, plus you should definitely go for the chorizo.
Sign up here for our daily NYC email and be the first to get all the food/drink/fun New York has to offer.
Lee Frank is a nacho lover from way back when. If you follow him on Instagram or Twitter, you might catch a reference to pro-cilantro guacamole.