Amid endless concrete and exhaust-darkened air, it's easy to forget that New York's a coastal city. But if you go far enough in any direction, the briny breeze and algae-y aroma will remind you. While the Hudson River might not be the best place to find the catch of the day (actually, what's the market price for a three-tailed lobster monster?), we've got plenty of restaurants that source their seafood from a little further out to sea. So why not let them do the fishing for you?
Whether you're craving a no-frills fish taco, need to find a fancy spot for date night, or just feel like doing an Opposite Jaws (that's when you eat the shark, instead of the other way around), These are the thirteen best seafood restaurants and dishes in New York City right now.
Recommended Video
The Fasties: Kat Thompson Mukbang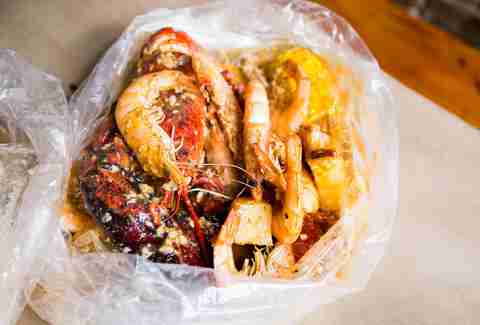 Greenwich Village, Lower East Side
Want to wear a bib tonight? Make a reservation at The Boil. This Cajun restaurants boils up its seafood in plastic bags -- think crab, lobster, crawfish, and head-on shrimp -- and lets you bash the shells and suck the meat out yourself. The bags come complete with corn, potatoes, and the garlicky sauce of your choice. The Boil's cash only, but it's probably for the best: You wouldn't want to cover your credit card in all that garlic butter, anyway.
Gramercy
With two locations in Russia -- one in St. Petersburg, and one in Moscow -- Mari Vanna knows her way around a pile of roe. Keep it traditionally Russian and order your caviar with onions, eggs, sour cream, and a pile of savory crepe-like blinis, or go all out with the "Red Square," a duo of black and red caviar totalling 80 grams. It's served with a round of house-infused vodka shots, which makes the $195 price tag go down a little easier. Na Zdorovie!
Mar's: Shrimp Cocktail
Astoria
It's hard to screw up a shrimp cocktail: Stick a couple of shrimp in a glass, dump in a jar of cocktail sauce, slice a lemon, and you've got yourself a pretty decent party food. Mar's, though, takes its shrimp cocktail to another level, with fat wild-caught shrimp and a housemade whiskey sauce for dipping. Pair the cocktail with a spicy, citrusy "Aztec Gold" and give those shrimps a belly full of mezcal to swim in.
West Village, Upper East Side
Is the name too cute? Definitely. Are the mussels too good to care? You got it! Twenty-three different kinds of broth, enable you to order your mussels exactly how you like them. My favorite is the "South Pacific," with white wine, kaffir lime, and lemongrass. If you prefer your mussels in a tomato-based broth, the "Fra Diavolo" is spicy and rich with San Marzanos. The non-traditional preparations, including an adobo broth and cacio e pepe, are worth a try, too; you just can't miss with a giant bowl of mussels and crusty hunks of bread.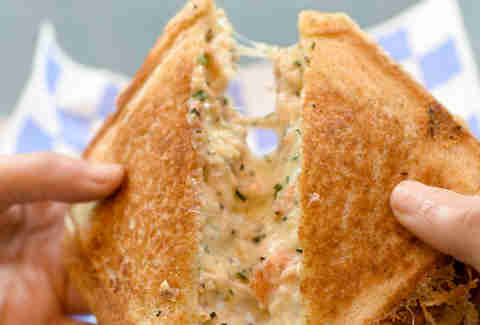 Crown Heights, Clinton Hill
If you believe the conventional wisdom that seafood and dairy should be kept apart at all costs, let the Crabby Shack convince you otherwise. Thick slabs of buttery Texas toast are layered with cheddar, Gruyère, chives, and -- of course -- the eponymous crab of the Shack. The resulting sandwich is gooey, packed with crab meat, and a poke in the eye to dairy-and-seafood separatists. Now, if you're not so easily convinced, the Crabby Shack's crab roll keeps it much simpler: Just a potato roll, garlic butter, and fresh sweet crab.
NoHo
This seafood-focused Thai spot serves up all kinds of incredible dishes, but for the full face-to-flipper, empty-eye-staring-up-at-you experience, Fish Cheeks' steamed striped bass is the one to beat. Served in a charming fish-shaped steamer and piled high with fresh herbs, chili, and lime, the firm white fish of the bass is slightly spicy and endlessly fun to flake with your fork. Happy hour is from 5 to 7, so go ahead and pair it with a few $5 Singhas.
Staten Island
Leche de tigre -- or Tiger's Milk -- is the traditional base of Peruvian ceviche. Hot with peppers and sharp with citrus, the acid of the marinade cures raw seafood into firm, delicate bites. For its mixed ceviche, Inca's Grill combines leche de tigre with bites of shrimp, octopus, crab, calamari, and the super-spicy rocoto pepper, which is native to Peru. If you're only ready for a taste of the Tiger, order the $6 ceviche shot filled with fresh fish, instead.
Upper East Side, Upper West Side, TriBeCa, Hell's Kitchen
At an Omakase meal (a Japanese phrase that means "I'll leave it up to you"), the sushi chef prepares and serves freshest catches of his choice. Sushi of Gari gets the best of the best: Plump tuna, salmon belly, uni, snow crab, eel... Basically, the chefs behind the counter offer you impossibly, increasingly delicate dishes until you beg them to stop. The atmosphere is simple and intimate, making it ideal for a special occasion. But who says you can't belly up to the sushi bar on any old Wednesday?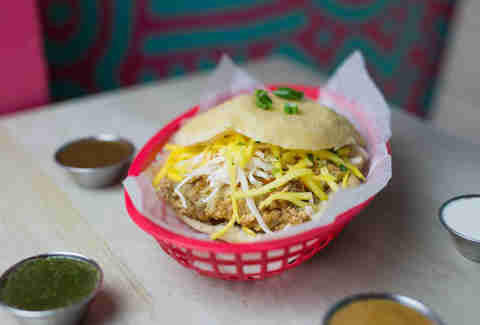 Bushwick
"Bake and shark" -- a Trinidadian street food staple -- is a flatbread fried with hunks of shark meat. Pearl's serves its bake and shark in a sweet bun with pickled slaw and mango chutney. If you're not in the mood to enact Opposite Jaws, order the accra fritters, instead: Salted cod is deep fried and served with a tamarind dipping sauce for a sweet-sour-salty taste that's best washed down with a cold bottle of Carib, a Trinidadian beer.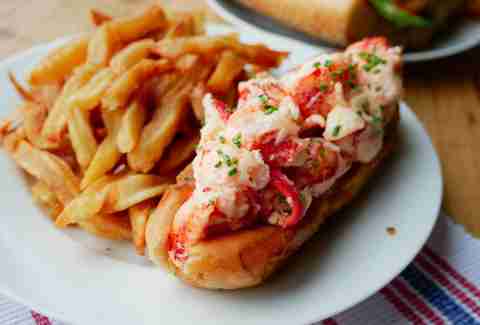 SoHo
The simpler the lobster roll, the better. Toasty, buttery bun? Check. Big bites of lobster claws? Check. A light hand with the mayo, a heavy hand with the fries, and a sour side of pickles? Check, check, check. Ed's lobster roll is a classic of the form, served simply and without fuss (well, unless you count the fact that it's market price). It's best enjoyed in the summer, with a glass of rosé, while pretending that you just got off your chartered helicopter in Southampton.
Midtown West
Zen's spicy seafood ramen is packed with tender white scallops, shrimp, and squid. Although the tonkotsu broth is pork-based, the salty seafood and bright wakame lend a deep brininess to the bowl. If you're afraid of heat, don't worry: These noodles are fairly mild, despite their name. The homemade chili paste and slices of hot pepper are tempered by all the bamboo shoots and slurpy noodles swimming along with the seafood.
Upstate: Oyster Happy Hour
East Village
This teeny-tiny restaurant serves up six oysters and a craft beer for only $12 from 5 to 7pm, seven days a week. It's East and West coast oysters come in fresh daily, and you can choose from three different catches at happy hour. A rotating beer list and knowledgeable bartenders make this a cozy spot for a date, an after-work catch up, or even a place to bring your book and treat yourself for less than twenty bucks.
Chelsea
Need to satisfy a seafood craving on the cheap? A $3 taco -- battered, fried golden, wrapped in a tortilla, and served with a slice of lime -- is the perfect way to get your fish fix. This little spot is light, bright, and has every hot sauce you could possibly want to pour all over your taco. Bring friends and order a bucket of $3 Coronitas, or stop by after work on a beautiful night, order a few tacos to go, and eat them while you amble home along our beautiful, blighted Hudson.
Sign up here for our daily NYC email and be the first to get all the food/drink/fun New York has to offer.