The 12 best places to go on the Best Day Of Your Life
The thing about the Best Day Of Your Life is that, if you tag along with Thrillist, it can happen every single year. This annum, we honored the solstice better than any damn druid, assembling some of our favorite restaurants and watering holes throughout the East Village and transforming them into one-day-only experiences, complete with cigar rolling stations, guys in chicken suits fighting, and former heavyweight champ Riddick Bowe (in case anyone was getting too rowdy). Here's a recap of everything you missed (advanced apologies on the FOMO).
Johnny Appleseed hosted the "Sweet & Intense Lounge". Sweet in that there were spiked candy apples present and cider flowing from ice luges. Intense in that The Bumbys were present giving "a fair and honest appraisal of your appearance" as well as a whole pig being roasted.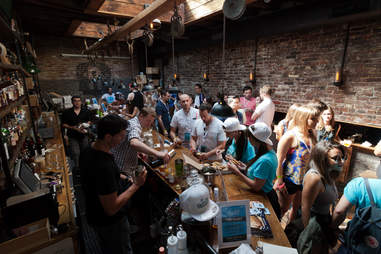 Upon entry, guests were given a secret password which granted access to the secret speak easy which included live music, coffee cocktails, like the Espresso Old Fashioned, and Insomnia cookies.
Turning 14th Street into a temporary Vegas was the Las Vegas Convention and Visitors Authority who hosted a back room at Beauty Bar complete with an Elvis impersonator (naturally), beautiful Vegas models, a midget in a tux, cotton candy courtesy of Handsome Dan's, and a photo booth that we've been asked to keep mostly mum about.
Two life-sized Ernie the Giant Chicken's welcomed guests outside The Nugget Spot, where the debut of their bacon-coated nuggets awaited within.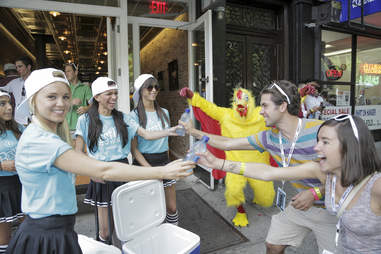 Attendees were kept hydrated throughout the day by these beautiful ladies (and the occasional chicken) handing out bottles of Aquaçai. Bonus: even more girls, these ones on pedi-cabs handing out slices of Joe's Pizza.
They didn't dub this the "World Cup fanatic spot" just because of the dudes painted head to toe in their team colors. Well, that was a large factor. Pigs in a blanket were on-hand to mediate the ensuing rage of a Germany VS Ghana tie.
Hunting for a bacon alternative? Closest we could find was Dos Toros' carnitas tacos, best taken down in a maximum of two bites.
The bad decisions that usually come after a few rounds of beer pong were mitigated by the fact that the tattoos provided on-site were only airbrushed (at least, we think). Other bad -- but totally delicious -- decisions included loaded tater tots.
What says first day of summer better than a lemonade stand? Try a Stoli lemonade "stand" serving up cocktails and Stoli ice pops. Liquored-up popsicles are the only thing that rival the beach for the best part about summer. (And they might edge out.)
Hungry guests stopped off at Empire for a mash-up of pulled pork, pickled jalapeños, and slaw on a flakey, buttery biscuit.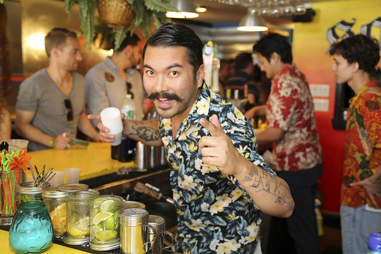 Attendees mingled in the "gastro-party bus" loaded with delicious Tiki punch and Lumpia (spring rolls) which led to a garden filled with even more Tiki, this time in the form of dancers.
Private pool tables. New Amsterdam Whiskey cocktails. Landhaus Bacon on a stick. Cigar Rolling Station. The first fighter to knock Holyfield out (two-time world boxing heavyweight champion Riddick Bowe). All were present at Showtime's Ray Donovan Lounge, but only one was posing for pictures and signing autographs.
Sure the Bourbon Juke Barmaid was nice to look at and sure the BaoHaus Pork buns were mouth-watering, but there was a roaming magician lurking about. Not a magician roaming, but a roaming magician. Badass.