The prospect of solo dining may seem akin to that nightmare of showing up to school in only your underwear, but more than ever before, New Yorkers are dining out alone and discovering that going solo can not only be pleasurable, but also have unexpected advantages -- like being able to secure the best seat in the house, or not having to listen to your obnoxious friend slurp his ramen. There's no need to fear dining out alone in NYC, especially if you're eating at these 13 places.
Hell's Kitchen
This modern food hall provides an excellent solo dining situation with its variety of delicious venues, including El Colmado, The Cannibal, Ivan Ramen Slurp Shop, and newly added Uma Temakeria. Grab a seat at one of the restaurant counters or take your order to go and dine at the communal tables. Both options are conducive to mingling, so you won't have to pretend to be on your cell phone the entire time you eat. Or, if you'd prefer to do just that, you can also take advantage of the free Wi-Fi while enjoying your solo eats.
East Village
Open kitchens turn dinner into theater, and at this new location of David Chang's two Michelin-starred Ko, you can have a front row seat to the show. Make a reservation for one at the chef's counter surrounding its gorgeous kitchen, and sit back while Executive Chef Sean Gray and his team prepare a fantastic multi-course tasting menu just for you. The three-hour meal will fly by as you savor each bite without any distractions.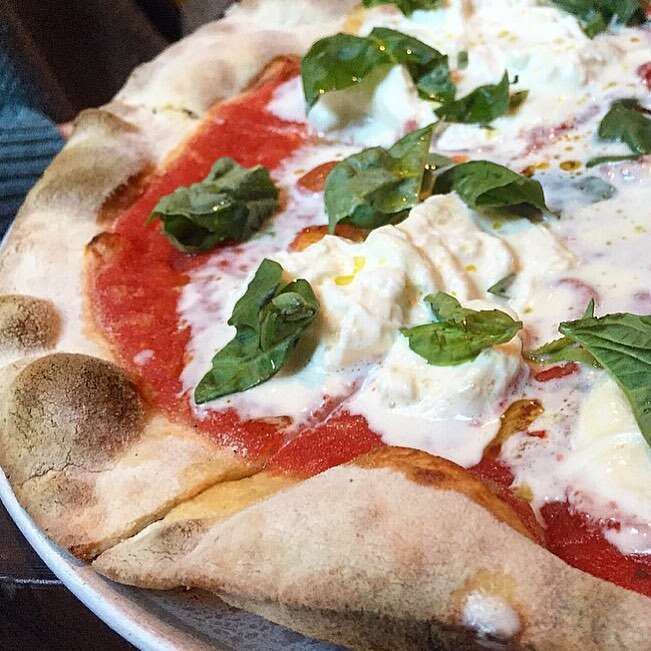 Midtown East
Perhaps you didn't think pizza was good for soloists. Think again. Marta's Roman-style, cracker-thin-crust pie can easily be enjoyed by one, as can the antipasti "alla brace" and wood-fired dishes; plus, taking leftovers to-go is always an option. The pro move is to ask to sit at the chef's counter in front of the open kitchen's pizza ovens. You'll be able to watch and chat with Chef Nick Anderer and his team while they prepare your pizza in all of its glory! Note: all of Danny Meyer's establishments, from Maialino to Gramercy Tavern, are solo-dining approved.
East Village
Go stag to this quaint neighborhood spot, which has one of the best happy hour deals featuring a half dozen oysters and craft beer for $12. The staff will gladly recommend a fine brew to pair with your meal. Upstate's freshly prepared dishes -- including fettuccine with clams -- will satiate your appetite as you dine in the company of seafood lovers who are also in-the-know.
Midtown West
For late-night cravings, head upstairs to this popular Japanese yakitori spot. The best way to guarantee getting in is by going alone. Flip through the large menu of grilled skewers with choices from chicken oyster to tsukune (meatball), and create your own custom feast. Who knows, you may wind up next to Anthony Bourdain (it's one of his NYC favorites).
Meatpacking District
Saddle up to the bar at this second branch of SoHo's well-received burger pub and enjoy a tasty gourmet burger and draft beer of your choice. Burgers range from the hearty Steak Au Poivre Burger to The Spicy Mexican, a chorizo-style burger. Black Tap's multiple TVs will provide solo entertainment, and maybe you'll even make some friends (or rivals), while watching a game.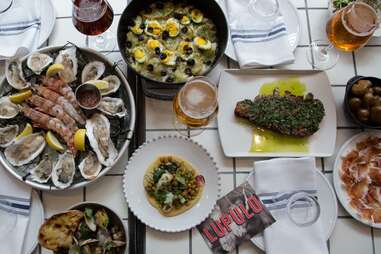 Midtown South
With ample stool seating around a vast horseshoe bar that dominates the room, this new Portuguese restaurant -- inspired by the famed cervejarias (or breweries) of Lisbon -- is designed for soloists. Choose from a dozen craft beers on tap and enjoy Chef George Mendes' rustic fare, from seafood to wood-fired dishes, in the social setting.
SoHo
Have a solo nosh at Major Food Group's latest hit, which features freshly baked pastries and upscale Jewish deli fare. Treat yourself to a smoked fish platter served on a fancy tower, and perhaps a tasty sticky bun, while you take in the scene. Sit up front for great people-watching and hot bagel action, as baker Melissa Weller's house-made bagels get delivered to the bakery via long, slender poles. All of the energy in the room will easily make you forget you're on your own.
Williamsburg
Soloists will feel at ease at this stylish new wine bar, which offers over 25 wines by the glass, plus spirits and classic cocktails. Take a seat on a comfortable backed stool at the large bar, and make a quality solo meal out of small plates, charcuterie, and cheese. The $1 oysters (all day, every day) are also a major steal.
Union Square
Sushi bars were made for solo dining. Your favorite local sushi joint will do, but if you want to up your game, reserve a seat at 15 East's nine-seat sushi counter and let the magic begin. Order à la carte, or omakase -- $65 for 10 pieces of sushi or sashimi -- and enjoy a personalized tasting from newly appointed Chef Noriyuki Takahashi.
East Village
Dumplings for one? Yes, please! This authentic Taiwanese-Chinese dumpling heaven run by the Cheng sisters is great for solo diners. You can't go wrong with any of their homemade recipes, such as The Reinvented Classic with pasture-raised pork, baby bok choy, and cabbage. Order at the counter and then settle in at the communal table or counter as you wait for your dumplings. Prime seating is by the windowsill, where you can watch Second Ave passersby, who will definitely have some dumpling envy.
SoHo
Enjoy a unique solo dining experience at this beautiful, spacious restaurant led by Culinary Director Didier Elena. Request to sit around the open kitchen -- specifically at the chef's table in front of the chef's pass -- for a spectacular view. With its rotating list of Food & Wine's "Best New Chefs," you'll partake in a specially curated, one-of-a-kind menu. Inquire about upcoming dinners in its private studio, which is also ideal for single individuals with its communal seating arrangement.
South Williamsburg
If you're in the mood to try something different and don't completely despise vegetables, this is your place. Chef José Ramirez-Ruiz's vegetable-forward tasting menu is perfect for solo diners at Semilla, which features an intimate, U-shaped counter that allows for easy conversation with neighboring guests. Make a reservation for one and watch the chefs in the partially open kitchen and the staff gracefully execute service within their limited space. Pamela Yung's bread alone is worth a visit, and as a soloist, you don't have to share yours!
Sign up here for our daily NYC email and be the first to get all the food/drink/fun New York has to offer.

Shari Bayer is the Founder/President of Bayer Public Relations, and Host/Producer of All in the Industry on Heritage Radio Network. She is a fearless solo diner and traveler. Follow her on Twitter and Instagram.