We know, we know, you're at the beach and tooootally trying to keep it tight. And it's the summer, so most of your efforts are revolving around drinking. But you've gotta eat at some point (all points?), so why not make it somewhere that's brand new/The Best? Well, here's a good place to start: NYC's 16 best bars and restaurants that opened this July.

West Village
You no longer have to go to the old 'n' crusty Upper East Side for the excellent and storied offerings of this NYC burger powerhouse: head over to the new location on MacDougal and burger yourself to your heart's content.
Harlem
All manner of things are being churned out of the wood-burning oven here, and of course you've got fresh pizzas with toppings like babbalucci (which means snails) or burrata, but also fresh-baked breads stuffed with homemade porchetta, and entrees like scallops and shrimp with polenta.

Murray Hill
NYC's first tempura omakase is here. Put yourself in the very capable hands of "Tempura Master" Masao Matsui as he crafts your multi-course dinner of fried things, not-fried things, and more incredibly delicately fried things.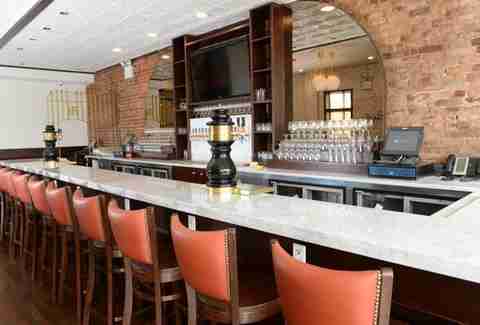 Williamsburg
Designed to resemble a Prohibition-era bank, minus the Prohibition-era dickishness about booze, this Americana-style pub serves up bites like a crock of mac 'n' cheese or bacon puffs and then washes them down with flows of craft beer including four "Baker's Brews," which are its own recipes brewed just for it. It's also got a crap ton of rare bottles, and if you'd like to step up to some harder stuff (you do): 40+ small-batch American whiskeys.

Williamsburg
It's a vegetarian restaurant with options like feta- and pecan-stuffed Peppadews or guava jelly grilled cheese with Emmenthal and Gruyere on a baguette. But it's also a serious dance spot come the later hours. Obviously.
Williamsburg
Focusing on the cuisine of Central China and the use of farm-fresh ingredients, this North Williamsburg spot is bringing it with dishes like Prawn Fries (actually toast with minced shrimp, scallion, ginger, and Shaoxing wine) served with fermented Chinese ketchup, and whole wheat lo mein with vinegar, radish, cucumber, and sesame oil; there's also a solid Tiki-heavy cocktail program with options like the Imperial Mai-Tai with aged rum, rye whiskey, lime, orgeat syrup, orange curacao, syrup, and mint.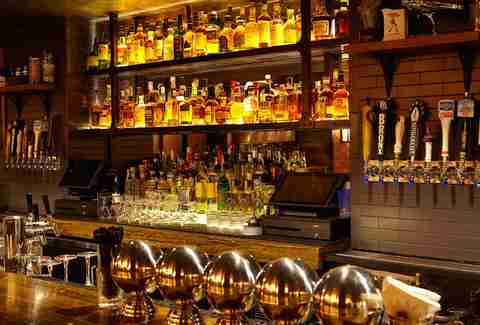 Upper West Side
This 200-seat spot works your stomach with "chicken fried" short ribs, Buffalo-style cauliflower, an open-faced Ox Burger with oxtail marmalade and a poached egg, and, of course, fried chicken on Sundays.

Upper West Side
International sausages, a Chicago dog, a truffle burger, and loads of craft beers (both on tap and in the bottle) keep the chandelier lit and the communal tables filled and lively at this indoor/outdoor hall-slash-garden with Germanic stylings.
Midtown
It's all melted cheese all the time at this French-ish spot that slings fancy grilled cheeses like the Mr. Rupert with sausage, bacon, egg, and cheddar; or the Mr. Henry with bechamel jamon de Paris on Amy's sourdough bread.

East Village
The latest beacon for Velvet Falernum-heads, rum enthusiasts, and Tiki culture in the city is this spot in the former home of Gin Palace. Run by Jane Danger and Ravi DeRossi, this "post-modern Polynesian" spot has some serious booziness on hand like the Platino Dominicano with banana, ristretto, rum, and absinthe cream; or the passion fruit-, lemon-, maraschino-, curacao-, bourbon-, and Tiki bitters-loaded Shark Eye, which is certainly not shark weak.
West Village
U.P. is doing ticketed all-dessert prix fixe tasting menus on the second floor of Dominique Ansel's brand-new location. Tickets go on sale every Monday at noon for seatings seven weeks from now -- do not hit the snooze button on this.

Jackson Heights
Below the Michelin-starred Thai spot Zab Elee, this sushi and sake joint is doing izakaya-style grilled meats, sake, and beer, along with creative sushi.
Bushwick
This Bushwick nom-ery offers a bunch of different versions of okonomiyaki -- a Japanese pancake with different toppings and fillings -- including barbecue okonomiyaki with pulled pork & BBQ sauce or Mexican okonomiyaki with avocado, chorizo, chipotle & crema, as well as small plates like cactus sashimi and larger options like squid ink fried rice.

Bushwick
Tiki drinks (is there anyone who didn't start doing Tiki drinks in July????), nachos, cheeseburgers, and tacos are all in the mix at the lowbrow-meets-highbrow Mexican spot from the guy behind The Commodore.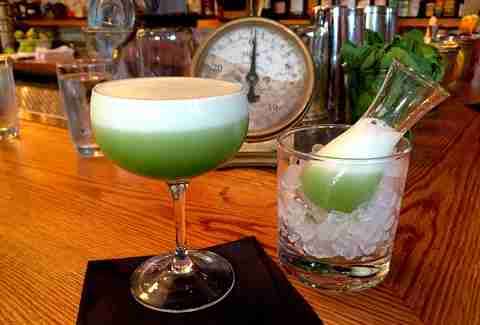 East Village
From the team behind much beloved Ave C bar The Wayland, this bright spot is a stylish, vintage-feeling pub where the bar team is whipping up inventive cocktails (there's one made with Cocchi Americano, egg whites, and green bean juice) to accompany top-notch bar eats including oysters (they're the only ones in NY with the Wild Sewanhaka, which is excellent); a roast beef sandwich with fresh mozz, strong cheese, and horseradish creme fraiche; and maybe the best fish sandwich in the city right now, grilled with pastrami spices and topped with caraway slaw and paprika aioli on butter toasted Moishe's rye.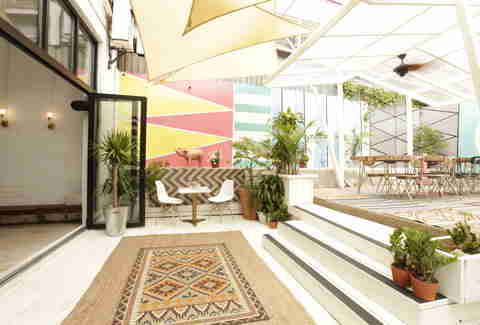 Williamsburg
Located behind the bar Loosie Rouge, this bright, airy patio has got your fried chicken, biscuits, and chill vibes needs covered.
Sign up here for our daily NYC email and be the first to get all the food/drink/fun New York has to offer.
Andrew Zimmer is Thrillist's NYC editor, and he has a really hard time keeping it tight. Follow him on Instagram and Facebook.