Before you start removing your AC unit, loading up on space heaters, and sobbing uncontrollably beneath 24 blankets, embrace the last bit of summer with the lingering above-average temperatures and these: the best bar and restaurant openings of summer.
From Jane Danger and Ravi DeRossi, this "post-modern Polynesian" restaurant and cocktail bar in the old Gin Palace location is decked out with white bamboo floors, white curtains, and (obviously) mother of pearl lights. It's got a nine-levels-above-great Tiki program, featuring drinks like the Imperial Bulldog (raspberry, pineapple, lime, cachaca, aquavit, and Underberg).
With a focus on food from Central China, this charming Williamsburg spot is offering modern dishes made with fresh ingredients, like Angry Pig fried rice (with house-made pork jerky!) and prawn fries with Chinese ketchup. It's also got serious Tiki-style cocktails, like the King Kamehameha Club (tequila, lime, allspice dram, agave, AND mezcal, guys).
Because apparently all anyone wanted to drink this summer was Tiki cocktails, this Bushwick Tex-Mex spot from the owners of The Commodore is doing next-level versions of those, too, in addition to "American" tacos, burritos, chimichangas, nachos, and a very solid burger.
The guys behind The Wayland continue to kill-crush-murder-windmill-kick it with this trendy new cocktail spot in the old Simone Martini Bar location on St. Marks and 1st. Inside the tile-floored, exposed brick-walled pub they're serving creative cocktails like the Red Rock Riper (bourbon, Campari, simple syrup, lemon, and red bell pepper juice) alongside oysters; a pork sandwich with tonnato mayo, frisee, and pickled onions; and a seriously good fish sandwich with pastrami spices and slaw on rye.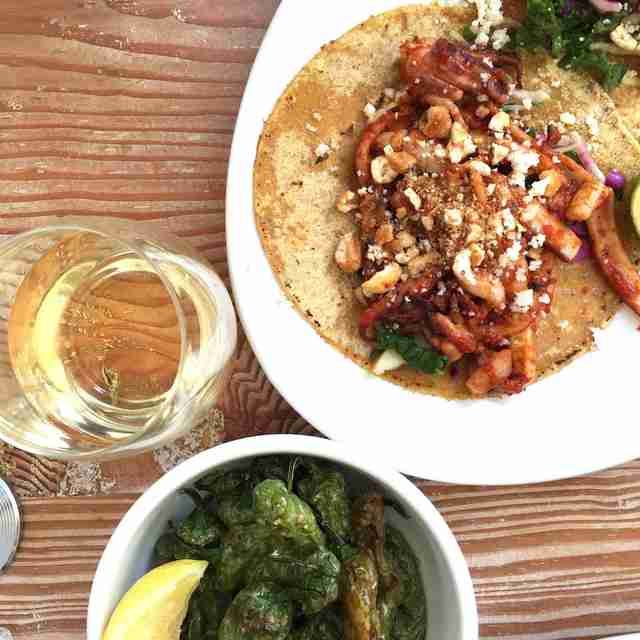 Michael Chernow's follow-up to the Meatball Shop is another single-focus restaurant -- this time, all fresh fish. And Seamore's is damn serious about it, too. It's simple: pick your fish from the ever-changing "Daily Landing" options (served over greens), then your sauce, then a side. Or you could (read: should) opt for the delicious blackened fish sandwich, fish tacos, or spiced tuna burger.
Jonathan Waxman's iconic UES California-style eatery, which opened and closed in the '80s, is back in a new location at 1 Hotel Central Park. The new Jams menu pairs classics -- like the Jams pancakes with red pepper, smoked salmon, corn sauce, crème fraiche, and caviar -- with updated offerings like the Jams burger with local cheddar and bacon.
The new bakery/restaurant from Major Food Group is doing bagels like no one else right now -- they're hand-rolled inside a glass space located in the center of the restaurant's dining area (whaaaaaa???), along with other pastries and baked goods like chocolate babka. In the spirit of Barney Greengrass and Russ & Daughters, Sadelle's also has a number of smoked fish options, but it sets itself apart from the other Jewish spots with its incredible smoked fish tower, which looks just like a seafood tower, except with all the bagel fixings you could ever need -- tomatoes, capers, red onion, and, most importantly, a sampling of all the different smoked fish on offer.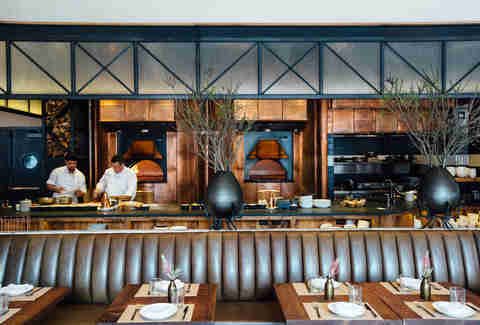 Laurent Tourondel's new Italian-inspired spot is serving up wood-fired pizza (like soppressata picante) in a kitchen that's visible from the dining room and the street. In addition to several pie options, the menu also features fusilli with spicy sausage, bitter greens, pine nuts, chiles, and pecorino, and pretty phenomenal smoked ricotta gnudi with sage brown butter and shaved truffle.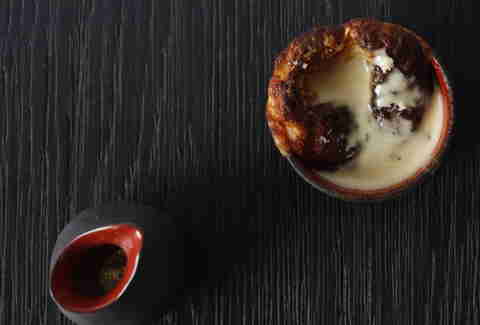 Modern American classics made from local, farm-fresh ingredients (like a black mission fig pizza with spicy coppa and a Spring Brook cheese souffle) are offered up inside this farmhouse-inspired restaurant modeled after country barn houses in the Hamptons. You totally know what those look like... right?
The Mother's Ruin team is now serving Latin-style food and cocktails in an enormous, laid-back Bushwick space with open garage doors, high ceilings, and exposed brick. On the drink menu, you'll find things like the amazingly named Peach Me How to Dougie (white rum, lime, and grilled peach); and on the food side, there are a number of quality small plates like nachos and fluke ceviche, as well as rotisserie chicken (half or whole), and wood-grilled stuffs like branzino and skirt steak.
Michael White's Vaucluse brings a mix of traditional and modern French fare to Park Ave, with patés, caviar, aged ribeye, and a White Label burger (with an aged beef blend, shallot confit, fontina, and tomato jam). The true brasserie-style restaurant is modeled after a farmhouse in the South of France (you totally know what those look like, too... right????), and has two main dining rooms, a bar, and a lounge. There's even a separate townhouse next door for private events.
David Chang is apparently the Beyonce of surprise restaurant openings, as he pulled a fast one on everyone with this Midtown outpost of his fried chicken sandwich concept. It offers a walk-in menu featuring chicken fingers (a collab with Danny Bowien), a mini version of the popular fried chicken sandwich, and salt-and-pepper shrimp. Reservations are available through Fuku+ packages for two to six people, where everyone gets to enjoy the spicy fried chicken sandwich, Fuku+ salad, French fries, and Milk Bar confetti cookies, among other things.
You can't go wrong with a beer garden on a rooftop, especially when it involves creative Asian-inspired cocktails like the Peat's Dragon (Japanese whiskey, Scotch, galangal honey, and togarashi yuzu), and eats like a Spam sushi dog (smoked pineapple relish, furikake flakes, sushi rice, and nori) or Shibuya disco fries (beef brisket, fries, jalapeño, daikon chili, sour cream, and Sriracha).
The Blue Ribbon guys' new UWS spot has a huge menu of French-inspired American eats, including house-made paté, chicken-fried short ribs with beans and gravy, and an ox burger. But the real draw is the fried chicken, which you can only get on Sundays (5pm-close) and Mondays (dinner only).
The latest restaurant to hop on the no-tipping trend, Bruno Pizza comes from Roberta's and Acme alums and has a number of solid Neapolitan pizzas available, like the country ham and the nduja. Also look out for market options like diver scallops and local squid, and excellent pastas like bucatini and cavatappi.
Another new spot from the mind of Ravi DeRossi, Avant Garden is doing upscale vegan in a super-intimate, rustic setting. The menu is broken up into Toasts, Hot, and Cold options, complemented by a selection of natural wines, ciders, and beers. The butternut farro risotto with baked apple, sage pesto, and crispy farro, and the roasted cauliflower with raisins, capers, pine nuts, and Concord grapes are must-MUST-gets.
Pegu Club's Kenta Goto's first solo mission is a Japanese-inspired cocktail bar à la Angel's Share. In addition to drinks like the yuzu-Calpico fizz (which is being touted as a Tom Collins with yuzu and Calpico), the dimly lit LES bar has a number of Japanese bar snacks, like the above-par miso wings and gobo French fries (fried Japanese burdock roots with shichimi, pepper, and salt). Also note the walls donning repurposed kimonos that belonged to Goto's own grandmother.
This Ave B spot is doing traditional Indian food with a modern twist in a way that still feels authentic and true to the cuisine. The menu is broken down by "From the streets" (things like yogurt kebab and tandoori chicken) and "From the pots" (butter chicken and goat curry, among others). There's also a beer fridge with a rotating selection that you can get up and grab from for yourself (all are $7).
Sign up here for our daily NYC email and be the first to get all the food/drink/fun New York has to offer.
Lucy Meilus is Thrillist's New York editor and would like to be the Beyonce of something one day. Follow her on Twitter and Instagram.
Stuff You'll Like