Here we are with the third edition of the Best Burgers We Ate This Month, and despite eating basically nothing but burgers for two months, NYC's insatiable beef appetite has kept us neck-deep in trying even more. And while we were slightly impeded in our search by also having to eat through the most underrated burgers in NYC, we still managed to put together another great list of new patties you should try immediately (self back-pat!).
A brief reminder on the rules: as usual, we didn't take into consideration any classic burgers, or any already accepted to be in the NYC Pantheon, or anything on our previous lists -- only new or legitimately under-the-radar burgers qualify.
One of the biggest openings of last year, The Elm from Chef Paul Liebrandt added a burger to its brunch menu recently, and it's one of the best one's you can get down with right now. It's a dry-aged blend of brisket, chuck, and short rib, topped with spicy pickled veggies, tomato confit, and some beautifully melted white cheddar. For a relatively simple burger, it's got a ton of flavors, and they all work perfectly together.
On the more gonzo side of things, BFB Highline (aka Best F***ing Burger Highline) is doing some awesome things with their Pat LaFrieda meat, including the monstrous Breaking Bad-dapping Heisenburger -- it rocks 45-day, dry-aged beef mixed with pork belly and topped with "crystallized" onions, your choice of cheese (go American), thick slabs of bacon, lettuce, tomato, and pickles. It even comes with a (pretend-)blue meth Twinkie for dessert.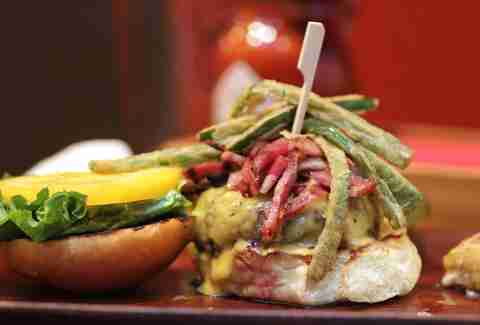 RARE's burgers have probably been on your radar for a while, but the burgers in their just-opened Pub Room in their Chelsea location probably haven't. WELL THEY SHOULD BE: the Burger Master Special is an ever-changing serving of meaty craziness. When we stopped by, it was this concoction of house-made Blue Moon beer cheese, julienne'd bacon, and fried jalapeños. Let's hope you get this lucky.
Only available during brunch and in super-short supply on weeknights (15 per night) & weekends (20 per night), this new offering from Colonie in Brooklyn is house-butchered and yields a beautiful mess of beef, Edward's Farm bacon, Cabot cheddar, seasonal pickles, lettuce that's been wilted by pan drippings, spicy Thousand Island, beet root ketchup, and a runny duck egg, all on top of a 100% house-made bun with beef fat in it. It's frankly a tiny bit biscuit-esque. Bunscuits should totally be a thing.