The 4 best new burgers we tried in January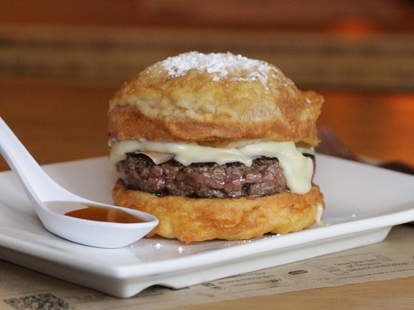 Way to ruin everything, NYC. Here we are, minding our own business, putting together lists of the absolute best burgers in the city, and you can't even go a month without screwing the whole thing up, by dropping even more awesome new burgers. Well, we're just not gonna stand for it, which's why we went out and did the only logical thing there was to do: we ate a bunch of brand new burgers this month and came up with this "best burger" addendum. Suck it, New York City.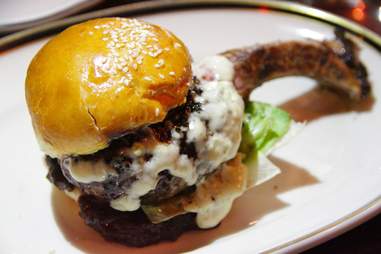 The M. Wells Steakhouse bone-in burger was the best and most interesting we ate this month; it's got just the right amount of weirdness without veering too far into gimmick-territory. It's cooked with the bone in (which seems cumbersome, but it's actually easily removed), and features a meat blend of brisket, grass-fed top round, and aged trimmings, all topped with a mix of tartar, shallot sauce, and nice & crispy Bibb on top of a brioche bun. Everything works really well together, but the really cool thing about this particular burg are the two distinct burger textures: 1) medium-rare burger around the bone, and 2) increasingly meatball-ish the further away from it you get.
The best execution of the classic burger this month? The brand-new spot Empire Diner. Its tangy special sauce, cheddar, pickle slices, lettuce, and brioche are far from groundbreaking, but there's rarely something more satisfying than just a good, classic burg. Except maybe two of them. Or a million dollars.... ohhhhh, or two million dollars.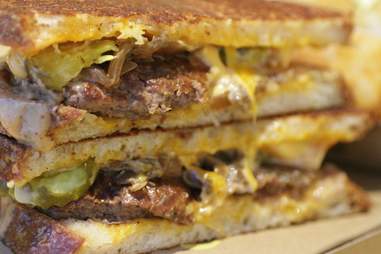 Grilled cheese master The Melt Shop unleashed a burger on us for the first time this month at its new Midtown West location, in the form of this weirdly nostalgia-inducing patty melt that's loaded up with a LaFrieda blend patty, special sauce (the ingredients of which we promised not to expose), caramelized onions, pickles, and two types of cheese: cheddar and an award-winning spread from Wisconsin called Widmers Aged Brick Spread... which you should really consider putting on... everything... from now on.
And last but oh-my-god-not-least is this Monte Cristo-inspired insanity from Umami Burger (that was put together in collaboration with Top Chef season 6 winner Michael Voltaggio). In lesser hands (i.e. yours), this burger could have gone off the rails, but it doesn't, and is instead kind of incredible. The bun is soaked in custard and then deep-fried, is then filled with Gruyere fondue, their house burger-blend, and prosciutto (why regular Monte Cristos aren't served with prosciutto is now a mystery to us). It's also served with a side of maple syrup and a dusting of powdered sugar.
Andrew Zimmer is Thrillist's New York Editor, and believes he could eat an entire burger in one bite if dared. Follow him on Twitter or Instagram @addzim, and tell him about new burgers/way-under-the-radar ones in the comments.