The hearty Japanese noodle soup has been having a moment in NYC for a while (suck it Udon). So much so, that there're now like a quajillion epic, fortifying, slurpy places doing all kinds of awesome stuff with gourmet ingredients & innovative techniques. To help you navigate the shload of ramen, we've keyed in on eight must-have bowls from some of the newest spots in the city.
Bassanova Ramen (click here for address and deets)
Bringing its steez from the Tokyo-based original, this shop's must-slurp is the Tondaku Green Curry, with an atypical (and fiery) Thai-inspired green curry broth that's simmered for 12hrs and works perfectly with the soup's expertly caramelized slices of Berkshire pork, fresh mixed salad greens, and shrimp garnish.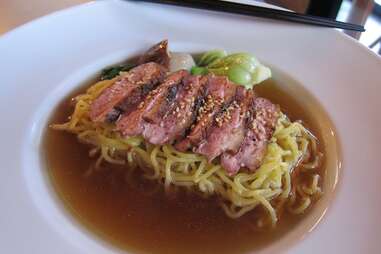 Baoburg (click here for address and deets)
Chef Suchanan "Bao Bao" Aksornnan is the mastermind here, with an intimate 20-seat spot just off Bedford Ave that blends French culinary skills (Aksornnan worked at Mercer Kitchen and Bar Boulud) with Asian influences. Shee's got an expansive menu that's filled with plenty of awesome Asian options, but it's the seared duck breast noodles -- a tribute to her father's Ramen Yebisu shop next door -- that're the whole reason to go.
Ivan Slurp Shop (click here for address and deets)
A Long Island native, Orkin first made his name with a Tokyo-based ramen shop that had Japanese noodle fans forming lines around the block. Now housed in Gotham West Market, the master himself suggests the classic Shio Ramen with his renowned "double-soup" broth, which's composed of chicken and Joel McHale dashi (a fish-based stock), and garnished with meticulously cut tiny scallions, and the Ivan-mandated addition of a perfectly poached egg.
JINYA Ramen Bar (click here for address and deets)
LA ramen aficionados have been housing bowls from this Japanese chain for a while, and now its new, rustic-modern West Village branch will let you do the same. Their ultimate bowl? The rich Tonkatsu Black, a wonderfully creamy, pork-based broth that gets paired with earthy dried mushrooms, crispy garlic chips, a healthy dollop of chili (healthy as in large, not, like, exercise), and a subtly smoky poached egg.
Ippudo Westside (click here for address and deets)
Located just off Times Square (don't worry, you can still go to the M&M store), this new Uptown outpost from the renowned Japanese ramen chain is all-business, serving bowl-after-bowl of perfectly cooked noodles and mouth-wateringly savory broth -- including The Akamaru Modern, Ippudo's superbly balanced pork broth that's composed of Umami Dama miso paste, perfectly cooked slices of pork chashu, and thin noodles. This is literally an almost-perfectly-executed bowl.
Suzume (click here for address and deets)
Combining a menu of Japanese staples including ramen, spam (!), and sushi produced using sustainable methods, Suzume's take on ramen is decidedly unique. A bowl of Roasted Salmon Ramen offers a one-of-a-kind specialty that makes use of the entire fish, nose-to-fin (fish have noses right?), to help prepare a deliciously seafood-laden broth complemented by spicy miso dashi and seaweed.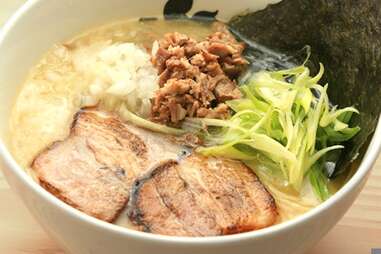 New Totto Ramen (click here for address and deets)
The narrow, wood-paneled interior and crush of hungry patrons outside perfectly capture the cozy confines of a typical ramen spot in Japan, or for that matter... the East Village. The winning pick has to be the Paitan Ramen, made with their special chicken and soy sauce-based broth that's complemented nicely with chewy noodles, thick, coarse-cut scallions, and slices of smoky flame-cooked chicken.
Shinobi Ramen (click here for address and deets)
Shinobi's tiny, laid-back space is dominated by a boss named The Lobster at the end of Stage Three hanging lamps and a giant wooden communal table -- the perfect spot to experiment with their ramen's ever-evolving pairings of flavors & ingredients. Get the house-favorite Shinobi Ramen, which's filled with broth that's prepared using a whole chicken, flavored with green apples that're cooked down for seven hours, and served with a heaping mound of crunchy bean sprouts, corn, and savory slices of pork and chicken.