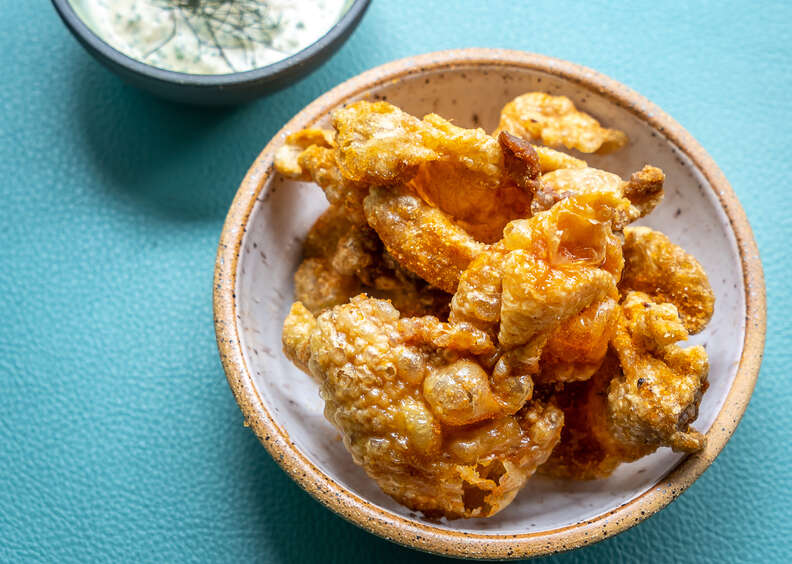 New York City's culinary landscape is full of indulgences and, maybe aside from cost, few barriers to its endless temptations. Bless the shoulder angels at The Banty Rooster for serving their chicken skins in responsible, though still shareable, quantities. Beautiful, bite-sized bits are fried to crispy, golden perfection and served alongside buttermilk dressing with a kiss of hot sauce. In a perfect world, they'd be served in novelty quantities at movie theaters, sporting events, and every coffee cart in the city. In this imperfect world, you can always order more. And at $6 a plate, why wouldn't you?
To be fair, there's other good stuff on the menu, too. Both the charred eggplant served in a bowl swiped with sweet and sour tahini and the roasted delicata squash with perky pepitas and mole are larger, though lighter appetizer options. A pan-roasted pork collar with hatch chile, cotija, and pickled onions, and a half chicken shine among five tidy entrees. The latter is served with a side of basmati "mom's rice" that's rich with chicken fat flavor and nearly rivals those crispy skins that you may as well order for dessert, too. Mild to moderate poultry fans can stick to classic sweets like sopapillas, the pie of the day a la mode, or a plate of biscochitos -- New Mexico's state cookie.
The Banty Rooster's wine list boasts half-a-hundred bottles and more than a dozen red, white, and sparkling selections by the glass. Garnish any of its eight punchy cocktails like the mezcal based Don Agrio or dry rye gin Popeye's Novia with a chicken skin twist. This is not technically sanctioned by the bar or kitchen, but you're an adult and literally no one can stop you. Listen to the other angel on your shoulder, for once.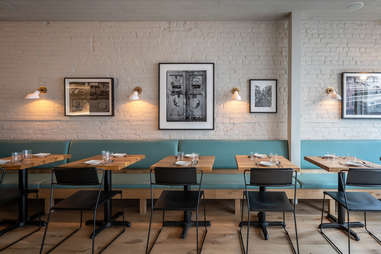 The Banty Rooster Cheat Sheet
Est. December 11 | West Village
Southwestern snacks, apps, and entrees to mix and match with wine and cocktails
The buzz: Married couple Delores Tronco-DePierro and John DePierro bring Southwest flavors to Greenwich Avenue. Tronco-DePierro racked up accolades as the founder of Work & Class in her hometown of Denver, Colorado, including James Beard award nominations and a spot on Thrillist's Best New Restaurants of 2014. Native New Yorker DePierro honed his craft in The Mile High City before returning to the East Coast and working at the Michelin-starred Rebelle (now closed) and the Bib Gourmand award winning Miss Ada.
The vibe: A real Goldilocks special, The Banty Rooster's 75 seat space is neither too quiet nor too loud. Back-lit banquettes skew a bit bright, but not bright enough to ruin your complexion. Its eggshell walls, black and white framed prints, light wood, and aqua upholstery mingle to neutral effect. And, on a recent visit, it was busy enough to feel lively, but not crowded -- just don't count on it to stay that way.
The food: To start, the craveable fried chicken skin is a must-have. Larger apps like the tender grilled squid, charred eggplant with sweet and sour tahini, and the roasted delicata squash are, naturally, less decadent, but also quite tasty. And the pan-roasted pork collar and a half chicken with a nearly show stopping side of De Pierro's mom's rice are standout entrees.
Cost: Entrees are $23-$33. Cocktails top out at $15. About a dozen bottles from a robust wine list hover around $50; the most expensive is a $225 outlier.
Sign up here for our daily NYC email and be the first to get all the food/drink/fun New York has to offer.