We're now officially in the golden age of donuts in New York City (move over, cupcakes!). But while other cities seem solely fixated on high-concept donut spots, here in New York, embracing the trend of massive, dressed-up donuts has also brought a greater attention to our old-school immigrant bakeries in neighborhoods like Bay Ridge and Greenpoint. From a car wash/donut shop hybrid on 12th Ave, to a 50-year-old Nordic bakery in Brooklyn, these are NYC's best donut shops.
Bed-Stuy (& other locations)
Hype is often misleading, but the fluffy and moist yeast behemoths at Fany Gerson's cult-favorite shop continue to be more than worthy of all the attention they receive. Flavors are unique, but not over-the-top (think hibiscus, lemon poppyseed, and toasted coconut, plus a number of rotating options) and the sizes are enormous. While it's hard to go wrong here, the cheesecake -- coated in a tart frosting and dusted with graham cracker crumbs -- is the one to beat.
Lower East Side (& other locations)
Originally operating out of the basement of owner Mark Israel's Lower East Side tenement building in the '90s, the leader of New York City's new-wave donut shops now has outposts in three boroughs (and Tokyo), and continues to spread its donut gospel with inventive seasonal specials (coconut-lime, rose petal, etc.) and beloved inventions like the jelly-filled square doughnut. But its the game-changing creme brulee doughseed -- with its crisp shell and creamy vanilla innards -- that stands out every time, proving that good things absolutely do come in small packages.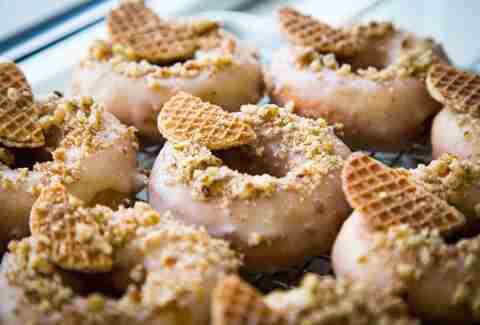 Hell's Kitchen
There aren't many reasons for New Yorkers to hike it out to 12th Ave, and there are even fewer reasons for us to visit a car wash -- that was until Scott Levine armed the Westside Highway Car Wash with a donut robot and began frying up old-school cake donuts dressed in flavored sugars and creative icings (get the brown butter or the vanilla-lavender Carwash).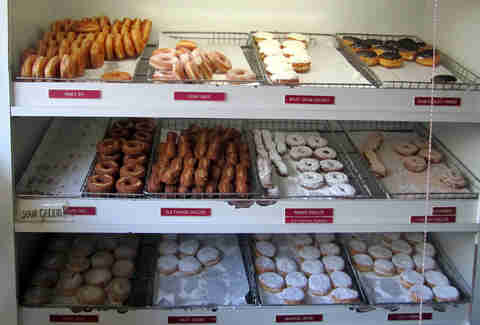 Greenpoint
Step into this Brooklyn bakery and get instantly transported to another time. Hardly anything here has changed since Peter Pan started slinging donuts in the 1950s -- from the old-school pink and teal uniforms sported by the staff and the no-frills decor to the insanely low prices (just $1.10 each!). There are plenty of donut shops in NYC offering high-concept flavors, but here, you're looking at simply fresh, always-reliable numbers like the beloved red velvet crumb.
Chelsea and Hells Kitchen
Everyone knows that Jim Lahey is a master with bread, but he also knows how to make one amazing Italian donut. The lemon-scented bomboloni orbs at Sullivan Street Bakery are impossibly light and pillowy, brimming with just the right amount of vanilla custard, chocolate cream, or fruit jam and rivaling the bakery's much-lauded loaves.
Bay Ridge
For over 50 years, this Bay Ridge neighborhood donut shop has served the community with Nordic specialties, as well as tried-and-true New York classics like cheesecake, black & white cookies, and giant, airy donuts that bridge old-school and new school -- think jellies covered in peanut butter icing or glazed ones studded with bacon.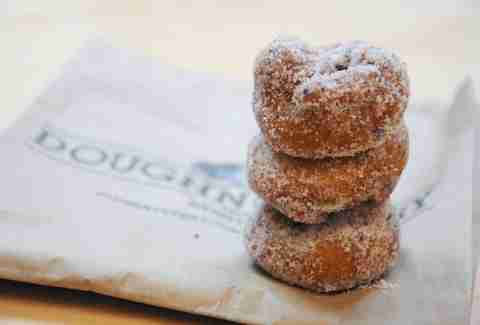 Chelsea
Sure, a donut the size of your head is an incredible thing, but this is another case where less is more -- what the minis at Doughnuttery lack in heft, they more than make up for in flavor. Cranked out fresh in a small corner of Chelsea Market, these piping hot fritters come dressed in combos of specialty sugars with fun names like the Purple Pig (maple, purple potatoes, bacon) and Urban Monkey (coffee, banana, coconut).
Chelsea
Classics are usually the toughest things to master, but this 50+ year-old 14th street mom-and-pop joint has got them down. Donut Pub's version of the traditional glazed donut (known as the honey dip) is light and fluffy, with a crackly sugar shell that truly melts in your mouth. Best of all, its open 24 hours, so you can get your fix at any time of the day (see: 4am).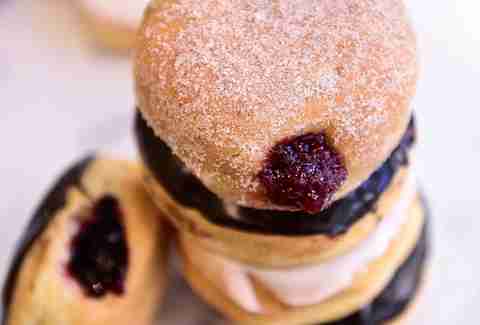 Upper East Side
This beloved Uptown bakery -- founded in 1916 and known for its loyal set of regulars -- knows its way around jelly donuts, which call for jams made from locally sourced fruit and not the sickly-sweet processed stuff. The staff fills them to order and because they're such pros, you'll always get the perfect ratio of jam to donut. The tart black raspberry and sour cherry options never disappoint.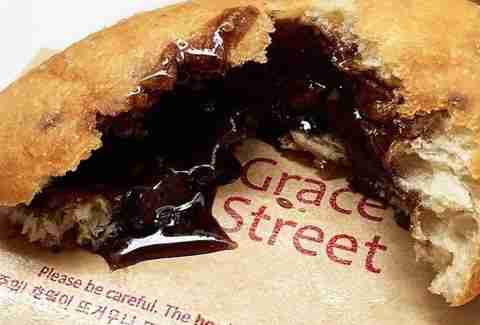 Herald Square
We may think of donuts as an American invention, but Korea has a version that'll put the greasy, leaden ones we find at most chains (looking at you, Dunkin') to shame. Called ho-dduks, these chewy pockets of fried dough ooze with a brown sugar and cinnamon concoction that is downright delicious.
West Village
This village newcomer carries on the trend of massive yeast donuts in unique flavors with small batch, hand-crafted numbers featuring pop culture-inspired names like the decadent Costanza (salted chocolate with buttered pretzel), savory Bronx (olive oil and black pepper), and fiery Bulletproof Tiger (pineapple with habanero stripes).
Williamsburg
Can a vegan donut be a superior donut? If they're anything like Dun-Well Doughnuts, that's a resounding YES. This all-vegan shop (beloved by animal product haters and lovers alike) offers deliciously sweet and fluffy donuts in a wide variety of flavors ranging from classics like Boston creme and chocolate raspberry to concoctions like French toast cherry pie, chunky peanut butter, and maple chocolate pecan.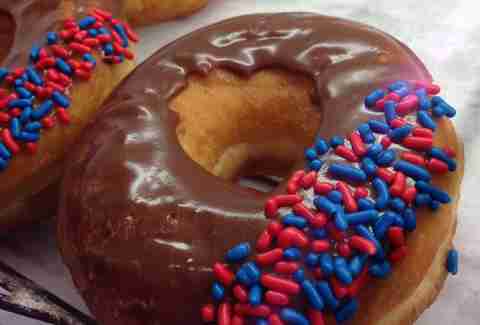 Bay Ridge
Another classic Bay Ridge neighborhood joint, this no-frills mom-and-pop shop has been around for 30 years (still very much maintaining its old-school decor), preparing batches twice-daily on the premises for a devoted clientele. Mike's offers 35 super-fresh flavors to choose from (marble twist and glazed jelly are two of the best) and a bakers dozen is just $6.75!

Love free donuts? Find out where to stock up for this year's National Donut Day on Friday, June 2, 2017.

Sign up here for our daily NYC email and be the first to get all the food/drink/fun New York has to offer.

Patty Lee is a reporter and editor who has written for Zagat, Time Out New York, New York Daily News, and Cooking Channel. She thinks that donuts are a perfectly acceptable form of dinner. Follow her on Twitter and Instagram.

Christine Fischer is a freelance writer for Thrillist who likes donuts more than people. Follow her on her website, Facebook, or Twitter.